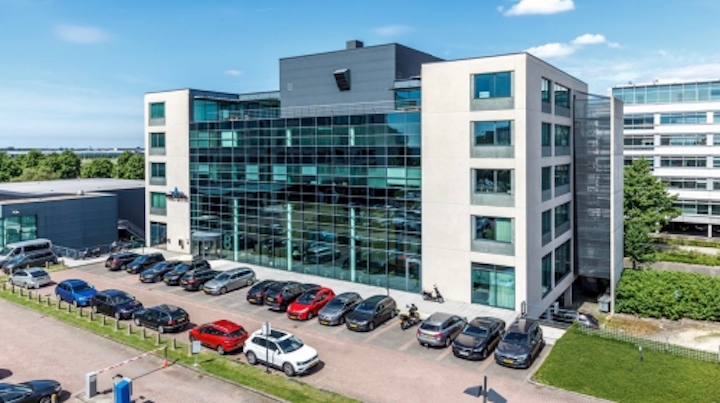 Los Angeles-based CBRE was about to double the size of its Amsterdam office, until the smart ceiling luminaires convinced the company otherwise. As MARK HALPER discovers again, data could well become the new lighting. A few things must happen first.
We've all been hearing about this lighting-based smart building thing for several years now. But if it's ever really going to take off, it sure would help if the world's kazillion-dollar property industry got behind it.
Enter Los Angeles-based CBRE, the $14.2-billion real estate services giant.
In a four-story building outside Amsterdam near Schiphol airport, CBRE has been trialing some 400 ceiling luminaires from Aurora, outfitted with chips and sensors from Gooee — a company developing enabling technologies for lighting-centric Internet of Things (IoT) applications.
The lights are spread across a 4000m2 CBRE office that covers the entire second floor, occupied by 80 employees.
The idea is for CBRE to test the setup in its own habitat, and, if it works, to then outfit premises in the massive CBRE stable of property so the company can provide its own tenants with all the data-based services long promised by the lighting industry. (If the name isn't rolling off your tongue, note that CBRE emerged from "Coldwell Banker.")
In case you've missed the hype over the last several years, connected-lighting-based smart buildings are supposed to transform the value, usefulness, and comfort of the world's commercial workplaces.
In a nutshell, luminaires embedded with sensors and communication chips will note occupancy, activity, temperature, humidity, air quality, noise, and the like. They will send data about their observations to the cloud. The cloud will analyze the data for facility managers, who can then make insightful decisions about how to alter their space — whether to reassign rooms, expand, shrink, and so forth.
The intelligent systems will also connect to heating and cooling equipment, and automatically adjust temperature as needed — maybe even tailor it to individual preferences depending on who is in a particular room. They could prompt window blinds to open and close. They could help newcomers find their way around by transmitting maps and navigational information to a smartphone. They could help regulars know which conference room is free.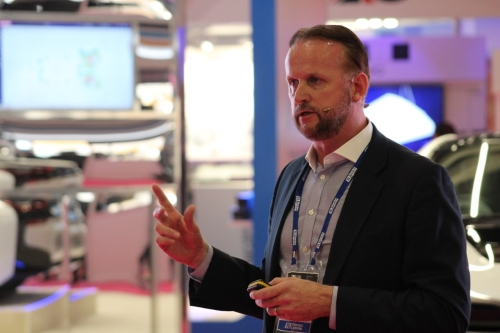 FIG. 1. "Lighting is just the medium through which the data flows," said CBRE's Rick Jacobs, who likened the smart lighting setup at the company's Amsterdam office trial to an Android phone ecosystem. (Photo credit: Mark Halper.)
And, oh yes, being smart lights, the luminaires could turn on or off when needed, and tailor their brightness and even their color temperature as desired by users, sometimes even recognizing a particular individual's pre-programmed preferences and delivering the appropriate light automatically, whether it's cool and bright for alertness, or low and warm for relaxation, and so forth.
But as important as the lighting benefits are, they are just part of a much bigger picture in which, as LEDs Magazine has observed, data is the new lighting. The lighting infrastructure has the potential to serve as the information technology backbone of smart building networks, supporting all manner of intelligent space functions, lighting being just one of them. The common thread is that all the functions entail the collection and use of data, which is becoming a commodity in its own right that building owners can leverage for further financial gain.
That is certainly how CBRE seems to see it, with smart lighting as an integral part of its "CBRE 360" set of services intended to help building operators and occupants extract all sorts of new value and usefulness from their premises.
"This proposition is not about lighting," said Rick Jacobs, CBRE's managing director for Benelux and France (Fig. 1). "Lighting is just the medium through which data flows. You can hang everything from it."
Step by step
That is indeed the vision. But Jacobs will be the first to tell you that you have to take these things one step at a time, and that not everything is ready for prime time.
For starters, CBRE has focused on two elements of the smart building system, which it installed in February, a few months after first revealing its plans.
According to Jacobs, one of those components — the occupancy data — has already yielded tangible savings, as it caused the company to pull back on its plans of expanding into an entire additional floor in the Schiphol Rijk-based building (Fig. 2), where CBRE itself is a tenant, not an owner. With insights gleaned from analyzing the data pumped into the Gooee cloud about office usage, CBRE cut back on that idea in September, and will now rent half of the building's first floor rather than the whole area.
"We were already looking to expand our office space," Jacobs explained. "And because we didn't have any structured data, the belief in our organization was that we had to get two full floors, because we're a growing organization in the country, and that's what it would take for today and in the future. But after honing the data and really looking at what is happening in the office, and having that specific data available, we were able to shave off 50% of our needs, because the data shows that we don't need it."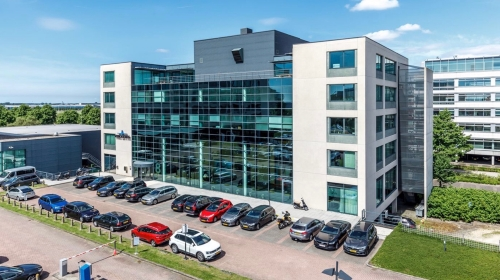 How smart lighting helped property giant CBRE figure out expansion plans
FIG. 2. The smart lights on the second floor in this building helped CBRE figure out that it would only need to expand by half a floor, rather than a whole one. (Photo credit: CBRE.)
The plan now is to move into the expanded space by April, by which time CBRE might well have switched on other aspects of the smart building system.
For example, CBRE is believed to be close to enabling a function that automatically tailors lighting levels to individually pre-programmed preferences. As this article was going to press, Jacobs was preparing a presentation about the project's human-centric lighting capabilities, for the November LuxLive 2018 conference and exhibition in London.
Jacobs was holding back details until the conference, but the human-centric lighting feature would presumably make use of the wireless Bluetooth Mesh technology that allows the 400 or so office lights to follow workers and their Bluetooth-equipped phones, and set lighting accordingly. The same technology would also support personal heating and cooling adjustments.
But contrary to the setup of other early-stage smart lighting systems in the general market, CBRE will not allow individuals to push buttons on their apps to change settings. Rather, the changes will happen automatically based on the personal profiles the individuals entered earlier into the system (Fig. 3).
Does anybody want this stuff?
While the absence of direct individual control might sound like an oversight, or perhaps an attempt to avoid chaos, Jacobs insisted that it's because people don't want it.
"I think the dirty secret is that where people [already] have the ability to change the temperature in the room and those type of things, nobody is actually using it," said Jacobs. "If it's intended for ten people, one person might use it. That's what the data shows. People don't use it, because they're busy with other stuff, or their mind is not worried about it. Or they just don't care if it's one or two degrees higher, as long as it's within a certain range. So we're looking to automate a lot of these things."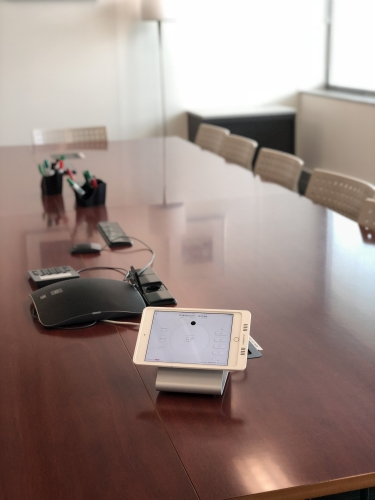 FIG. 3. IoT specialist Gooee has designed an app for wireless control of the smart lighting, although CBRE is not providing it to individual employees. (Photo credit: CBRE.)
Individuals' lighting and heating preferences would reside in a central server, connected to a Gooee gateway box, which would then use 4G cellular signals to communicate with the lights, leveraging Bluetooth signals to match individuals under the lights with the stored preferences.
Exactly how the system would arbitrate different preferences between two occupants is not clear. And it's easy to imagine a central facility manager disabling some functions while leaving others on.
A data river runs through it
But one thing is common to all the functions: They involve the collection and use of data, the oil and gold of the IoT economy.
Certainly, CBRE looks intent on leveraging the value of data in many ways. "We can provide services to different organizations that walk around in the building, and that may want some kind of connectivity or some kind of data out of the building, to help them become more efficient," said Jacobs.
One example includes cleaning companies that could tie into the system to improve their operations. "In cleaning, it's all about, 'Where do I need to clean first? And the rooms that aren't being used, how often do they need to be cleaned?'" Jacobs observed. "In the old way, a cleaner would come in, say, 'This is the floor I have to clean,' and clean the entire floor, whether it's used or not. The new way of thinking is, 'Now, if only a third was used, clean that third, and the other two thirds, you don't have to clean every day.'"
Jacobs envisioned other uses of the smart building system by other contractors. Security companies in charge of keeping the premises safe, for instance, could tap into real-time occupancy data. Likewise, catering companies could establish a better sense of how much food to prepare on any given day. They could also look at data to see which tables are being used on a regular, daily basis to reconfigure the restaurant "using data-driven decisions, instead of the 'I feel or I think' concept," he said.
The CBRE system eliminates the need for all these "building experience" companies — as Jacobs called them — to use different systems, as some of them try to do.
"They're all trying to figure out how to use technology to make themselves more efficient, or make themselves a better service company," said Jacobs. "But it's not all joined up, so they're using all kinds of different systems. Our goal is to be in charge of that, so we can provide the service back to these organizations."
The system could also support indoor positioning, making possible features such as wayfinding, in which office workers or visitors would find available rooms and services.
The list goes on. In a fire drill, facility managers would be able to easily tell whether anyone has remained in the building, for instance. In another example, luminaires could include radon detectors.
All with data coming from the lights, in CBRE's case. "You sort of have to see it as an Android telephone," Jacobs said. "Gooee is the Android system and then there's the app store. If you open up this app store to the Internet of Things companies, whether that's the accounting device, or the radon device, or Alexa or you name it, they have the ability to integrate that and put that together into a single platform."
Whose industry is it?
Of course, anyone providing such services will have to ensure that data-intensive operations are secure from hacking and protect the privacy of data. To that end, Gooee recently became the first company to gain the new IoT data security certification from Germany's international testing agency, TÜV Rheinland.
Another big question will challenge the lighting industry: While many people might agree with the general notion that better, data-driven building automation could go a long way toward improving facility efficiencies and toward generating value, why should the lighting infrastructure form the core of such systems? Why can't the sensors and communication chips reside outside the lights, say, mounted on walls, ceilings, or desktops? Why shouldn't traditional building management firms or IT networking companies drive the infrastructure?
For Jacobs, the answer is simple. By embedding the electronics and circuitry in or on the luminaires, the system has a ready-made source of electrical power, which he said is preferable to using battery-powered devices (Fig. 4). The 400 luminaires in the Schiphol-Rijk premises all tie the Gooee circuitry into the luminaire's electricity supply. Gooee works closely with Aurora — the two companies have the same chairman — and with other lighting vendors to provide IoT circuitry and cloud services. In the CBRE deployment, the Gooee chipset is embedded in almost all of the 400 luminaires and is clipped onto a few of them.
"The reason it's in [or on] the lamp is because it uses the power from the lamp and the positioning of the lamp," said Jacobs. "There's power there. Batteries die. You have to remember every two or three years to change the battery, take the thing off the wall, all this stuff. Every light is already connected somehow to a power network that makes it easy."
The positioning of the lamps and luminaires is also right for Bluetooth Mesh communications, he noted. "Through lighting, you now build this mesh network and you can connect rooms and spaces through this mesh network."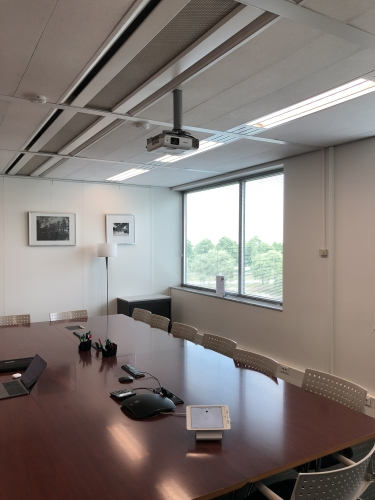 FIG. 4. In CBRE's smart building trial, the sensors and communication chips reside inside the ceiling luminaire, where they draw on the same electrical supply that powers the lighting. (Photo credit: CBRE.)
There is a third power option. Sensors and chips can use the building's main electrical supply but not tie into the lighting. Even lighting companies recognize this, and some are broadening their offerings to include non-lighting-based smart building technology. For example, Osram, the world's second-largest lighting company, recently launched a line of sensors called VISN that can live outside the lights. In two small pilot deployments with Lithuanian property firms Citus and Technopolis, the VISN sensors reside on office walls.
On the property
However lighting companies approach it — or whether they are able to claim market share from IT companies and traditional building management system providers such as Honeywell, Johnson Controls, and Schneider Electric — there should be ample opportunity. Or so the lighting industry hopes. Thus far, the market has been characterized by small deployments, often on a test basis, such as when Zumtobel outfitted 15 lights with IoT capabilities at Nestlé headquarters in Vevey, Switzerland.
It is notable that the Aurora/Gooee deployment in Amsterdam as well as the Osram trials in Lithuania are with property companies, as such outfits may serve as both end users and influential middlemen, helping to sell services to tenants in buildings they manage.
By targeting real estate owners and managers, the lighting industry is playing in a global property market that, in a tally back in 2016, London real estate group Savills pegged at $217 trillion.
That's trillion with a "T." And that was nearly three years ago, before seriously factoring in the value of IoT data. It's a rich playing field, and, as Jacobs said, it's not a lighting proposition. Even for lighting companies, it's all about that data.
MARK HALPER is a contributing editor for LEDs Magazine, and an energy, technology, and business journalist (markhalper@aol.com).