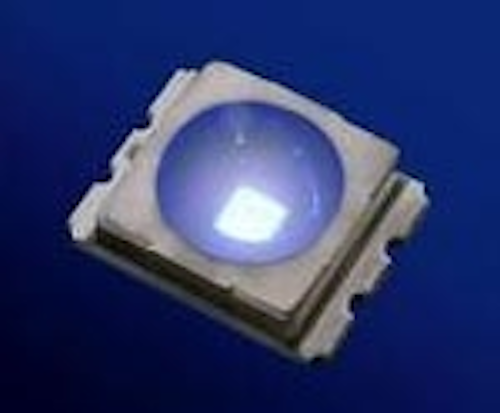 Latest
Avago Technologies enters high-power LED market with first series of low-profile LED packages (Sep 06)
BridgeLux 1.5 mm LED chips enable high-power devices (Jul 06)
BridgeLux has introduced a series of 1.5 mm LED chips that can support a drive current of up to 1.2 A.
LED manufacturers unveil latest advances at lighting shows (Jun 06)
Two major lighting shows – Light+Building in Germany and Lightfair in the USA – provided the opportunity for LED manufacturers to demonstrate their progress in developing high-power LEDs for the lighting market.
American Opto Plus 1.5mm super-thin high-power RGB LED (Jun 06)
Selected Features
Multi-watt LED light engines offer challenges and opportunities
Multi-watt class LED array light engines are emerging as viable replacements for current light sources. As Gareth Jones of Enfis describes, this brings new opportunities for application developers, as well as challenges for systems designers.
Lednium's three-dimensional LED packages provide wide-angle intensity distribution (Dec 05)
An Australian company, Lednium, has developed a unique packaging technology to produce a wide-angle distribution for solid-state lighting.
NeoBulb takes heat out of high-power LEDs
A new system-in-package solution from NeoPac Lighting is capable of dissipating 500 W/cm2 from high-power LED chips.
LightFair part 2 – High-power LED suppliers
LED manufacturers continue to target the lighting market and are creating more usable white products.
Lumileds upgrades Luxeon I, reveals white lamps
Lumileds has upgraded the specs for some of its Luxeon I products, and hopes to solve the problem of white LED color consistency.
Lamina launches latest super-bright light engines
Lamina won two awards at LightFair for its compact 120-lumen light engine.
Panel points to developments in high-power LEDs
At a recent LEDs conference, leading manufacturers described progress in their high-power LED products.
Designing high-power LEDs into real applications (part 2)
In the second of his two part article on power LEDs, Kai Klimkiewicz of Future Electronics Europe looks at the prerequisite electrical design aspects of using power LEDs and discusses their use in a number of applications including automotive lighting and mobile camera phone flash applications.
LED manufacturers reveal performance records, new high-power products
Several LED manufacturers discussed recent performance advances at the recent Intertech LEDs 2004 conference in San Diego (October 20-22), at the same time as others entered the high-power LED market.
Designing high-power LEDs into real applications (part 1)
Successfully designing high-power LEDs into an application requires care and planning due to the differences compared with working with conventional LEDs, as Kai Klimkiewicz of Future Electronics Europe explains in the first installment of this two-part article.
Lamina's packaging technology provides alternative approach to high-power chips
As some parts of the LED industry seek to develop larger chips and drive them at higher currents, Lamina Ceramics has pursued a different route by densely packing many chips onto highly engineered substrates.
Cree introduces first packaged LED product
Cree, one of the world's leading InGaN LED chip manufacturers, announced in fall 2003 its intention to change its business strategy and launch a range of packaged LED products, designated XLamp. The first such products were unveiled at the end of July 2004.
Selected News
Lumileds claims LED luminance records (Jun 06)
Philips Lumileds says that various luminance records, including 38 million nit for a white LED, will benefit automotive, television and commercial lighting applications.
Lumileds promotes capability of Luxeon K2 at 1000 mA (Jun 06)
Lumileds says that the capability of its Luxeon K2 to operate at 1000mA enables very high light output with no performance degradation.
Optek releases one-watt and RGB Ledniums, LED assemblies (Jun 06)
At Lightfair, Optek Technology unveiled several new LEDs and LED assemblies for the lighting market.
NeoPac teams with Cotco to manufacture multi-chip emitters (May 06)
Cotco is to manufacture white LEDs for incorporation into NeoPac Lighting's product series.
CAO Group unveils three-dimensional LED packages (Apr 06)
A new 3D packaging approach uses small, high-efficiency LED chips to create LED replacement bulbs.
Lamina's Atlas LED light engines challenge other light sources (Apr 06)
Lamina says its latest line of LED light engines will challenge halogen, tungsten-filament and fluorescent lamps.
Enfis LED light engines break performance records (Mar 06)
Multi-watt LED light engines developed by Enfis have demonstrated power densities of up to 500 lm/cm2 for a white package with 8000 lm output.
Luxeon Portable PWT1 powers LED flashlights (Feb 06)
A new ultra-small high-power LED from Lumileds delivers 26 lumens at 350mA with 2,000-hour lifetime.
White XLamp produces 57 lm at 47 lm/W with 350 mA (Feb 06)
Cree is claiming that its white XLamp has set a new record for LED brightness and efficacy at a drive current of 350 mA.
Osram introduces Ostar LED with output of 420 lumens (Jan 06)
New hexagonal-shaped Ostar LEDs come in 4- and 6-chip versions and are 30% more efficient than their predecessors.
Lumileds releases Luxeon K2 high-power LEDs (Jan 06)
Lumileds says that its die and packaging advancements deliver a new class of high-power LEDs.
SemiLEDs and NeoPac demonstrate 60 lm/W light engine (Jan 06)
Two companies have collaborated to demonstrate an LED light engine with an output of more than 240 lumens.
Improved Golden Dragon packages target auto applications (Dec 05)
With improved InGaN chips, new Golden Dragon packages from Osram Opto Semiconductors produce 64 lm from a current of 500 mA.
Lamina Ceramics launches 95-lm warm white LED light engine (Dec 05)
Lamina is pitching its super-bright, warm-white LED light engine as a long-lasting and energy-efficient alternative to halogen and incandescent lamps
Edison Opto targets 100 W white LED development
A Taiwan-based LED manufacturer has won government backing to develop a ultra-high-power device.
Nichia unveils 200- and 400-lumen Kirameki LED devices
Nichia develops very high power white LEDs for automotive forward lighting, and continues to enhance its Rigel product line.
Samsung Electro-Mechanics targets LED lighting market
Cree Lighting reports 86-lumen LEDs in development
In its labs Cree has demonstrated XLamp high-power LEDs with an output of 86 lumens and an efficacy of 70 lm/W.
Cree unveils 3-watt XLamp power LEDs
Cree moves the goalposts with a new 3-watt white XLamp that has an average luminous flux of 85 lumens.
Lamina receives a further $9 million in funding
Several venture capital firms have invested in the development of Lamina's ultra-high lumen LED technology.
Toshiba, Harvatek unveil high-luminosity white LEDs
Two more companies join the growing list of suppliers of watt-level white LEDs
Cree and Nichia announces white LED cross-licensing
Lamina unveils 28,000-lumen white array
Cotco reports revenue growth and expansion
Seoul Semiconductor starts production of Z-Power LEDs for illumination
Funding secures future growth for high-power LED module maker Enfis
Cotco launches Dorado one-watt high-lumen LED
Lamina unveils 13,300-lumen RGB array
Showa Denko to produce high-power blue LED chips
Selected Products
Avago unveils one-watt LED in low-profile package (Jun 06)
SSC's POWER LED leads the industry in light output (Apr 06)
SSC's Z-LED Online Store enables one-unit orders, 3-day delivery (Jan 06)
Infinilux introduces 550-lumen InfiniPower™ Light Engine (Dec 05)
Dominant introduces warm white LED with 28-lm output (Dec 05)
American Bright high-intensity 3- and 4-Watt LED modules (Dec 05)
Lumex introduces very-high brightness surface mount LEDs
Infinilux introduces 300-lumen, InfiniPower Light Engine
Lamina offers developer kits for BL-4000 light sources
Dominant introduces Nova-1 Watt series of high-power LEDs
Infinilux introduces 150-lumen white LED lighting module
BivarOpto introduces 3-watt, 90-lumen power LED module
Para Light adds E-Power LED module as light source for flashlights
Seoul offers power LED solutions for high brightness lighting
Alpha-One unveils high-intensity reflective mirror-type LEDs
NeoPac sets new standard with 500 lumen LED lighting
Cotco delivers half-watt high-lumen Mini Dorado
NeoPac launches NeoBulb solid-state lighting platform
Alpha-One unveils ultra-high power multi-element LED
Para Light introduces 350mA E-Power LEDs
American Bright launches single 3-Watt LED light source

MFOT offers 42 lm/W high-power one-watt LED lamp
Seoul Semiconductor starts production of P3 Z-Power LEDs
Lumileds Luxeon III reaches 190 lumens for red-orange
Edison Opto announces 40W, 1200 lumen Edi-Power
No heat sink required for new Luxeon LED
Cree Lighting appoints Forge Europa as XLamp distributor
Lumileds reveals summer update of Luxeon products
Forge Europa reaches distribution agreement for XLamp
Small SMT package brings advantages to Dorado 1 Watt LEDs
Opto Diode introduces 99-die LED array
Osram's compact OSTAR module offers 120 lumen output
Cree XLamp LEDs achieve industry's highest white light brightness