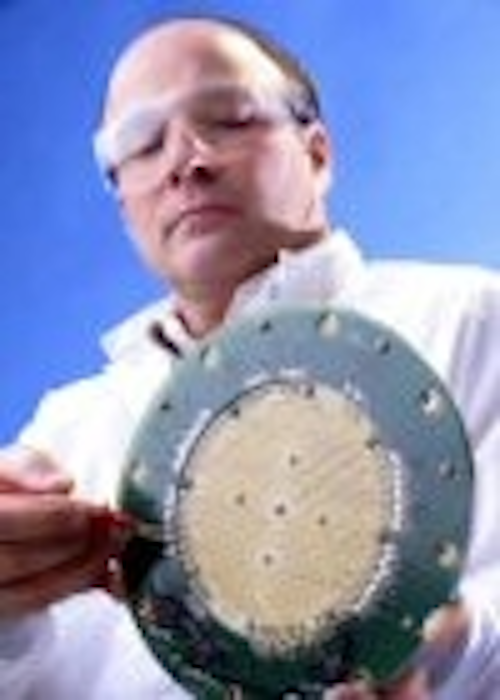 Lamina's newly developed 13,300 lumen, 860 watt RGB LED array represents a huge leap forward in brightness that could push solid-state lighting into a number of applications that require high lumen output from a single source.
The array contains 810 LEDs, 270 of each color, and is 5 inches in diameter. As well as generating 13,300 lumens, the array also boasts a record 677 lumens per square inch (Lamina says that the previous best-to-date array provided 100 lumens per square inch.)
Featuring independently controlled channels for red, green, blue or additive color mixing to produce white, the array provides 4,600 lumens of red (at 210 watts), 7,600 lumens of green (at 320 watts) and 1,100 lumens of blue light (at 330 watts).
Additionally, the array can simulate dawn through noonday to dusk white light with variable color temperatures ranging from 3,000 to 6,500 K, with corresponding lumen output ranging from 6,500 to 9000 lm.
"This revolutionary LED light engine greatly extends our existing line of small and bright to large and exceptionally bright products," explained Joe Mazzochette, Lamina's vice president of engineering. "Across all our products, Lamina's patented chip-on-board technology allows us to manufacture solid state light engines with amazing thermal performance which are compatible with virtually every high-brightness LED die manufactured."
The company's proprietary low temperature co-fired ceramic-on-metal (LTCC-M) technology, which is key to this latest breakthrough, is described in a separate article (see Lamina's packaging technology provides alternative approach to high-power chips).
Lamina is now accepting orders for delivery of the device during the second quarter of 2005.
The company expects the new product to open up many new applications for LED lighting, including illumination for buildings, large interior spaces and many other architectural lighting uses.
Lamina says it has seen immediate excitement from the theatre, studio and event lighting communities. Internationally-acclaimed lighting virtuoso Jules Fisher - who holds a record 7 Tony awards for lighting design and has seen the light engine operate - commented, "Lamina's new light engine produces a brightness level far exceeding any existing LED fixture used in the theatre. For the first time, color-mixing wash luminaires will surpass incandescent sources. They will be as bright as incandescent lights but use less energy, produce less heat and require less space - all important factors for theatre lighting designers."
A distinguished lighting scientist also noted the significance: "Historically, LED lighting systems have not provided the high lumen output necessary for many types of general illumination," said Nadarajah Narendran, director of research at the Lighting Research Center, Rensselaer Polytechnic Institute. "This barrier has relegated solid-state lighting to indicator applications, such as traffic signals and exit signs. Heat extraction is a key factor in creating LED arrays with high lumen output and longer life. With emerging high-lumen LED systems, the technology's dream for general lighting is more promising than ever."