NeoPac teams with Cotco to manufacture multi-chip emitters
Cotco is to manufacture white LEDs for incorporation into NeoPac Lighting's product series.
May 10th, 2006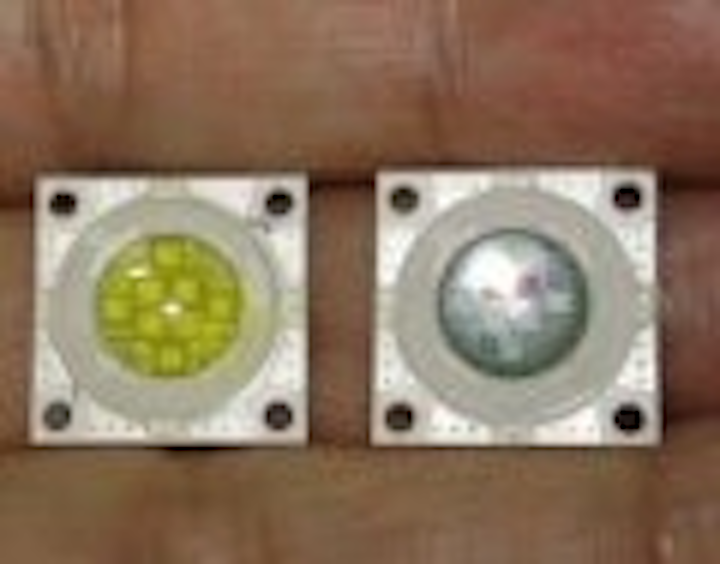 NeoPac Lighting, an LED lighting manufacturer, has agreed to an OEM deal with LED manufacturer Cotco International. The agreement will see Cotco supply ultra-high-power white LED packages for NeoPac's range of LED lighting products.
Cotco will produce and supply NeoPac Emitters, which are proprietary multi-chip LED modules (see photo).
These first-level NeoPac Emitter packages are combined with second-level thermal management components (NeoPac Thermal Module) to make system-in-package Light Engine products. These are in turn incorporated into NeoPac's LED lighting products such as the NeoBulb, and NeoBulb Combo.
For more information, see the NeoPac Lighting company profile.
The two companies say that their collaboration will ensure a steady supply of this new generation of ultra-high-power LED package, meeting the high-growth demands of LED applications for general illumination markets.
"This OEM agreement is a big step forward for us," said Jeffrey Chen, president and CEO of NeoPac Lighting. "We already have a comprehensive patent portfolio on our proprietary system-in-package products technology. However, patent rights for phosphor-converted (PC) white LEDs is always an issue."
However, the deal with Cotco provides a route around this issue. Richard Sy, managing director of Cotco, says that Cotco's license from Cree Inc under US patent number 6,600,175 enables Cotco to manufacture and sell PC-white LEDs that incorporate Cree's LED chips.
NeoPac Lighting will officially launch its NeoBulb Universal Platform and lighting devices (NeoBulb and NeoBulb Combo) at the upcoming Lightfair show in Las Vegas (May 30 to June 1).