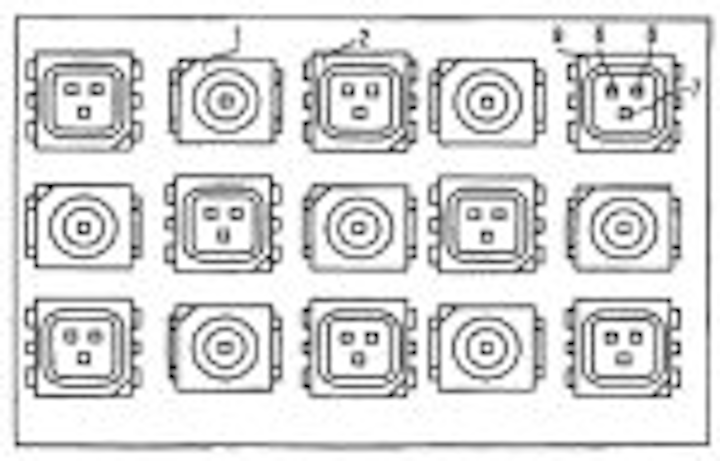 We will be reporting on new patents every few weeks. Please send information on any new patents, issued anywhere in the world, to
Tim Whitaker
.
Osram patent describes LED modules
Osram Opto Semiconductors GmbH has been granted US patent number
7125143
entitled "LED Module". The patent covers LED modules containing multiple LED packages, the overall emission of which can be adjusted to allow the color temperature of light to be selected within broad limits. With reference to the diagram, the assembly combines "mixed color" LEDs, which are effectively phosphor-converted LEDs (1), with multi-chip RGB LEDs (2). The multi-chip LEDs can be used, for example, to fill in gaps in the spectrum of the phosphor-converted devices. This approach also means that the color of light emitted by the module can be selected after assembly,, rather than before, which is the case with phosphor-converted LEDs.
3 new US patents for Dialight…
Dialight has been granted three US patents recently. US patent number 7132805 is entitled "Intelligent Drive Circuit for a Light Emitting Diode (LED) Light Engine." The patent describes a controller that controls the drive current to the LED light engine based on the sensed temperature, the sensed drive current, the sensed voltage differential, and the monitored time of operation. Further, the control device outputs an indication of intensity degradation of an LED, and if the intensity degradation exceeds a predetermined threshold the control can output an indication of such to a user, so that the user can be apprised that the LED needs to be changed.
Dialight has also been granted US patent numbers 7119500 and 7119501, both entitled "Dynamic Color Mixing LED Device." Both cover methods of controlling the relative intensity outputs of arrays of LEDs.
…and 3 for Color Kinetics
US patent number 7132785 granted to Color Kinetics is entitled "Illumination System Housing Multiple LEDs and Provided With Corresponding Conversion Material." The patent describes an LED illumination source containing LEDs with at least two different wavelengths of light, in which one of the wavelengths is down-converted by the housing of the fixture.
US patent number 7132635 is entitled "Methods and Apparatus for Camouflaging Objects" and describes methods to use patterns of LED emission to disguise the appearance of objects.
US patent number 7132804 is entitled "Data Delivery Track" and describes how power and data can be provided to a plurality of lighting fixtures via at least one pair of essentially rigid electrically conductive tracks that are mechanically coupled to an essentially rigid linear or curvilinear-shaped housing. The plurality of lighting fixtures includes at least one LED-based lighting fixture mechanically coupled to the housing, electrically coupled to the at least one pair of electrically conductive tracks, and configured to be responsive to the data.
Neo-Neon receives China invention patent for flexible LED lighting string
Neo-Neon recently received a Chinese invention patent for a flexible LED lighting string to replace neon. The patent is entitled "Light string using a cladding to scatter light from light emitting diodes to present a neon light effect." The patent describes a light string comprising a core made of soft material and having multiple axial holes defined in one side of the core. LEDs are positioned in the axial holes and connected with wires that feed through the other side of the core. A scattering body is placed on top of the core and the LEDs, and this is enclosed within a cladding layer that has a curved upper surface. The scattering body and the cladding ensure that the light emission from the LEDs is refracted and scattered to present a soft and continuous lighting effect.
Light-emitting plate
B-Sure Co. USA and Kitajima Seisakusho Co. Ltd. have been granted US patent number
7125137
entitled "Light-Emitting Unit." The patent describes a plate, designed to be mounted on a floor or wall, which is illuminated by side-mounted LEDs with different emission colors.
Star-Reach
Star-Reach has been granted US patent number 7126623 entitled "Serially Connected LED Lamps Control Device". The patent discloses a control circuit device for serially connected LED lamps, which is applicable for an integrated circuit and has the following three features: using a buffer circuit to increase the DATA and Clock lines to extend the distance between a plurality of serially connected devices, delaying half cycle of the timing of the DATA line to enhance overall system stability, and adding an internal latch signal generate circuit to simplify the requirements for external connections.