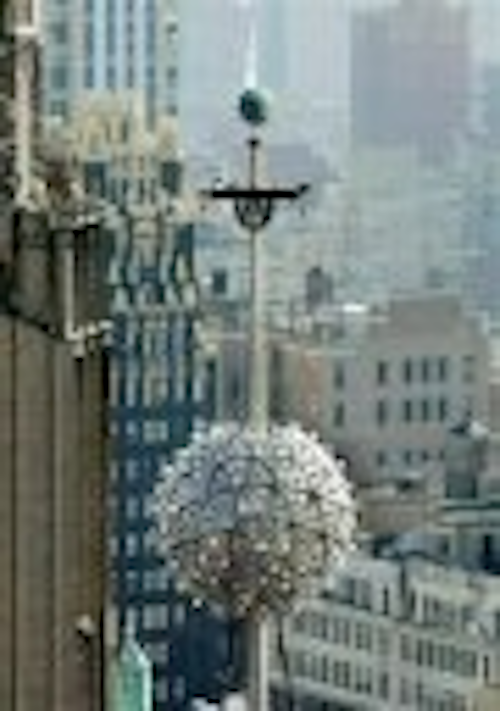 Times Square ball to be lit with LEDs
The famous crystal ball which brings in the New Year at the annual celebrations in Times Square, New York is to be renovated this year, with LED lights replacing the interior incandescent lights.
For the New Year Eve 2006/07 celebration, Philips Electronics will outfit the ball with an interior of more efficient LEDs. By 2007/08, the entire sphere will be redesigned and completely illuminated by LEDs.
The brightly illuminated crystal ball, which slides down a flagpole high atop the One Times Square building as midnight approaches, is built by Ireland-based Waterford Crystal.
The 1,070 pound geodesic orb, six feet in diameter, currently contains 600 clear and colored high-intensity halogen bulbs and 96 halogen strobe lights that currently stud the exterior and interior of the ball and create its dramatic sparkling effect.
Philips will specially engrave and auction off 90 of the soon-to-be-retired New Year's ball halogen light bulbs on eBay after the celebration. All proceeds will be donated to the Red Cross.
Super Vision International Awarded Patent for LED Pool Light
Super Vision International has been issued a patent for a niche-less LED pool light. US patent number 6,971,760 is directed at an LED light assembly and a control circuit to produce a plurality of colors for swimming pools where a niche does not need to be installed to house an underwater pool light.
"We are developing new underwater LED lighting products around a very simple installation method that is already familiar to pool builders and contractors," stated Paul Koren, Director of New Business Development for Super Vision. "Super Vision's LED technology has progressed to the point where we can provide very bright light in a very small fixture. This means that the large headlight-type lighting fixture, and the niche required to house it, are no longer needed. To the builder that means faster and less expensive installation. Plus, a smaller diameter intrusion into the pool wall reduces the risk of leaks."
Mike Bauer, who became Super Vision's president and CEO on January 1st, said the company has 19 issued patents and seven additional patent applications pending.
ACOL and Incomtech announce distribution agreement
ACOL Technologies S.A., a Geneva-based company developing high-brightness LEDs and light engines, announced today that it has signed a distribution agreement with Ukraine-based Incomtech Ltd .
The agreement gives distribution rights for the entire ACOL product range of high-brightness LEDs and advanced LED light engines. These products are used in various solid-state lighting applications such as rail and road traffic signals, automotive lights, commercial signage, architectural effect lighting, and general illumination. Incomtech Ltd. will work to identify new opportunities for ACOL and market ACOL products to light system manufacturers.
"We are looking forward to this opportunity to work with ACOL Technologies to offer a broad range of ACOL products into the very exciting solid-state illumination market," said Yuri Mazurenko, president of Incomtech Ltd. "ACOL has aggressively entered into this market by developing an impressive portfolio of products that bring unique value to light-system manufacturers and end-users."
Artistic Licence moves
UK-based lighting and control manufacturer Artistic Licence has moved to a new purpose-built manufacturing facility in Harrow, Middlesex The new premises provide over five times the existing floor area, offering room for the company's next phase of expansion.
The new facility incorporates a permanent show room, demonstration area and training rooms. The company says that the new advanced manufacturing area allows it to accept larger and more complex project commissions whilst also streamlining its standard product manufacturing process.