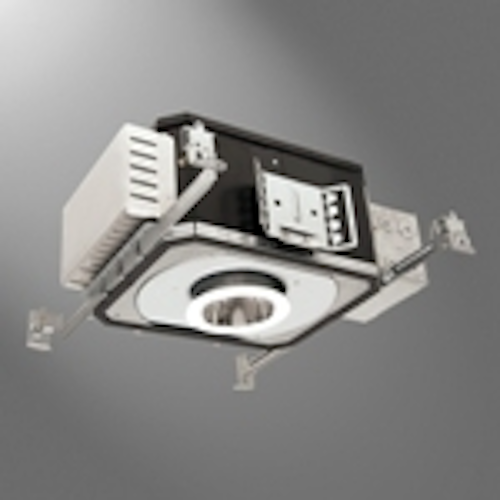 At the recent Light+Building and Lightfair International trade shows, modules designed to Zhaga standards were prominent in many exhibits, and as you might expect luminaires that use such modules will be rolling into the market. Cooper claims to have the first Zhaga-certified luminaire in the IRiS Lighting Systems P3LED directional series of downlights that uses a light engine designed to Zhaga Book 3 defining a spot light engine with separate control gear.
Cooper called the new product the "world's first Zhaga certified luminaire." Most of the Zhaga-certified claims to date have been focused specifically on modular light engines. But Steve Pyshos, marketing manager at Cooper, said that there are specific requirements in the luminaire design that must comply with the Zhaga-defined mechanical, electrical, and thermal interfaces.
Pyshos said that Underwriter's Laboratories (UL), previously announced as a certified Zhaga test lab, had certified the P3LED for compliance. The luminaire uses a Philips Fortimo SLM light engine.
The benefits of a Zhaga module are ease of design and the potential for upgradeability. Presumably, Cooper could get the product to market more quickly using a module. Because the expectation is that multiple manufacturers will deliver interoperable modules based on the Zhaga Books, it's possible that fixtures such as Cooper's new product could be upgraded down the road, for instance as brighter modules are delivered.
The P3LED series features a 3-in aperture and delivers more than 1000 lm. Cooper offers the luminaire with a 3000K CCT and 85 CRI. The fixture is rated for 50,000 hours of life. The company said it will offer other CCT options and a CRI over 90 later this year.
Copper's driver electronics package, or control gear in Zhaga parlance, includes a microprocessor that can detect the type of light engine deployed in the fixture and adapt accordingly. Moreover, the driver can dim the LEDs to 10% and supports the DALI standard for adaptive control.
The luminaire features an interchangeable optic that can support beam patterns ranging from 10-40°. The 20W product is able to replace 75W tungsten-halogen sources.
The P3LED was also named a winner in the Next Generation Luminaires competition, announced at Lightfair.