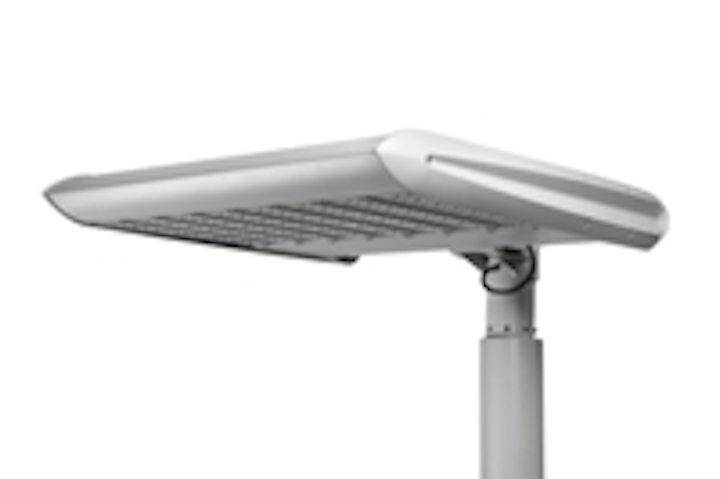 The Edge High Output (HO) LED-based luminaires come in four flavors ranging from 279-851W and are designed for applications requiring more light output such as high-security areas and automobile dealerships where rendering car color is a vital sales tool. Cree Lighting targets replacement of 1000W metal-halide (MH) lights and delivery of 50% or more energy savings using solid-state lighting (SSL) technology.
The applications for high-output luminaires is surprisingly large according to Cree senior product manager Duane Henderson. He said big-box retailers regularly use 1000W MH lamps as a marketing tool to create attention, along with widespread use by automobile dealerships. And many municipalities and businesses use such lighting in areas where enhanced security is required.
With the HO series Cree will expand the applications covered by The Edge family, first announced in 2007. Henderson said that the HO products can "improve lighting in applications or reduce the number of fixtures required in an application."
Four configurations
The new products come in two sizes with either 120 or 240 LEDs. Each comes in standard or high-power versions resulting in a choice of 279W, 426W, 557W and 851W luminaires. The fixtures rely on the NanoOptic total internal reflection (TIR) optics developed by BetaLED prior to Cree acquiring Ruud Lighting and the BetaLED brand.
Cree will offer more than 20 optic options with the HO family including a new FrontlineOptic designed for car dealerships. The FrontlineOptic renders a bumper-to-bumper beam pattern designed to uniformly light the front line of autos at a dealership. Moreover, the luminaires deliver a minimum CRI of 70 compared to typical MH lamps at 65 – rendering colors better.
"Buying a car is a visual experience and quality lighting has an immediate positive impact on the retail shopping experience," said Mike Lallier, president and owner, Reed Lallier Chevrolet. "Cree designed The Edge High Output luminaire to meet the specific needs of auto dealerships. The revolutionary solution provides superior color quality that allows us to effectively extend our selling window after dark. The advanced optical control of The Edge HO luminaire delivers light precisely where it's needed to always showcase our inventory in the best possible light."
Incumbent comparison
In reality, the new series produces less lumens than 1000W MH lights, but the SSL products control the beam better producing superior lighting, allowing even the 279W product to replace 1000W MH lights in some applications. Cree provided several theoretical case studies to compare the new lights against incumbent lighting such as MH.
For example, Cree said a retail big-box store might light its parking lot with 1000W MH lights mounted 33-ft high and spaced on a 152-ft×124-ft grid to meet the Illuminating Engineering Society of North America (IESNA) RP-20 guidelines for security lighting. The 557W The Edge luminaire could serve in that application meeting IES guidelines while delivering 48.4% energy savings. Cree also says that lumen maintenance is projected at 91% over 50,000 hours compared to 65% for MH lights.
Early customers are buying in to the advantages. "The Edge HO offered significant energy and maintenance savings compared to 1000 watt metal halide without compromise," said Allen Trench, operations manager, Irvine Home Center, Irvine Company Retail Properties. "Improved illumination performance, better color quality and greater reliability allow us to provide a much more consistent and enhanced shopping experience for our customers."
The expected 50,000-hour life will deliver 12 years of service based on dusk-to-dawn usage. Both the light engine and driver are replaceable. While the warranty on the LEDs and electronics is five years, Henderson said, "We don't expect our customers to have to service these fixtures for the life of the application."