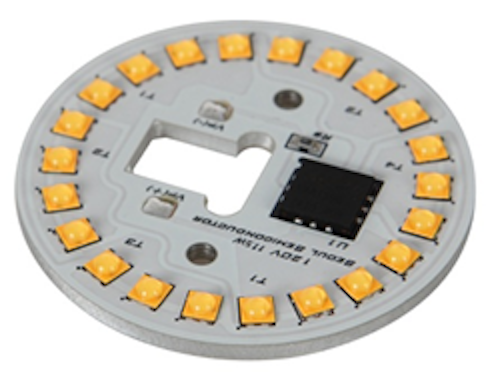 Unique reflector optic combines with high-voltage LEDs in SSL module that can form the basis of retrofit A-lamps with omnidirectional beam distribution.
Seoul Semiconductor has announced a new Acrich LED light engine based on the Acrich 3 AC-LED driver IC and Acrich MJT 2525 mid-power LEDs. The company is supplying the solid-state lighting (SSL) module along with a reflector optic that can enable retrofit lamp designs that deliver the omnidirectional beams required in programs such as Energy Star.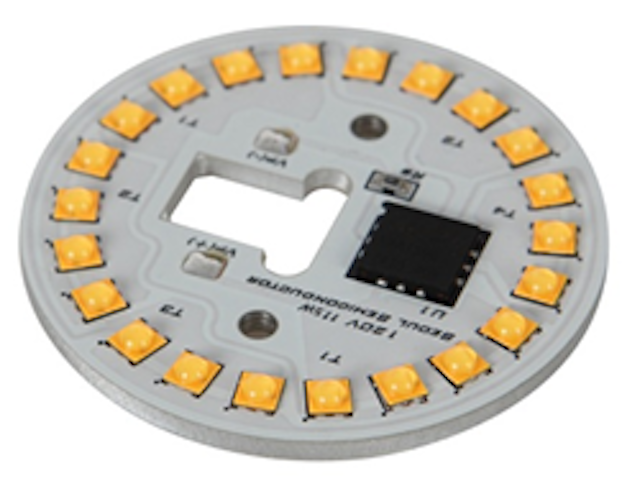 Seoul AC-LED light engine enables omnidirectional SSL lamps
The new Acrich A19 light engine consists of a round modular circuit board with the MJT 2525 LEDs mounted around the circumference of the board. The Acrich 3 driver IC allows the product to work directly from the AC mains and is mounted near the center of the modular product. Only a few additional discrete components are required in the design that specifically targets retrofit lamps.
Many such planar light engines have come to market for A-lamps and other lamp types. But most project the bulk of the light in the forward direction. Such performance is fine in many applications but omnidirectional beams are preferred in applications such as table lamps where light must be projected downward — in the opposite direction from which the LEDs face.
To enable omnidirectional performance, Seoul developed a circular reflector that is meant to be mounted above the light engine as depicted in the nearby photo. The reflector allows some of the light to escape upwards but also reflects light to the side and down toward the base so long as the planar light engine is mounted at the equator of a diffuser globe.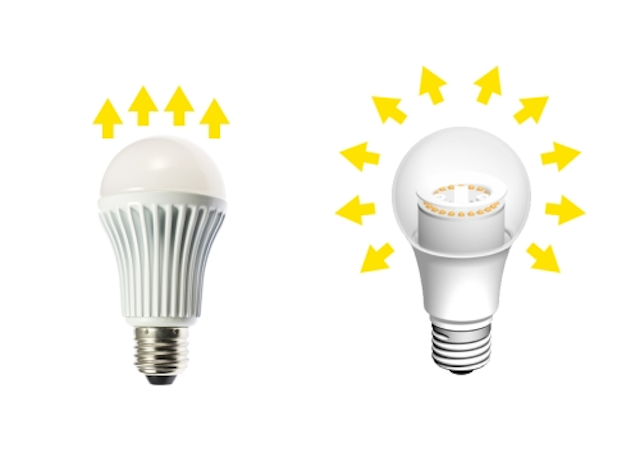 "The new Acrich A19 module is optimized for the performance and cost requirements of the retrofit lamp market," said Jay Kim, Seoul Semiconductor executive vice president of lighting sales. "This new module combines the light source, driver, optics, and primary thermal management in a single, compact system, simplifying designs and lowering costs for lighting manufacturers."
The new light engine relies on the high-voltage LEDs that Seoul refers to as multi-junction technology (MJT). The specific mid-power MJT 2525 LEDs utilized were introduced back in March.

Seoul says that the 2.5×2.5-mm LEDs deliver lumen density of 15 lm/mm2 and asserts that output density is among the best performance in the industry. Moreover, the LED includes a primary optic unlike most mid-power devices on the market. Looking closely, you can see the optic dome on the LEDs in the light engine photo, and the dome produces a wider beam angle that helps generate the omnidirectional distribution.
The Acrich 3 AC-LED driver IC was announced at LightFair International back in June. The new driver offers better dimming support when used with phase-controlled dimmers such as triacs, along with the ability to work with a noisy AC input.