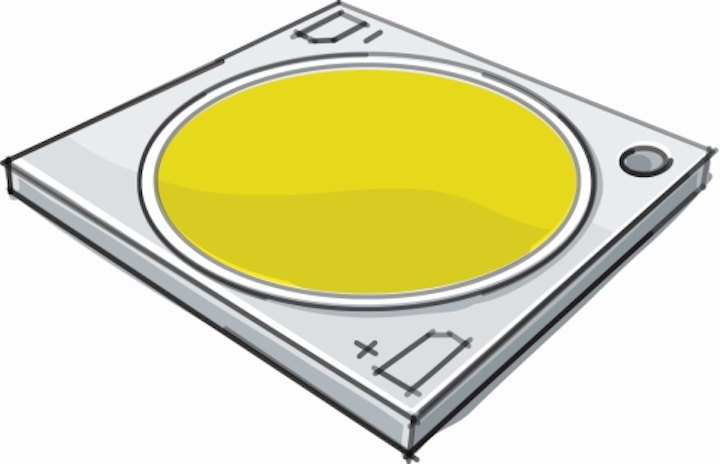 Moving below the typical LED modular light engine level, the consortium will develop a specification for the LED-source component — most prominently the COB LED.
The Zhaga Consortium has announced plans to develop a specification — a Book in the organization's parlance — defining mechanical specifications for LED light sources. The Book will focus primarily on chip-on-board (COB) LED arrays, although realistically other types of products could be designed to the specification. The specification is meant to ensure that solid-state lighting (SSL) product developers have access to interchangeable LED sources in new product development.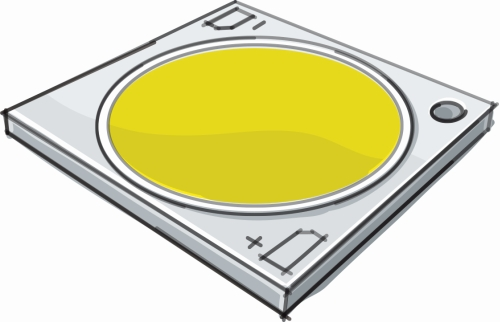 Zhaga Consortium plans a new interchangeable-light-source Book including COB LEDs
"We consulted many luminaire makers, and received broad support for our plans to standardize this type of LED light source," said Musa Unmehopa, secretary general of the Zhaga Consortium. "These companies asked us to standardize properties such as the mechanical dimensions of the module, the position of electrodes, and the diameter of the light-emitting surface."
Until now, Zhaga has focused on higher-level, modular light-engine products with or without a driver or what the organization calls electronic control gear (ECG). The consortium first develops the specification and provides it to its members. Subsequently, Zhaga publishes completed Books for use by any company. For example, the consortium publicly published Book 3 for spotlight modules back in late 2012.

The value proposition of Zhaga is focused on interoperability. The Books allows SSL luminaire makers to choose from multiple modules or sources from multiple manufacturers when the luminaire is based on a Zhaga Book.

Typically, Zhaga defines the electrical, thermal, mechanical, and optical interfaces to light engines. The COB LED Book will be simpler and focused primarily on the mechanical dimensions for square and rectangular COB LEDs.
The development is based on input from the COB and SSL sectors. "For Zhaga Books to be successful, they need to reflect the wishes of the market," said Unmehopa. "We welcome any input from COB makers or other companies, who are invited to join Zhaga and contribute to the ongoing discussions."
For now, the Book will be based on COB LED sources with the following printed-circuit-board (PCB) dimensions: 12×15-, 16×19-, 19×19-, 20×24-, 24×24-, and 28×28-mm. In addition to the outer dimension, the Book will define the size of the light-emitting surface (LES) for the various PCB sizes. Indeed, COB LED makers regularly point out that their LEDs are compatible with the mechanical dimensions defined in light engine books. The COB LED sizes will comply with those defined in existing Books.
As the Book development process ensues, Zhaga may include other elements. For example, the organization said it could add specifications for the holders commonly used with COB LEDs. The initial spec will include definition of a thermal measurement point on a COB but might yet define how a current- or temperature-sensing functionality is added.