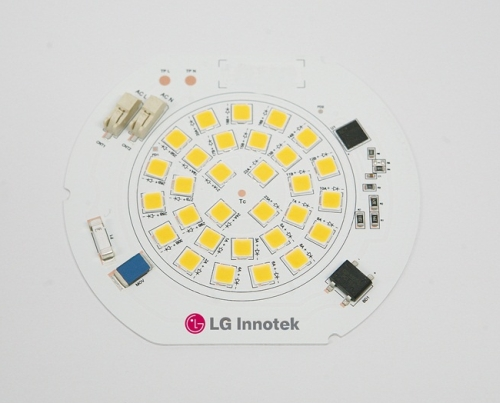 The LED maker will deliver new high-voltage packaged LEDs optimized for AC-driver technology along with modular light engines that utilize the LEDs.
LG Innotek has announced plans to enter the market for direct-AC-driven LED technology. The company said it will deliver five new packaged LED products that are optimized for use in AC-driven systems. Moreover, the company is planning three families of modular light engines that combine the LED with AC-driver technology on a circuit board.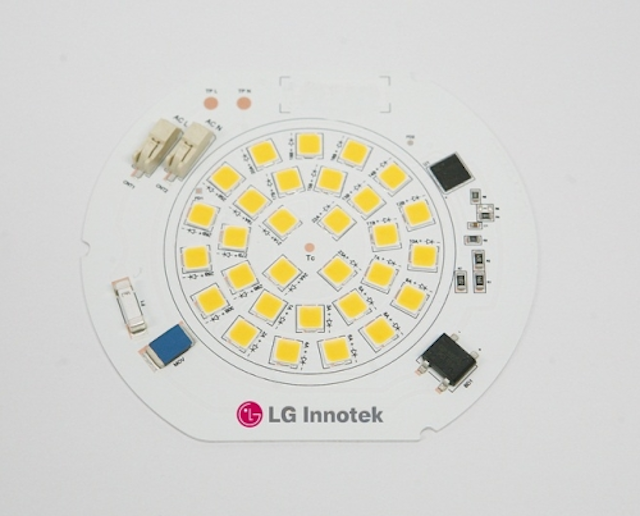 LG Innotek announces AC-LED light engines for downlights
The area of AC-driver technology is a popular one at the moment because the technology can eliminate the bulky and expensive AC-DC driver module used in most LED luminaires. The downside to AC-LED technology has been lower efficacy, flicker, and less-effective dimming control. The latest products are attacking those areas of weakness such as the third-generation Acrich3 driver IC announced recently by Seoul Semiconductor. Moreover, even driver IC specialists such as Texas Instruments (TI) are offering ICs for AC-driver topologies.

Apparently, LG Innotek has developed its own AC-drive technology, although the company did not provide details of the implementation in its recent announcement. The company simply said it had developed a way to control LED drive current directly from the AC line and that the implementation would deliver a 30% cost reduction relative to similar DC-driven light engines.
The primary building blocks for AC-LED light engines are often high-voltage LEDs that include multiple emitters integrated into one package in series. The higher forward voltage simplifies the product design because fewer LEDs are needed to implement a string that collectively has a forward voltage just below the 60V level of a rectified AC input.
Indeed, LG said it is offering the 5250HV (High Voltage), 3030HV, and 5630HV products for use in AC applications. The company also noted it would deliver additional LED product lines for AC applications this year. The company targets the larger packages at luminaires and the 3030HV at retrofit lamps. LG claims that the 5603HV offers an industry-leading 136-lm/W efficacy in terms of LEDs designed for AC applications.
All of the new module offerings, both modules for retrofit lamps and luminaires, are designed to predominantly deliver light in one direction for applications such as downlighting. The pictured light engine would most likely be deployed in a directional retrofit lamp. You can see the minimal number of components required to implement the AC-driver with only a few electronic devices in evidence. LG said the 23W module delivers efficacy of 125 lm/W and CRI of 80 or better.