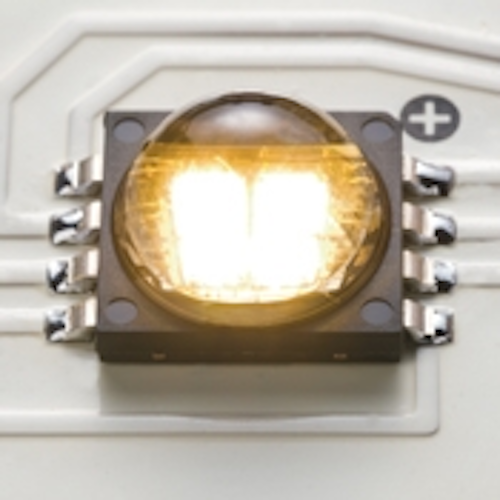 At Lightfair last week, Cree demonstrated the newest addition to its XLamp LED family, the XLamp MC-E multi-chip LED. The XLamp MC-E LEDs are targeted to be available for purchase next quarter.
The new MC-E retains the same 7 x 9 mm footprint as Cree's existing XLamp XR family of LEDs, while providing four times the light output of the existing XR-E.
Cree claims the device has the highest lumen output for a package of this size, and its press release states that the XLamp MC-E demonstrated at Lightfair provides up to 790 lumens at 6000K, and up to 605 lumens at 3000K. These figures are measured at 700 mA drive current and 9.8W power consumption.
The company believes this LED will enable new applications as well as reductions in overall system cost compared to other LED packages.
Lightfair visitors were able to view the XLamp MC-E applied in indoor and outdoor luminaire demonstrations by Acuity Brands Lighting, KramerLED and Light Engine. Secondary optics for the Xlamp MC-E were also demonstrated by Carclo, Fraen and Ledil/Marubeni.
Kramer Lighting president Al Ruud said, "For added design flexibility, our new line of KramerLED luminaires integrates the MC-E LED from Cree in combination with our proprietary NanoOptic refractors.This combination of technology ensures each LED is used to its fullest potential for unsurpassed control, uniformity, and intensity."
Norbert Hiller, Cree vice president and general manager for lighting LEDs, said, "Cree's XLamp MC-E LED is a lighting-class solution designed to enable applications that require high lumen output in a small footprint. Customers can increase design flexibility and reduce overall system cost over other, lower flux-output LED packages, without compromising on quality."