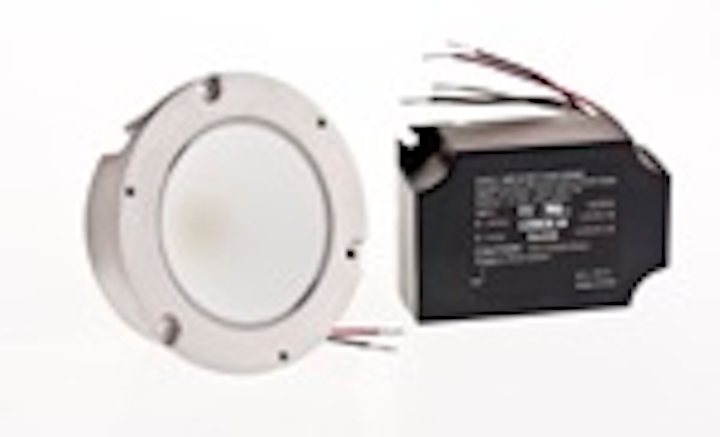 The new LMH2 family of modular LED light engines from Cree includes products with 850-or 1250-lm output over a wide choice in color temperature and with a color rendering index (CRI) greater than 90. Unlike prior Cree solid-state-lighting (SSL) modules, the LMH2 relies on a separate LED module and driver (pictured) that the company says will allow luminaire makers more flexibility in deploying the light engines across many different applications.
Indeed Cree says that the LMH2 will find usage in wall sconces, pendants, ceiling fans and other applications that can't afford space for the driver. The driver portion of the product can be installed remotely from the LED module. That not only enables applications such as small pendants but also gives the luminaire maker flexibility in the shape of the fixture and other optical elements such as reflectors.
Cree will offer products in 2700K, 3000K, 3500K, and 4000K color temperatures. Moreover, the light engines deliver system efficacy of 80 lm/W while also hitting the high CRI number.
TrueWhite technology
The combination of high efficacy and CRI is attributable to Cree's TrueWhite technology. Cree has utilized TrueWhite extensively in its own luminaires sold by Cree Lighting as well as in prior modules. TrueWhite products mix yellow and red LEDs to achieve the high CRI. Mike Watson, senior director of marketing of Cree LED components said, "The new Cree LMH2 modules make the benefits of Cree TrueWhite Technology affordable and widely available."
The 850-lm products consume 10.5W while the 1250-lm products consume 15.5W. Cree specifies that the modules will be within a 3-step MacAdams ellipse around the chosen color temperature. The driver is available with or without support for triac dimming and the dimmable models can go as low as 5% of full output.
In Zhaga Consortium parlance the new Cree module would be called a non-socketable light engine with separate control gear. That means the modules are not designed for snap-in tool-less installation or replacement.
The modules do not use remote-phosphor technology, and thus appear to be white whether powered on or off. Cree says that the white appearance is critical for its broad target of residential and commercial applications.
The drivers will work from 120V and 277V AC lines and are UL approved for both voltages. Moreover, Cree can supply much of the data such as LM-80 reports needed for luminaire makers to achieve Energy Star ratings.
Cree is providing support products and information that will help luminaire makers get to market with LMH2-based products quickly. For example Cree offers an optional heat sink and supplies a comprehensive design guide. The modules are rated for 50,000-hour lifetime and Cree is offering a product warranty for five and a half years.