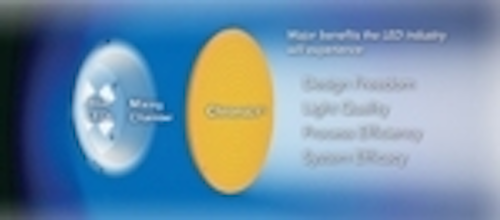 Intematix has long supplied phosphors to LED manufacturers that allow blue LEDs to produce white light, and is now supplying phosphor-coated optics for remote-phosphor solid-state lighting (SSL) designs that utilize blue LED sources. At launch, the ChromaLit family includes 45- and 61.5-mm diameter, phosphor-coated plastic optics that offer conversion efficacies ranging from 170 – 196 lm/W.
Intematix director of product marketing Julian Carey claims that the remote phosphor approach delivers a 30% gain in system efficacy compared to designs that utilize white LEDs and a secondary optic such as a diffuser. The ChromaLit optic both includes the phosphor and diffuser function in one element. According to Carey a diffuser can account for a 9% light loss in luminaires.
Since taking over as Intematix CEO in August 2010, Mark Swoboda has pledged to focus on a materials-centric business leveraging its phosphor technology, believing that phosphors dictate the quality of light. Swoboda said, "Phosphor is the arbiter for light quality. It has a direct effect on the color of light, the color rendering, and the color consistency."
Intematix's Carey states that the ChromaLit approach will prove much simpler for luminaire makers. Carey claims that the remote phosphor will eliminate the need for manufacturers to bin LEDs. Intematix recommends that designs use blue LEDs with a dominant wavelength of 457.5 nm, but won't require binning of the LEDs to ensure color consistency.
Luminaires based on ChromaLit only require the blue source, a mixing camber, and the ChromaLit optic. Carey said, "The ChromaLit source is intrinsically diffusing" and he asserts that the design reduces glare.
Carey also pointed out that luminaire manufacturers can take advantage of the remote-phosphor efficacy in several ways. The efficacy will give manufacturers the option of offering brighter products, or to cut cost by using fewer LEDs. Designs can also reduce drive current for lower power consumption and a simpler thermal design according to Carey.
Initially the ChromaLit family includes 2700k, 3000K, 3500K, and 4000K optics in both 61.5- and 45-mm sizes. Those sizes immediately enable the design of downlights, spot lights, and modular light engines. Indeed the larger size is a match for popular 6-inch downlights. The first products rely on phosphor printed on a plastic substrate, although Intematix has plans to offer glass substrates as well.
The company also plans to develop more complex shapes relative to the initial flat and round optics. Carey said, "We will make domes and spheres and even custom shapes for customers."
Intematix also believes that the remote-phosphor technology will prove useful in other applications such as automotive signaling applications. Carey stated that the company can use the technology to yield red and yellow lights.
Intematix has already begun sampling the ChromaLit components. They expect customers to launch ChromaLit-based products in the coming weeks.
Swoboda concludes, "We will be a disruptive alternative for making general lighting systems. Manufacturers can now start with a blue light source and combine that with a ChromaLit component." And Swoboda believes that approach will yield higher-quality and lower-cost SSL compared to designs based on white LEDs.