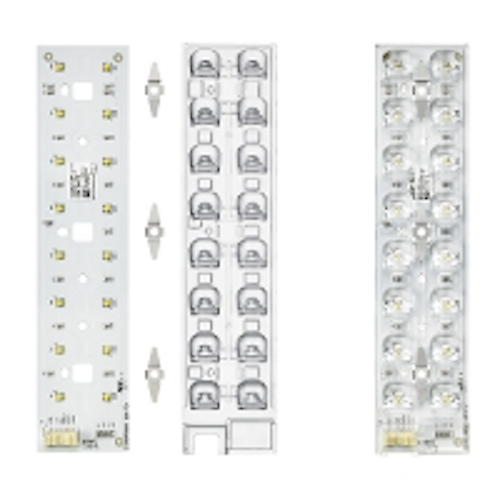 Philips Lighting has announced the Gen2 FastFlex LED light engine that includes a 216×49.5 circuit board with 16 LEDs mounted in a 2×8 pattern along with a selection of lenses that can deliver different beam patterns. The modular product, combined with a Philips Xitanium LED Xtreme drive, can enable product developers to quickly deliver solid-state lighting (SSL) products for outdoor and industrial applications.
The flexible optics offering allows a manufacturer to stock a single light engine while having the ability to quickly deliver products for a variety of needs from flood to area lighting outdoors and for high-bay applications. Off the shelf, Philips offers optics for Type 2, 3, 4, and 5 patterns.
Philips specifies the light engine for efficacy of 145 lm/W at 350 mA of drive current. But product developers have the ability to trade off lumen output and efficacy. For example, the 80-CRI module can deliver 4763 lm at 1A and the 70-CRI module can deliver 5038 lm at 1A. At the elevated drive current the efficacy is 104 lm/W and 111 lm/W, respectively.
At 530 mA, Philips rates the module for 50,000 hours or more of life. That rating covers both lumen maintenance to L80 and also the general survival of 90% of the products sold. Warranty is five years when used with an approved driver.
Philips also stresses the optical efficiency of the module, pointing out that reflector-based high-intensity discharge (HID) luminaires can have efficiency around 70%. The company says that the FastFlex module with lens has 96% optical efficiency. Moreover, the lenses produce uniform light that is directed to the intended surface area.
The modules use Philips Lumileds Luxeon T LEDs with a CCT of 4000K. Philips said that the modules are a good match for roadway lighting, urban-area streetlighting, tunnel lighting, and general area and floodlighting outdoors. Indoors the target is industrial high-bay applications.