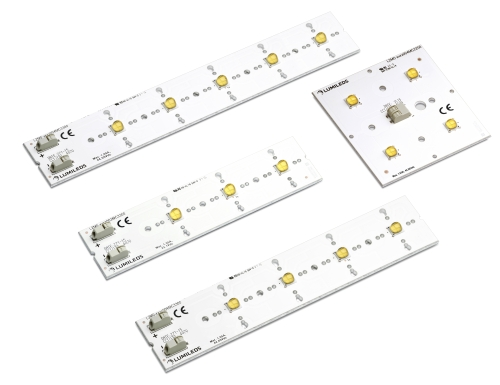 Rectangular and square SSL building block products will enable manufacturers of outdoor luminaires to accelerate the product development cycle and take advantage of a simplified manufacturing process.
Lumileds has announced the Luxeon XR-M family of Level 2 LED light engines that target outdoor solid-state lighting (SSL) products such as street lights and perhaps indoor high- and low-bay lights in industrial settings. The XR-M portfolio includes a 2×2-in. square module with four LEDs, and rectangular modules that are 1.3-in. wide and come in lengths of 5.2, 6.5, and 7.8 in. with three, four, and five LEDs, respectively.
Interested in more articles & announcements on LED light engines?

The new modules are based on the Luxeon M high-power packaged LED. The four-emitter LED is a workhorse of the Lumileds LED offering and has been widely used in high-output applications such as street lights and industrial luminaires. "Luxeon XR-M incorporates Luxeon M, one of our most efficient and top selling high-power LEDs," said Andrew Cohen, product manager of the Matrix Platform.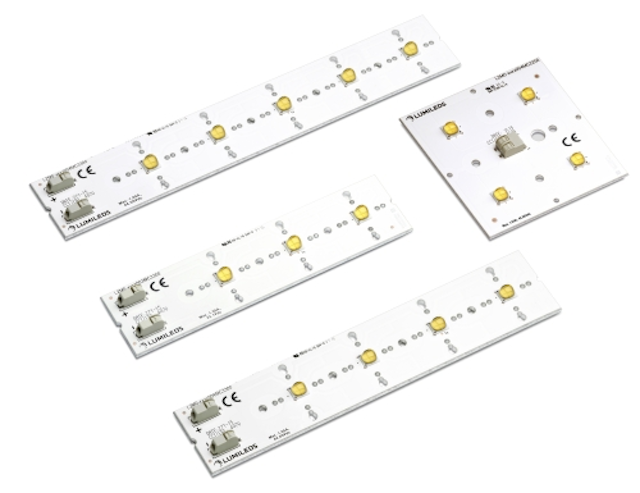 Lumileds adds outdoor-targeted LED light engines to Matrix module portfolio
Lumileds will offer the XR-M LED light engines in a choice of 4000K, 5000K, and 5700K CCTs, all at a CRI of 70. While those color temperatures might be on the cool side for many general lighting applications, the characteristics do align with the stated target applications. Moreover, the cooler CCTs come with better efficacy. Lumileds said the 4000K model delivers 140 lm/W at 85°C and 700 mA of drive current. The modules range from 3300 to 5500 lm in light output.
Still, it's the advantage of the modular form factor that will probably be the biggest selling point. Lumileds refers to modules as Level 2 products, meaning that the SSL product developer does not need to buy individual packaged LEDs and build and assemble printed circuit boards (PCBs). Instead, the developer can connect multiple XR-M modules in varying configurations to support luminaire designs of various sizes and light output options.
Cohen said, "The boards can be connected in parallel or series for driver design flexibility, and the wide variety of lens options means designers have multiple turnkey options to release a full range of luminaires much faster to market." Indeed, Lumileds said an XR-M module combined with off-the-shelf optics and driver can yield an IP66-rated luminaire that can be deployed in harsh outdoor or industrial applications.
Overall, the Matrix family includes products for both indoor and outdoor applications. Just a few weeks back, the company added the Luxeon XF-3014 family of LED light engines in flexible strip form. The Matrix platform first came to market last year.