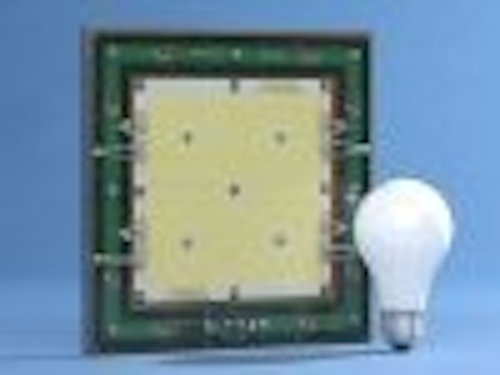 Lamina Ceramics has developed an ultra-high lumen LED white light engine with a record-breaking output of 28,000 lumens. The solid-state device is 5 inches square and is powered by 1,400 watts. It is more than twice as bright as the record-setting RGB (red-green-blue) light engine the company unveiled just a little more than three months ago.
The new light engine - branded Aterion™ White - is comprised of 1,120 LEDs with a 5,500K correlated color temperature (CCT) and a color rendering index (CRI) of 80.
"This development positions us as the only provider of ultra-high lumen LED light engines," stated Taylor Adair, president and CEO of Lamina Ceramics. "Just over three months ago, 10,000 lumen light engines were thought to be impossible to manufacture because of heat build up. Our proprietary technology enabled us to break that barrier."
Lamina's technology uses a low temperature co-fired ceramic-on-metal (LTCC-M) substrate to remove heat from the LEDs. Even so, as the audience at Taylor Adair's presentation at the Strategies in Light conference witnessed, the array requires a huge external heat sink as well as active cooling using a fan.
One audience member enquired, subtly, what the purpose of the demonstration was. "You mean, so what?" said Adair. "We wanted to go to the far end of the field and plant a flag - many people didn't realize you get a high as 1000 lumens with LED technology."
Adair said that applications for the array include stage and studio lighting, exterior lighting for buildings and public spaces, bridges and tunnels, and just about everywhere dependable, long-lived high-output lighting is needed. Of course, the array will need to incorporate optics and other components to make it a practical light source.
"Because of its new thermal management technology, Lamina is able to densely cluster hundreds of LEDs, resulting in a solid state light source that is many times brighter than anything previously reported," commented Ian Ferguson of Georgia Institute of Technology. "Lamina is demonstrating that with proper thermal management, extremely bright, cost effective LED light sources can be manufactured."