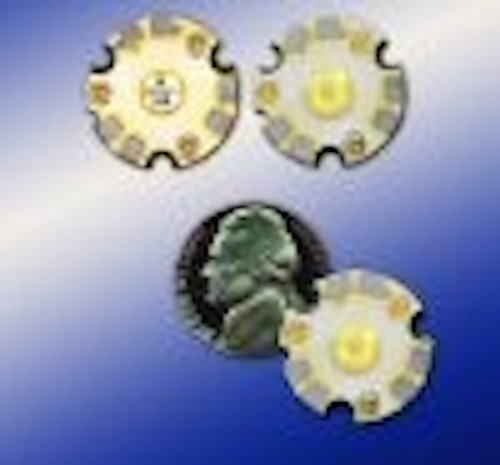 Lamina Ceramics has launched a new line of super bright, high power LED light engines featuring superior compatibility with emerging industry standards for drivers and optics.
Smaller than a US nickel, the round footprint of the Lamina BL-4000 series of 120-lumen light engines results in a less complex optic design, providing greater compatibility with a wider variety of luminaires.
The product was launched at LightFair International, where it won the Technical Innovation Award and the Best in Category Award for LED Lamps.
The RGB (red-green-blue) light engine (see photo) contains two 1 x 1 mm2 LEDs of each color, positioned for optimum color mixing. The 5,500K white-only light engine contains four 1 x 1 mm2 chips and has a color rendition index (CRI) of 78. Lamina said that the lifetime of the white device is over 20,000 hours. RGB is immediately available worldwide, and white and monochromatic colors (red, green, blue and amber) will be available within 60 days.
The products are designed to be used with popular drive currents (i.e. 350 mA), feature integrated protection from electrostatic discharge (ESD), an isolated metal base for wiring on a common heat sink in either series or parallel, and compatibility with many popular LED optics.
On its LightFair stand, Lamina demonstrated the product using an off-the-shelf driver from LED Dynamics, and custom-built finned heatsinks. The company also showed a module incorporating an EZConnect PCB adapter, and mounting holes for a standard optic from Fraen.
"With it's 3 independently controlled, mixed and fully-dimmable color channels, the BL-4000 RGB+ opens up a huge new world of design possibilities for architainment and architectural lighting," noted Jim Anderson, Lamina's vice president of marketing. "Designers and lighting architects can now provide decorative and accent lighting in 16 million colors and at any brightness level. These tiny but powerful light engines can be used individually, or chained together in series or parallel circuits. They're also naturals for LCD display backlighting, signaling applications and signage."