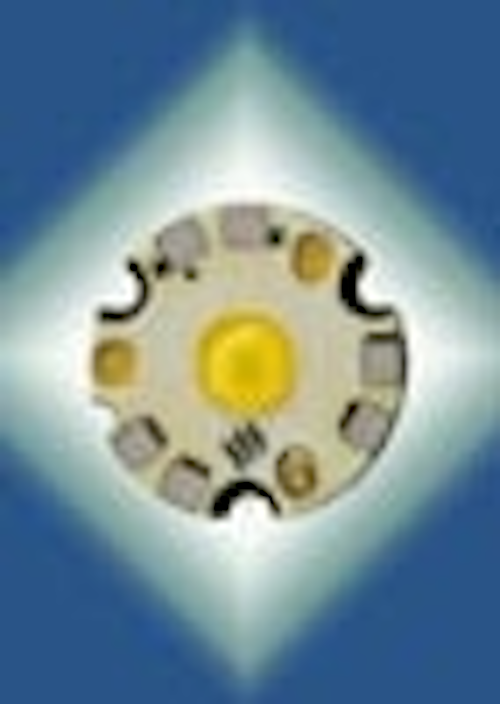 Lamina Ceramics has launched a new super bright, high power LED light engine featuring a warm, eye-pleasing light quality similar to popular halogen and tungsten incandescent lamps.
The BL-4000 Warm White has a color temperature of 3,000 K and delivers 95 lumens - nearly as much light as a 10 watt halogen bulb - while consuming only 5.3 watts of electricity.
Lamina says that the product is more than 3 times brighter than any other commercially available warm white LED array.
Its usable lifetime (rated at 50% of original brightness) is 3 to 4 times longer than the longest lived halogen, and it is smaller than a US nickel.
"Lamina's BL-4000 Warm White LED light engine is not only a tremendous addition to our award-winning product line, it also represents another very significant advance in solid state lighting," said Taylor Adair, Lamina Ceramic's president and CEO.
Adair also noted the BL-4000 Warm White's eye appeal should encourage interior residential and commercial lighting designers and architects to mix solid state lighting with conventional halogen and tungsten lighting designs.
While LED lighting is now designed into a steadily growing number of interior and exterior applications in both the commercial and residential categories, the characteristically cool light produced by white LEDs has not been pleasing to the eye in living rooms and other relaxation oriented environments.
"Cool white light correlating to that of the midday sun is often preferred for work environments and task lighting," explained Mr. Adair. "But lots of research has shown we have been conditioned over thousands of years to prefer warm light - like that of a setting sun, fireplace or candles - for our living environments." Warm white light, he noted, creates an intimate, relaxed atmosphere and also enhances the appearance of wood and furniture.
Lamina's warm white LED light engine rounds out the BL-4000 series, which includes an RGB (red-green-blue) light engine producing 120 lumens in up to 16 million blended colors - including white with variable color temperature.
There is also a white LED light engine provides a daylight color temperature of 5,550 K with a color rendition index (CRI) of 78, rivaling the quality of natural midday sunlight. It's designed for many architectural lighting applications, desk and other task lamps, machine vision and flashlights.
All BL-4000 LED light engines are designed for the popular drive current and are available mounted to Lamina's EZ-Connect board for solderless connections. Narrow, medium and wide optics and optics holders designed in partnership with Fraen Corporation are also available.
All feature integrated protection from electrostatic discharge (ESD) and an isolated metal base for wiring on a common heat sink in either series or parallel. Lamina heat sinks are available for rapid prototyping.