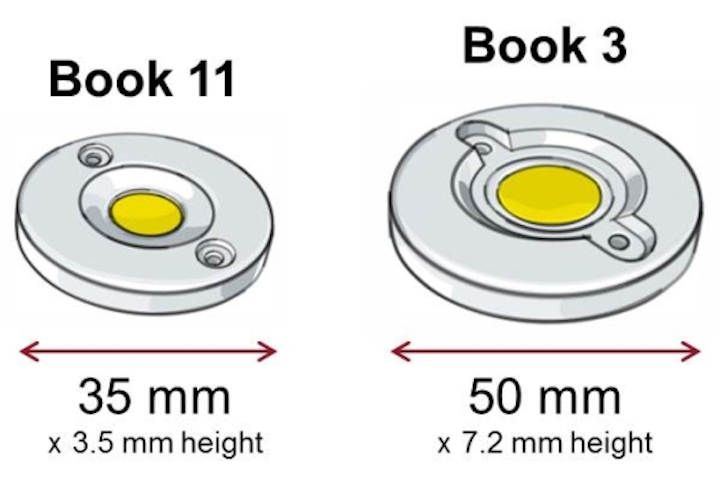 The new Zhaga book is the first to only define an LED module and also the first to reference the driver interface that has been defined by the Module-Driver Interface – Special Interest Group (MD-SIG).
The Zhaga Consortium has announced publication of Book 11 covering 35-mm-diameter LED modules intended for applications such as spotlights and similar luminaires. Book 11 becomes a part of a set of related specifications for round modules with Book 3 describing 50-mm modules and Book 10 describing 75-mm modules.
Interested in more articles & announcements about standards?

Zhaga is an industry organization that is seeking to simplify the supply chain for solid-state lighting (SSL) manufacturers by establishing standards for interchangeable LED light engines (LLEs). The organization refers to its specifications as Books and defines different Books for specific applications. Book 3, for example, was the first Book published for spotlights.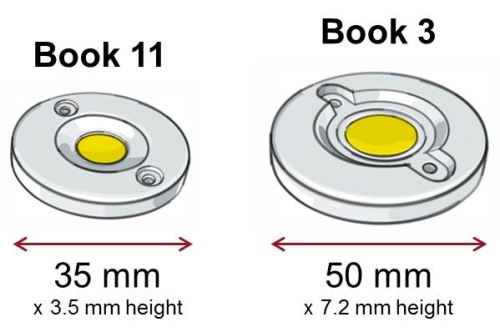 Zhaga publishes Book 11 for 35-mm spotlight LED modules
While Book 11, 3, and 10 all define a fixed mechanical size for LED modules, the Books also offer options in terms of the size of the light-emitting surface (LES) or source size characterized by category. Book 11 includes LES 6.3 (4.5 to 6.3 mm), LES 9 (6.3 to 9 mm), and LES 13.5 (9 to 13.5 mm).
Book 11 differs in two ways from the earlier Zhaga books. The organization said it is the first Book "to describe an LED module, rather than a complete LED light engine." That is a subtle distinction because Book 3 and Book 10 both require an external driver, or what Zhaga calls electronic control gear (ECG), to combine with an LED module to compose an LLE. Book 3 and 10 define the required ECG via references to form factors.
Related article: Zhaga Consortium publishes Book 9 specification for LED light engines

Modules defined by Book 11 will also require an external ECG, but Book 11 doesn't specifically cover drivers. Zhaga is also working on a new Book 13 that will define drivers that can be used with Book 11 modules. And developers working with Book 11 can rely on the drivers defined in Book 1 while Book 13 is under development.
Related article: Zhaga plans a new interchangeable-source Book including COB LEDs

Book 11, meanwhile, is also the first Zhaga Book to require that the modules comply with the LEDset specification that has been developed by another industry organization, the Module-Driver Interface – Special Interest Group (MD-SIG). Member of the MD-SIG include BAG, Helvar, Osram, Panasonic/Vossloh Schwabe, Philips, TCI, and Zumtobel/Tridonic. The LEDset specification defines the electrical interface between the driver and module, including the ability to set the current level produced by the driver either by an external current-set resistor or a resistor that can be optionally integrated in the module.