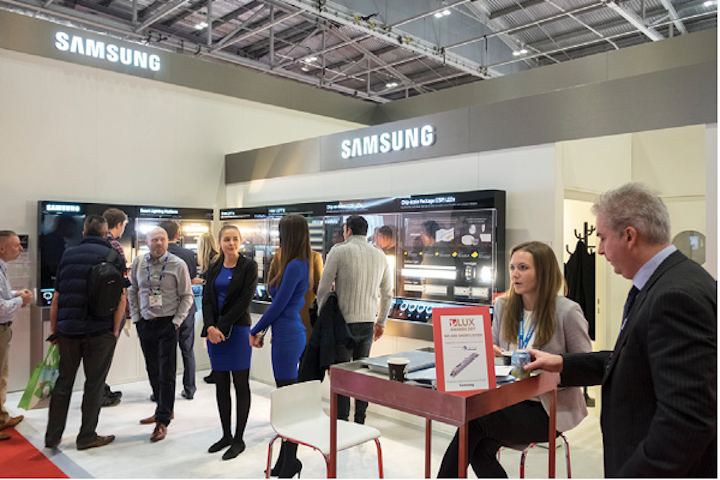 After perusing the exhibits on the LuxLive and Lightspace show floors for two days, MAURY WRIGHT covers the ten most impactful technology demonstrations and market messages delivered in the exhibit halls.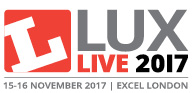 As with most solid-state lighting (SSL) and LED-sector events of the recent past, the smart lighting and Internet of Things (IoT) theme ran through most exhibit floor stands and presentations at LuxLive 2017 in London Nov. 15 and 16. Still, quality of light was also a prominent theme through both the enabling technology and lighting product exhibits at LuxLive and the co-located Lightspace.London event. Moreover, in the enabling technology area, we're seeing more complex reference designs and deeper technology partnerships that can help SSL industry manufacturers deal with time-to-market pressure in what is becoming an increasingly-complex technology stack. So let's have a look at some of the most compelling exhibits we found on the show floor.
Interested in articles & announcements on applications of lighting and IoT?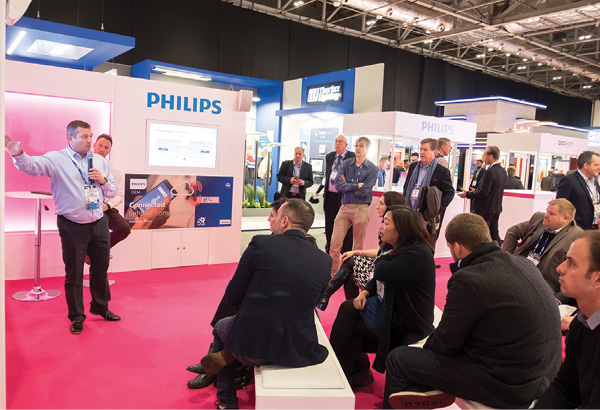 Philips Lighting executives explained the benefits of the Xitanium SR driver architecture in the IoT Arena, and detailed how luminaire makers can leverage the concept to support different IoT schemes. Photo credit: All photos, Redshift Media.
We won't cover presentations made during LuxLive in this article, but we have another article that focuses on presentations made at the IoT Arena hosted and sponsored by Gooee. Indeed, the arena was certainly the activity hub at LuxLive. From the opening news conference at the arena through to the hopping evening networking opportunity, the crowd gathered about the IoT Arena, which was home to both the aforementioned presentations and a perimeter of exhibitors focused on the IoT opportunity present in the lighting sector.
We'd surmise the overall feeling among the IoT-focused vendors was one of significant opportunity that is also fraught with challenges. Still, the emergence of ecosystems may finally deliver the interoperability and scale needed to move the lighting sector forward in tapping the IoT potential. Meanwhile, the lighting quality and accelerated development cycle messaging serve as complementary driving forces forward.
Philips Xitanium SR drivers
We've often written that the driver is as important as any other element in an LED luminaire in terms of the delivery of light quality and performance, even rivaling the importance of the LED components. So it's no surprise that an LED driver demonstration at LuxLive was among the highlights of the exhibition. The Philips Lighting Xitanium SR driver stand that was part of the series of booths surrounding the IoT Arena stood out for reasons that go beyond the technology and here again we will discuss ecosystem and scale.
Philips launched the Xitanium SR family back in 2014 for indoor applications and followed up in 2016 with outdoor-targeted SR drivers. The SR suffix stands for Sensor Ready and such drivers include a standardized 2-wire digital interface based on the DALI 2.0 (digital addressable lighting interface) standard.
Oftentimes, DALI-capable drivers are used such that a central network and control system can communicate with the driver over DALI. But Philips developed the SR technology with a different concept in mind. The SR platform was intended to allow a luminaire maker to connect a sensor module to the driver, creating a smart lighting system. The module might be able to sense ambient light, occupancy and vacancy, temperature, and/or other variables. And the module would integrate the required communication network. For example, we covered an announcement way back in 2014 when Enlighted announced support for the SR drivers in its wireless sensor modules.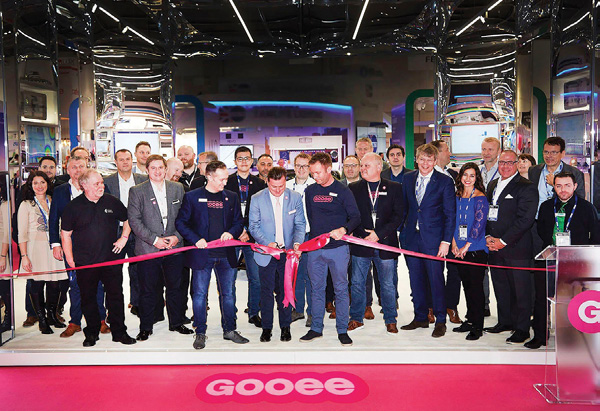 Gooee CEO and founder Andrew Johnson cuts the ribbon to open the IoT Arena at LuxLive.
Such partnerships allow Philips to help luminaire makers roll out smart lighting products and IoT support without dictating the network implementation or type of sensor utilized. For example, smart lighting pioneer Digital Lumens added what it called Digital Lighting Agents (DLAs) to its portfolio back in 2014 that allowed other luminaire makers to develop products that were compatible with the Digital Lumens Light­Rules central management system. Enlighted and Digital Lumens utilize vastly different wireless networks, but a luminaire maker could support both simply by changing the sensor type in the luminaire that's paired with the SR driver.
At LuxLive, Philips emphasized the scale that an ecosystem can offer and has long operated its SR Certified partner program that includes manufacturers of sensors and communication modules, vendors of central management systems or building management systems, and vendors of smart city management platforms.
Earlier this year, Gooee and Silvair were added to the SR Certified list. Subsequently, of course, the Bluetooth Mesh standard emerged from the standards development process, providing yet another option in terms of a wireless network for smart lighting systems http://bit.ly/2ETRpsi). Gooee is basing its smart lighting platform on Bluetooth Mesh. So at LuxLive, Philips was highlighting the ability to support Bluetooth Mesh-based luminaires with the Xitanium SR drivers alongside support for other technologies including ZigBee and Synapse Wireless.
Gooee Full Stack IoT Ecosystem
Gooee, meanwhile, has its own ecosystem that grew significantly in scale going into LuxLive. The Gooee Full Stack IoT Ecosystem implies just what the words say. The technology stack extends from the chip or module level that will allow luminaire makers to build smart SSL products up to the central management system used in building management. Gooee struck a deal with cloud-computing partner Evrythng back in October to give the company the ability to fully integrate its enabling-technology stack into the Evrythng software and ultimately to allow it and its luminaire partners to supply the Evrythng software to facility and building managers.
Much of the other Gooee news is covered in the aforementioned companion article on activity at the IoT Arena, so we will only hit the highlights here. Gooee used LuxLive to announce that its technology is now readily available in Europe. From an enabling-technology perspective, the products include things such as sensor modules and wireless network modules. The company also offers wireless access points and gateways that are used to build out a network in a facility.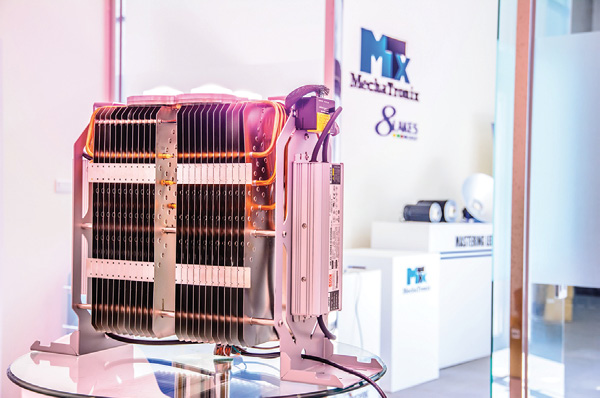 The CoolCube reference design from Mechatronix can deliver 800W of radiometric power or photosynthetic photon flux of 2000 μmoles/sec for horticultural lighting applications.
Gooee also announced lighting manufacturers Aurora and Feilo Sylvania as Platinum Partners with full access to the Gooee IoT portfolio. Those companies had early-stage Gooee-enabled products in the exhibit area, although widespread commercial availability has yet to happen. Remember that the Bluetooth Mesh standard was only released in mid-2017. Still, it was clear that Gooee is gaining scale and traction. The proof was in participation by commercial real estate giant CBRE, which will presumably deploy Gooee IoT technology, and Dell, which will deliver cloud computing support.
Holophane Smart Spaces
Of course, the IoT extends outdoors as well and smart city applications will be another sector with huge potential for lighting manufacturers going forward. Many of the same challenges exist such as interoperability and scale that we've discussed relative to the indoor space. At LuxLive, Holophane (an Acuity Brand) anchored the Smart Spaces Campus on the exhibit floor and was also a key sponsor of a separate Smart Spaces Conference held off the show floor.
Holophane demonstrated its Controlux Air platform for exterior lighting applications. The system includes wireless nodes for luminaires, sensors for poles, and network infrastructure such as gateways. Such a system can deliver benefits ranging from automated and preventive maintenance to environmental and security monitoring. The company also stresses that the technology can interoperate with third-party software.
The CityMax luminaire from Holophane (an Acuity Brand) won the Exterior Luminaire of the Year Award 2017 at the Lux Awards that culminated LuxLive week.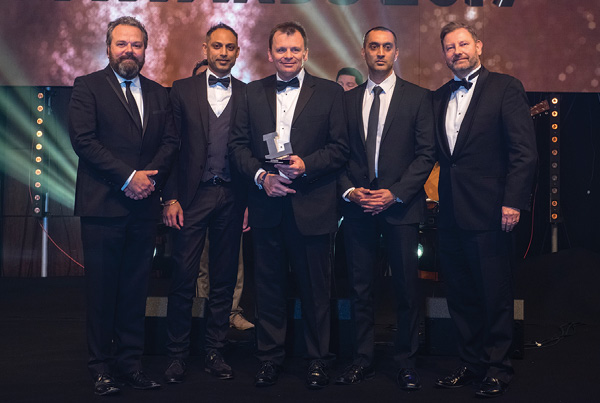 Holophane also won a key award at the Lux Awards Gala that was held the Thursday night culminating LuxLive week. The company's CityMax luminaire won the Exterior Luminaire of the Year Award 2017 with that recognition implying superb quality of light. The product is intended to serve in parks, public squares, and downtown areas where pedestrian-scale lighting is a requisite. It offers a sleek look whether powered off during the day or on at night. And of course, it can integrate with smart elements such as sensors for changing light levels based on pedestrians in the area.
Samsung Smart Lighting Platform
Back to the enabling technology side of things, Samsung also captured Lux Awards glory, winning the Enabling Technology of the Year 2017 award with the Programmable Multichannel Driver. Such a multichannel driver is a key element of tunable lighting systems that will increasingly be a part of smart lighting deployments as well as enabling human-centric lighting (HCL) applications. And for Samsung, the driver is part of its larger Smart Lighting Platform.
Samsung demonstrated LEDs, SSL light engines, and the various products that comprise the Samsung Smart Lighting platform at LuxLive.
The Samsung exhibit at LuxLive was far reaching. It included a full range of the company's LEDs including the newest CSP (chip-scale package) components. The company had just announced new products with optimized light extraction features back in September.
Still, it was the overall evolving Smart Lighting Platform that caught our attention in the exhibit. Samsung is another company trying to simplify the job of luminaire developers working to get IoT-enabled products to market. The company has sensors and smart lighting modules with wireless or wired interconnectivity that luminaire makers can easily integrate into products, and can even assist lighting manufacturers with software for smart devices that can be used in the commissioning process for intelligent systems.
MechaTronix CoolCube coolers and reference designs
Collaboration remains equally important in the more traditional thermal, optical, and mechanical disciplines that are a big part of SSL product design along with the electronics. And perhaps it's back in the thermal management basics where we find the technology that is enabling great LED luminaire performance to go along with things such as the IoT evolution. MechaTronix seems always ready to collaborate on LED light engine designs that can hit all-new performance levels. We got to see several such assemblies at LuxLive.
Horticultural lighting is an application where high light levels - or more succinctly, higher photosynthetic photon flux density (PPFD) - are paramount. In greenhouse applications, LED-based luminaires must match the performance of dual-lamp, HID-based fixtures - and realistically the same challenge might exist in high-bay lighting.
MechaTronix was demonstrating its CoolCube design that can power four very-high-power COB (chip-on-board) LED sources with space for a driver. As is typical, MechaTronix works with leading partners on such reference designs including Osram Opto Semiconductors for the custom LEDs that include Berg Hybrid Circuits for the electronics, LEDiL for the optics, and drivers from Mean Well or Inventronics.
The product demonstrated at LuxLive included four emitters with Zhaga-compatible footprints in a 38-mm light-emitting surface (LES). The design delivers 800W of radiometric power or photosynthetic photon flux (PPF) of 2000 μmoles/sec (see our prior coverage for background on horticultural metrics). The key to the performance is the MechaTronix CoolCube product that is based on heat pipe technology. Further at LuxLive, MechaTronix also demonstrated the Osram-led horticultural development kit that we wrote about back in October.
Khatod Cosmo COB optics
Now let's turn our attention more to quality of light. Of course, LEDs greatly impact light quality, but there are many very capable LEDs on the market today. It really becomes a luminaire design problem to deliver good light and optics are critical - especially with LEDs spanning form factors from CSP components that measure 1 mm on a side to COB LEDs that might have an LES 20 or 30 times larger.
The optics companies face the challenge of delivering great optical performance while also minimizing costs. Khatod, for instance, demonstrated the Cosmo optics at LuxLive. The product family features low-profile lenses designed for COB LEDs with LES diameters ranging from 6-22 mm. The lenses come in 50-, 70-, and 90-mm sizes.
Khatod utilizes a hybrid TIR (total internal reflection) and Fresnel lens approach to deliver good performance in optics that stand just 10-, 14-, or 18-mm high. The company said the optic divides the light into sectors inside the lens but ultimately spreads it uniformly over the surface with minimal glare. And the design was realized using PMMA (polymethyl methacrylate) or acrylic material that is far less expensive than a material such as silicone that has been regularly used by Khatod and other manufacturers in COB-targeted designs.
Carclo Optics 33UP Arrays
The LED sector is also evolving in terms of how components are sold and suppliers such as optics manufacturers must adopt as well. For instance, many LED makers are selling mid-power and CSP LEDs already installed on printed-circuit boards (PCBs) in what is often termed a Level 2 product, or you might call it a modular light engine. Some can be quite large and even Zhaga has defined standardized form factors for large rectangular modules. And some lighting manufacturers and other third parties have joined the module supply chain.
At LuxLive, for example, Carclo Optics was demonstrating its latest version of the 33UP Array Optics. The products displayed were designed for the Philips Lighting Fortimo Gen4 light engines that have three rows of 11 LEDs designed for indoor industrial and high-bay lighting applications, and the 33UP Array is a one-piece optic that covers the entire Level 2 module. Carclo offers the products in 32 versions with a variety of beam distributions needed for factories, big-box retail, and more.
There are options in materials as well. Carclo offers the array optics in both PMMA and PC (polycarbonate) flavors. PC properties, specifically resistance to shattering, mean that the optics can be used in applications such as food service without the need for a secondary optic. PMMA options may prove more cost effective and are resistant to scratches. See our recent two-part series on optics to understand more about the materials.
LIA issues BSI Kitemark
Moving to performance verification, LED luminaires must deliver on the manufacturers' specifications to truly serve the industry. And there was news on that front at LuxLive - especially relative to the UK market. But the story carries significance to any lighting manufacturer that does business in the UK, not just to those companies based there.
The UK Lighting Industry Association (LIA) joined with the British Standards Institution (BSI) at LuxLive to announce that the latter's iconic Kitemark that is synonymous with quality goods in the UK will now be awarded to SSL products that are verified by the LIA to meet the manufacturer's specification. The program will provide buyers of LED-based lighting products peace of mind and hold manufacturers to maintain product reliability and quality over time. We have more details on the program in a news article that we posted earlier.
The LIA exhibit was also among the most notable at LuxLive. The organization managed to bring one of its recycling trucks onto the show floor. The association offers recycling services to its member companies as the UK and all of Europe moves toward a circular economy future.
Filamento Valto high-bay lamp
Let's close with a look at two compelling lighting products we saw on the show floors during LuxLive week, the first of which is an HID-replacement LED lamp from Filamento. Pictures of the Filamento Valto high-bay lamp, however, don't do the product justice. The product doesn't look like a lamp. Indeed, it has a very strange form factor with concentric circles of LEDs surrounding a central cylinder in which the driver electronics reside.
You would not call the Valto product elegant looking with the exposed heat sink. Then again, who will take a close look at it with it mounted on high ceilings and perhaps even recessed inside a reflector. Moreover, perhaps elegance should be measured by performance and not looks.
The cooling fins on Valto clearly serve a purpose, and the concentric circles with air gaps encourage airflow for optimal thermal mitigation. The LEDs are mounted in individually-machined metal cavities that serve as miniature reflectors to control the beam pattern. And the driver design can work with existing ballasts or when connected directly to the line. We look forward to seeing case studies on Valto projects as it was just being commercially deployed around the LuxLive timeframe.
Linea Light Diphy pendant
Moving to the Lightspace show floor that was co-located with LuxLive , the space was set apart by floor-to-ceiling drapes, and as has become a recurring theme, lower light levels and dramatic exhibits that specifically target the architectural lighting crowd. Moreover, the Lightspace Arena served as a venue for noted lighting designers and architects to share their knowledge with overflow audiences.
Still, it was the exhibits that set the space apart with names such as Radiant, Anolis, iGuzzini, LED Linear, Lumenpulse, and others represented. Linea Light had perhaps the most elegant of exhibit areas with beautiful luminaires on display - and the Diphy family of pendant fixtures was a great example.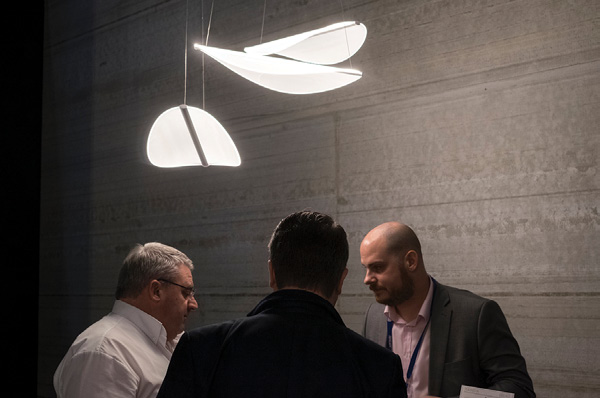 The Lightspace exhibit area was home to many compelling displays including the Linea Light Diphy demonstration of stylish yet functional pendants.
The Diphy design is hard to describe with a symmetrical 3D design that features a type of light guide or diffuser with an overall oblong shape that curves gently toward the floor. Linea sells the product in ceiling-mount versions with one or three (Diphy_P3) of the lighting elements suspended from the ceiling mount that includes the driver. The company also offers a floor-standing model (Diphy_FL) with a curved boom from which the lighting element is suspended.
The design of the lighting element appears to use a linear LED light engine that forms the spine of the luminaire with the curved diffusers connected on each side of that spine. The design provides direct ambient lighting and the diffusers create a pleasant uniform look with no hot spots.
We've covered many light-guide-based luminaires in the past few years, for instance, the Cree WaveMax products. But most such products use a manufacturing process that embeds micro-scale optical features in the material layers that comprise the guide. Linea, however, said it achieves the elegant-looking Diphy optic using PMMA material with a laser engraving treatment.
The result looks great and the specifications indicate that the design delivers in terms of performance. The 3000K-CCT luminaire achieves more-than-respectable 136.4-lm/W efficacy with a CRI of 90. Lifetime is projected at 80,000 hours. The product supports both 0-10V and DALI dimming.
LuxLive 2017 delivered something for everyone from enabling technologies to end products. The event further confirmed the IoT trend in the lighting space. And hopefully the lighting industry will capitalize on the potential and make money on IoT technology as 2018 unfolds.