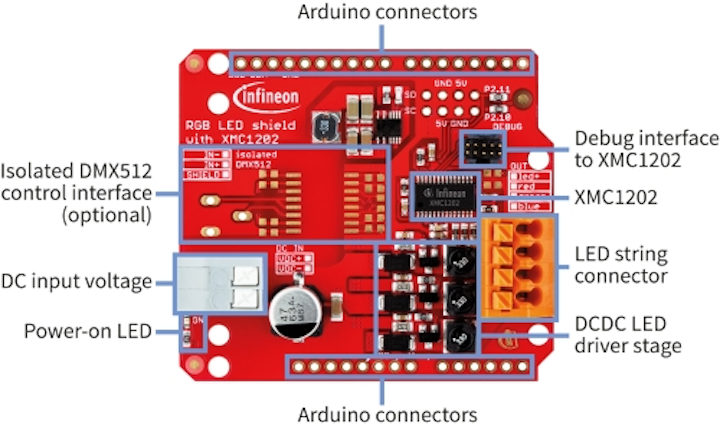 The Arduino-based evaluation board includes an ARM-based XMC1202 microcontroller (MCU) along with an integrated brightness color control unit for RGB SSL applications.
Infineon has announced the RGB LED Lighting Shield – a development board that can jump start color LED-based lighting product development. The evaluation module includes an XMC1202 microcontroller (MCU) and three independent LED drive channels to enable RGB (red, green, blue) color mixing. The design is based on the open-source Arduino technology platform that is increasingly popular with electronic engineers working on MCU-based product development, and the platform can enable fast time to market along with a royalty-free software stack.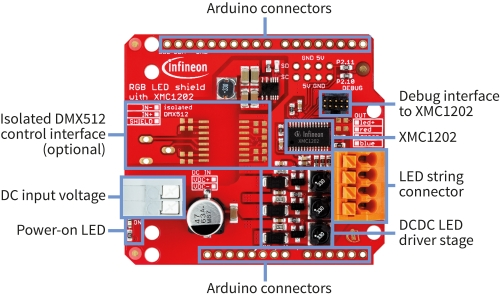 Infineon adds RGB LED development kit that includes MCU for open-source Arduino platform
The XMC1202 offers the benefits of being based on a popular ARM MCU core and having hardware elements designed specifically for solid-state lighting (SSL) development. Specifically, the MCU is based on a 32-bit ARM Cortex-M core that was designed for embedded low-power industrial applications including lighting control. Infineon offers a variety of MCUs in the XMC family, but the XMC1202 integrates a BCCU (brightness color control unit) peripheral that is intended specifically for RGB LED development.
The BCCU hardware engine greatly simplifies the task of controlling multiple LED strings. Developers simply configure the BCCU using software, and the hardware engine ensures smooth dimming and seamless color mixing. The development team has flexibility in terms of the topology used in an SSL product while not having to implement the detailed LED control functionality.
The MCU also supports interconnects that are regularly used in smart-lighting products. For example, you can implement DMX or DALI (digital addressable lighting interface) using the MCU. The MCU is akso extensible given the on-chip communication capabilities. For example, a development team could add a 24-GHz radar sensor peripheral that would be used for motion detection in adaptive lighting system design.
We expect to see increasing usage of MCUs in LED-based lighting products and drivers. The components do add to the bill of materials, but the intelligence afforded by an MCU will be a requisite in networked lighting applications and adaptive systems.
Indeed, a number of other companies have recently announced lighting-centric MCUs and/or development kits. For example, Texas Instruments (TI) offers a kit that accelerates the development of ZigBee-based SSL products. And Spansion recently announced a driver IC with an integrated MCU.