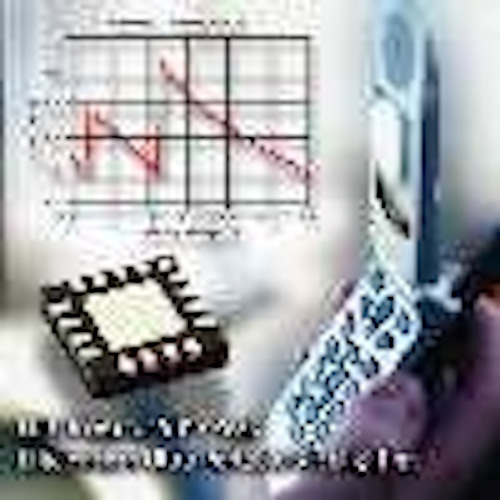 Fairchild Semiconductor announces the FAN5607 constant-current parallel LED driver. This flexible device provides analog and/or PWM (pulse-width modulation) brightness control for LCD backlighting in ultra-portable applications.
The FAN5607 has a three-mode charge pump and reaches industry-leading, 93%, peak efficiency. Internal auto-sense circuitry maintains high efficiency, even when driving less than a maximum of four LEDs, and ensures very tight current matching over the full range of the LED's current.
In addition to providing very high peak efficiency, the internal circuitry of the FAN5607 saves space and simplifies designs when compared to competitive parts that require an external control signal to maintain efficiency when driving less than 4 LEDs. To further reduce space in handheld designs, the FAN5607 is offered in one of the smallest packages available in the industry, a 4x4 MLP (Molded Leadless Package).
"The latest cell phones, handheld computers, PDAs and other ultra-portable products demand high efficiency in increasingly smaller applications," said Tivadar Szabo, marketing manager of the Power Management Group. "The FAN5607 LED driver addresses these design challenges by minimizing power, providing 93% efficiency and saving board space with its MLP packaging. 'Noise' - another important design concern in cell phones - is mitigated by the FAN5607's ability to decrease EMI and ripple problems."
The FAN5607 offers built-in over-voltage protection and features shutdown mode, soft-start and short-circuit protection. Low ground current and shutdown mode extend battery life and increase reliability. The packaging of the FAN5607 also complies with the industry's desire to manufacture more environmentally beneficial products. This lead-free (Pb-free) product meets or exceeds the requirements of the joint IPC/JEDEC standard J-STD-020B and is compliant with the European Union requirements, which will take effect in 2005.
Price: FAN5607: US$ 0.90 (1k pcs.)
Availability: Now
Delivery: 8 weeks ARO