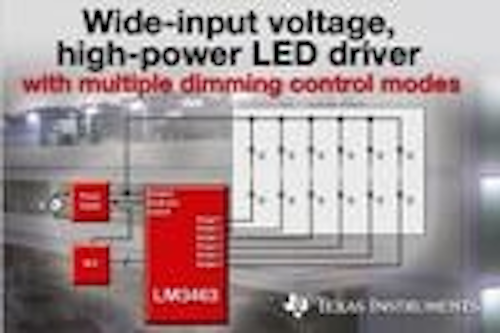 The new Texas Instruments (TI) LM3463 driver IC can handle six channels with as many as 28 LEDs per string for high-output solid-state lighting (SSL) applications such as street lights and industrial high-bay lights. Allegro Microsystems announced a single-channel 3A driver IC based on a buck topology. And for low-light applications, Diodes Inc. announced the AL5812 driver IC optimized for use with mid-power LEDs.
TI 6-channel LM3463
The TI driver IC offers flexibility in a number of areas ranging from the output voltage to the LED strings to dimming controls. Indeed, the target applications with extremely high LED counts demand such flexibility.
The output voltage to the strings, for example, can range from 12V to 95V. The range allows the driver to work with the large strings of individual emitters or the broad array of multi-die packaged LEDs that manufacturers such as Cree, Philips Lumileds and others have developed with varying forward-voltage configurations.
The dimming implementation is flexible both in terms of how the dimming settings are conveyed and applied. Product designers can control dimming directly using a pulse width modulated (PWM) signal generated by a component such as a microcontroller. Alternatively, a design can use a DC voltage level to control the dim level. The third option is a digital transmission of a series of data bytes that convey the setting.
The dimming commands can be applied universally to all six LED channels. Or a design can group channels into two sets of two channels, and two single channels and apply different dimming levels to each.
While six channels is sufficient for most applications with LEDs getting brighter on an ongoing basis, a design can cascade multiple LM3463 ICs to drive even more strings. In such applications, one LM3463 serves as the master and settings such as dimming levels are then passed along to slave devices using the serial data control scheme.
The LM3463 also includes a number of protection features including LED open- and short-circuit protection, over-temperature protection, and under-voltage lockout. Moreover, a global analog brightness control implements thermal foldback, and protects the LED strings from high-temperature conditions. The IC requires external MOSFETs to drive each string.
Allegro 3A LED driver
Single channel driver ICs such as the new Allegro Microsystems A6211 can integrate the MOSFET and still offer flexibility in terms of output voltage. The driver IC supports output voltages ranging from 6V to 48V to supply varying configurations of LEDs in a single series string or multiple parallel strings.
Designed for consumer, industrial, and architectural lighting applications, a single external current-sense resistor allows the driver IC to be configured for the LEDs and topology used in a specific application. The driver supports dimming via a PWM input.
Diodes low-current applications
Moving to the opposite end of the driver IC spectrum, the new Diodes AL5812 IC supplies 150 mA of current and is optimized for use with the growing class of mid-power 0.5W LEDs. Diodes specifically targets applications such as signage and low-light SSL applications with the product.
The 60W output would typically drive a single string of as many as 16 mid-power LEDs. Current is set via an external resistor. The driver IC does not support dimming. The design is optimized for a minimal bill of materials and low cost.