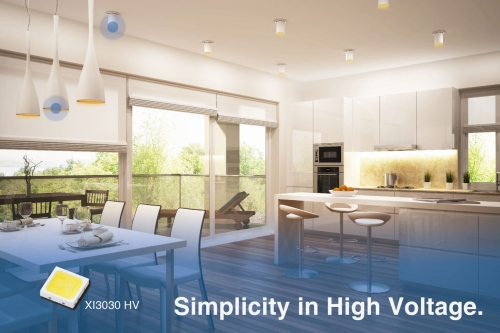 Standard packaged LED configurations feature a 30V input and enable simpler driver designs by minimizing the difference between the line input and driver output in SSL systems.

Everlight Electronics has announced the XI3030HV family of packaged LEDs as a high-voltage addition to its standard XI3030 line that, as the model number implies, is packaged in a 3×3-mm plastic package. The product family spans the mid- and high-power segments with some models operating in excess of 1W. Meanwhile, the new high-voltage option can greatly simplify the design of the LED driver electronics and reduce solid-state lighting (SSL) system-level cost.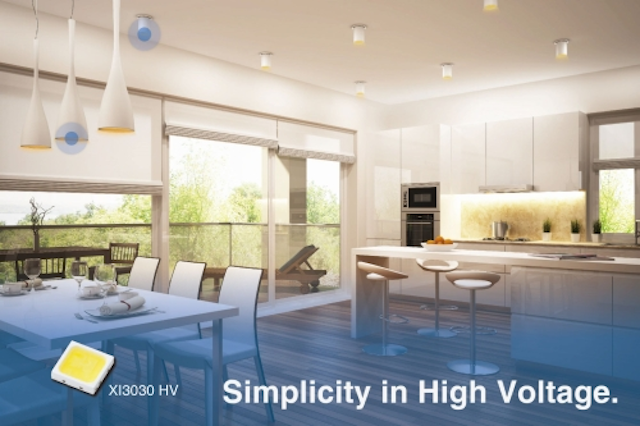 Everlight adds high-voltage packaged LEDs to mid- and high-power portfolio
High-voltage packaged LEDs have been increasingly popular in the high-power segment going back several years. For instance, Everlight announced high-power, high-voltage LEDs in the HiVo series back in 2011.

More recently, the high-voltage trend has come to the plastic-package sector and mid-power LEDs. For example, Philips Lumileds added high-voltage options in its mid-power line back in March. Moreover, Seoul Semiconductor has been very active in the mid-power, high-voltage space with what the company calls multi-junction technology (MJT).

Indeed, high-voltage LEDs are created by combining multiple emitters/junctions in series in the simplest of architectures and in some cases several parallel strings of a number of LEDs in series. Some such packaged LEDs simply use bond wires to connect separate chips that are packaged together while others actually make the electrical connection to multiple emitters on one monolithic chip that's segregated into separate emitters in the back end of the LED manufacturing process.
The higher-voltage input delivers several potential advantages. The lower difference in line-to-LED voltage reduces the number of components required in the driver and can increase energy efficiency.
Everlight asserts that its XI high-voltage LEDs deliver the system-level benefits without compromise in other areas. The company said efficacy is 120 lm/W at 3000K CCT — good but not top-level performance at the warm end of the color spectrum. The LEDs are offered with 80 CRI at a minimum and with 115-lm maximum flux output.
Clearly the LEDs are brand new as Everlight said that it only has 3000 hours of test data on the products. But the company said LM-80 testing is underway.
The new LEDs are also indicative of yet another industry trend: targeting particular models of packaged LEDs at specific applications. That targeting can come in the form of package features, optical performance, or even voltage-input level. Everlight calls its initiative "The Right LED for the Right Application." And the company said it will offer custom versions of the high-voltage products at any voltage required by customers. The company believes that it can enable applications ranging from retrofit lamps to downlights to floodlights with the new family.