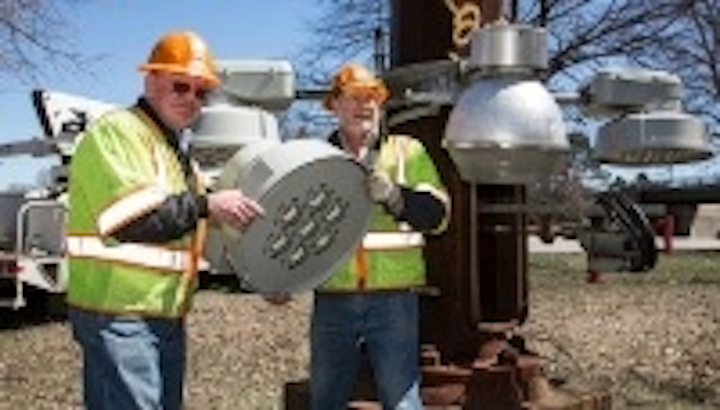 Back in the summer of 2012, we covered the trial of LED-based high-mast lighting by the Maine Department of Transportation (MaineDOT) at a freeway interchange, and now the state has moved forward with a project retrofitting 105 light towers along Interstate 295. MaineDOT ultimately selected Holophane HMAO luminaires from Acuity Brands for the project.
High-mast lighting has largely remained the domain of HID sources because of the high levels of light required, and the cost and weight of LED products that could meet the requirements. Typically, there is a cluster of six to twelve fixtures on each high-mast pole.
Ultimately, LED-based products will both improve lighting and reduce energy usage in such applications. The trial we documented a year ago was among the first instances of SSL usage in the high-mast application.
The HMAO fixtures take a modular approach to the challenge of delivering the high light levels. Each fixture includes a number of LED modules and multiple drivers. The design delivers overlapping light distribution, ensuring safe light levels even if one module or driver were to fail.
MaineDOT faced a budget crisis operating the existing high-mast lights placed at freeway interchanges. As we covered in the prior article, the state was shutting the lights off from 11 PM to 6 AM each night to save money. The transition to LEDs delivers both baseline energy savings and the ability to dim the lights at night, and still provides a safe level of lighting throughout the night.
"Our main goal is to provide a safe transportation system for the state of Maine," said Ron Cote, MaineDOT electrical supervisor. "We were looking for a light source that would provide lower maintenance and a whiter light. The benefits of multiple LED drivers and modules and the longevity of Holophane HMAO LED fixtures are exactly what we wanted. Additionally, the quality of light combined with the payback of these fixtures is absolutely incredible."
MaineDOT has documented the energy cost for operating the new lights from dawn to dusk at $66 per month per tower. The prior lights cost $200 per month to operate even with the lights off for a portion of the night. The agency projects ten-year savings of $1.35 million.