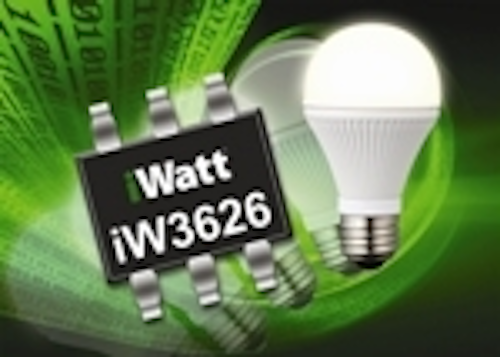 Power IC specialist iWatt has introduced a single-stage LED driver IC that is specifically optimized for price-sensitive LED retrofit lamps. The chip designers sought to minimize the bill of materials (BOM) with the design by eliminating support for dimming and making electrolytic capacitors optional, and in turn allowing lamp makers to hit low price targets that can help proliferate solid-state lighting (SSL).
Previously, iWatt has focused on two-stage driver ICs that implement power factor correction (PFC) in the first stage and that support dimming, including in the W3616/17 announced last August. The new iW3626 takes a different approach targeting low cost while still delivering PFC capability and over temperature protection (OTP).
IWatt says that the new design delivers a 20% reduction in BOM costs compared to competitive driver ICs and customer/partner Eastfield International Industries endorsed the design concept. "We chose iWatt's iW3626 because it enables us to optimize our designs to the specific needs of our customers and because of the built-in OTP derating," said Jacky Luo, director of the R&D Centre at Eastfield. "The challenge with SSL bulbs is hitting the price point the market demands with the long-term reliability consumers expect." He added that the features of the iW3626 "enable us to ensure predictable, long operating life with a low BOM cost."
The iW3626 can deliver output power as high as 10W, enabling the design of 60W-equivalent LED retrofit lamps. The IC is packaged in a 6-pin SOT23 that is easily used in the single-sided circuit boards that are often used in low-cost retrofit lamps.
The architecture of the driver IC is unique in that it allows the lamp design team to manage the tricky tradeoff power factor and output current ripple. Different regulatory agencies around the globe have different requirements for PFC. But most single-stage designs increase ripple when used with a high power factor. The iWatt design can deliver a power factor between 0.7 and 0.9 while still minimizing ripple and therefore minimizing lamp flicker as well.
The integrated OTP capabilities prevent a lamp from entering a thermal runaway condition that can lead to lamp failure. The IC can monitor the temperature inside of a retrofit lamp, and automatically reduce driver current should an over-temperature condition occur.
There are a few other attributes of the architecture that help to minimize the BOM costs. Lamp designs can use bipolar junction transistors (BJTs) on the output rather than MOSFETS, saving cost. Depending on ripple current requirements, lamp designs can eliminate electrolytic capacitors. And the primary-side PrimAccurate control scheme eliminates components on the secondary side of the converter. The IC costs $0.35 in quantity 1000.