Light+Building features LED-centric lighting components and smart technologies
This year's Light+Building trade fair, being held from March 13–18 in Frankfurt, revolves around a theme of "digital – individual – connected" to place emphasis on the smart capabilities of today's networked solid-state lighting (SSL) systems.
Mar 8th, 2016
This year's Light+Building trade fair, being held from March 13–18 in Frankfurt, revolves around a theme of "digital – individual – connected" to place emphasis on the smart capabilities of today's networked solid-state lighting (SSL) systems.
Attendees at Light+Building will have the opportunity to learn about the latest products, systems, and services that enable smart connected lighting and other new features and innovations in architectural and general illumination, including home and building automation capabilities. Following is a selection of announcements from companies you will find on the exhibit floor at Light+Building.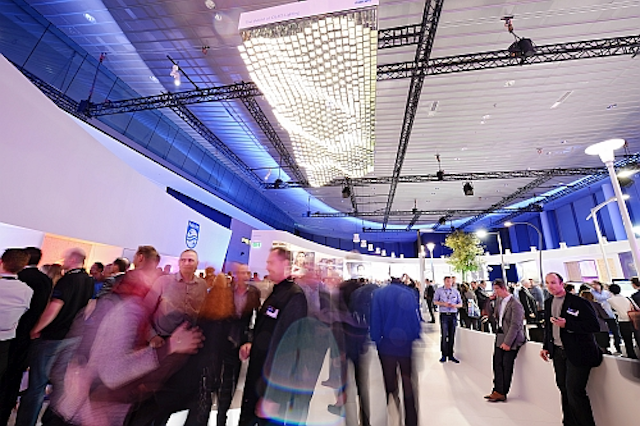 Light+Building features LED-centric lighting components and smart technologies
LEDs & light sources
Citizen will present its next-generation high power COB LED at Light+Building 2016
Citizen Electronics' high-power COB LED features improved thermal resistance and lumen density. The company will explore new applications for its packaged LEDs at the show in Hall 4.2, Stand G37.
Edison Opto will showcase its new AC LED module and street light products at Light+Building 2016
Edison Opto will bring its latest LED products, such as high-efficiency components, AC-LED modules for smart lighting systems, and comprehensive street light solutions at Booth E91 in Hall 4.2.
euroLighting will exhibit AC-LED products for luminaires at Light+Building 2016
euroLighting will show AC-LED modules for indoor and outdoor application, as well as its solutions for the replacement of power supplies (SPS) for luminaires in Hall 4.1, Booth K49.
Plessey's Stellar beam-forming modules will debut at Light+Building
Plessey (Hall 6.2, Stand C11) will be showcasing its latest GaN-on-silicon (GaN-on-Si) LED solutions with Stellar™ beam-forming LED modules that support designs for medium- and high-power lighting applications.
Osram Opto Semiconductors prepares LED product lineup for Light+Building
This year, Osram is presenting its products and applications at two booths. In the Festhalle (Hall 2.0/Booth B50), the company is showcasing new applications for various infrared LEDs, such as eye tracking, iris scanning, and gesture recognition. And at Booth C04 in Hall 6.2, the focus is on LED components for general lighting.
SSL design tools, materials, & components
ALBIS will present plastics for SSL design applications at Light+Building 2016
ALBIS, located in Hall 4.0, Booth D61, will present its ALCOM® LB (Light Blocking), ALCOM® LD (Light Diffusion), ALCOM® LG (Light Guiding) and ALCOM® TC (Thermally Conductive) as well as TEDUR® plastics for SSL design.
Carclo Optics will showcase new optics products for SSL design at Light+Building 2016
Carclo Optics' (Hall 4.2, Stand A56) 33Up range of optics for SSL design consists of 32 part numbers — with and without overlay — and spans across four beam angles: 30°, 60°, 90° and Double Asymmetric.
Covestro marketing exec discusses polycarbonates for LED lighting that will premiere at Light+Building
Covestro, formerly Bayer MaterialScience, is appearing under its new name for the first time at Light+Building. The company will be showcasing polycarbonate-based material solutions for energy-efficient LED lighting at Stand E47 in Hall 4.0.
Lackwerke Peters will exhibit SSL design materials during Light+Building
Lackwerke Peters (Hall 4.0, Booth A30) plans to show white solder resists that achieve high light reflectivity and color stability, with resistance to yellowing, for printed circuit boards (PCBs) used in SSL designs.
Opsira will demonstrate light measurement equipment live at Light+Building 2016
At Light+Building 2016, opsira will present two different sizes of the goniophotometer series robogonio. Watch the live measurements of the KUKA-robot based measurement systems at the opsira booth (K60 in Hall 4.1).
TE Connectivity to feature interconnect for lighting and building automation at Light+Building
TE Connectivity (TE) is demonstrating solutions that sense, connect, and control today's most modern buildings. Also on display on the company's stand (Booth B26 in Hall 4) will be various LED lighting interconnect products for indoors and outdoors.
Verbatim to demonstrate Vx-filter technology for color boosting of LED lamps at Light+Building
Using proprietary technology from its parent company, Mitsubishi Chemical, Verbatim (Stand F30, Hall 4.2) introduces a filter designed for use with its track lights, and GU10 and MR16 LED lamps to simultaneously boost the color rendering index (CRI) and vividness of colors perceived.
Drivers, networking, & controls
Code Mercenaries will demonstrate its LED-Warrior10 PWM LED dimmer at Light+Building
At the Frankfurt trade fair, Code Mercenaries (Hall 4.0, Booth G06) will exhibit the LED-Warrior10 LED dimmer, available as a DIL8 or SOIC8 chip or as a ready-to-use module. The module (LW10-01MOD) can control LED drivers that have a PWM input or it can directly supply constant voltage LEDs with up to 4A.
ELBA will feature lighting controls and other smart products at Light+Building
At stand C71, in hall 4.2 at Light+Building 2016, ELBA will exhibit tailor-made lighting products and solutions for a range of applications and categories, and will address today's smart building/smart city demands for increased efficiency and digitalization at competitive prices.
Infineon will show LED driver ICs and microcontrollers at Light+Building 2016
From high-performance analog and digital LED driver ICs, CoolMOS™ MOSFETs to XMC™ microcontrollers and Radar ICs for light management, Infineon (Hall 4.0, Stand F25) will display its electronic components that optimize performance and enhance designs in every kind of lighting application.
Lighting end products
Aura Light will show LED luminaires and lighting controls at Light+Building
Making a move into architectural lighting for the first time, Aura Light (Hall 4.1, Stand B50) will be displaying three interior LED luminaires named Exzite, Propel, and Lezzon, all designed and made in Sweden.
LED Linear announces new brand identity and linear LED lighting products for Light+Building
LED Linear (Hall 4.2, Booth J61) will exhibit linear and scalable lighting modules and systems based on LED technology, with an ingress protection rating from IP00 up to IP68.
Syhdee will exhibit its LED lighting products at Light+Building 2016 in Frankfurt
Syhdee's products on display in Hall 10.2, Stand D21G will include LED tubes, panel lights, linear lighting, and more with certificates including UL, DLC, FCC, VDE, DEKRA, CE, and others.
Venture Lighting to showcase new VLED range of LED lighting at Light+Building 2016
Making its international debut in hall 4.1, Stand J10 will be Venture Lighting's new Westminster VLED module and retrofit LED solution, specially designed for street lighting using Venture's SUPRAX® glass optics.
Zumtobel will exhibit architectural lighting products at Light+Building 2016
At Zumtobel's trade fair stand (hall 2.0, stand B30/31), visitors can experience some 340 m2 of the company's entire range of intelligent lighting products. The Living, Office, Industry, Shop & Retail, Art & Culture, and Outdoor application areas will be arranged to follow the natural course of daylight.
Check back for more updates on the latest news and announcements coming out during Light+Building at ledsmagazine.com. Follow @ledsmagazine on Twitter for news and viewpoints from the exhibition, join in the conversation on our LinkedIn group (search: LEDs & Lighting), follow our LinkedIn Showcase page updates, and find us on Facebook.