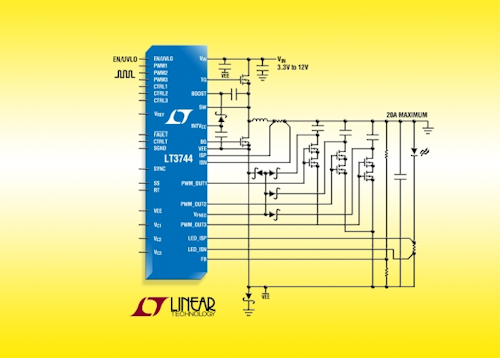 Synchronous step-down power-conversion architecture targets LED applications including architectural lighting, DLP projectors, and industrial inspection.
Linear Technology has announced the LT3744 LED driver IC designed for DC/DC single-stage, synchronous, step-down topologies. The IC can be used in drivers that achieve 95% efficiency and that achieve current regulation within 3% of nominal. Target applications include solid-state lighting (SSL) designs that use red, green, and blue (RGB) LEDs.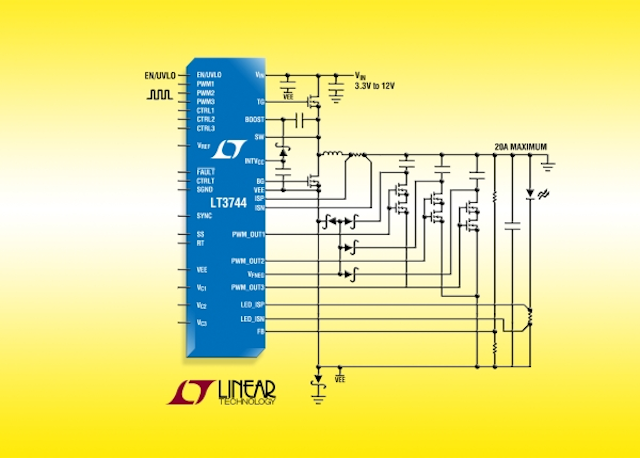 Linear Technology announces DC/DC LED driver IC for 80W SSL applications
Indeed, the new LED driver IC can drive as many as three different LEDs or strings from the constant-current output while pulsewidth modulation (PWM) outputs and external MOSFETS control the separate LEDs over a range of 3000:1 for precise color mixing. Developers can also use the IC to deliver three different regulated current outputs to a single LED with the ability to swap levels in less than 2 µsec. Linear said the driver IC is ideal for architectural lighting, DLP projectors, and industrial inspection.
Related article: Linear Technology LT3955 converter drives high-current LEDs with internal PWM dimming
The LED driver IC, however, utilizes a unique floating architecture to allow product developers flexibility in serving applications in terms of heat sink and form factor. The floating design allows the IC to products a negative output voltage. The anodes of three different LEDs can be tied together to ground and affixed directly to a heat sink. That maximizes thermal efficiency. And combined with the high efficiency of the power converter, the floating design allows the use of smaller heat sinks.
Related article: LED driver ICs: TowerJazz and DMB launch AC driver, Linear Tech offers 110V controller

The LED driver IC can deliver 20A (80W) in a continuous-current design. Alternatively, the IC can deliver 40W (160W) in pulsed or switched topologies. The development team can choose switching frequency over the range of 100 kHz to 1 MHz, thereby providing options in terms of the size of magnetic components and the impact of those components on end product form factor.
Related article: Triple output LED driver from Linear Technology: H-grade version of LT3496
The IC can operate on input voltages ranging from 3.3–36V. The design provides protection for open and short LED faults including reporting. There is an input for thermal derating control of current output. Moreover, Linear Technology said that the 5×6-mm QFN package is thermally enhanced.