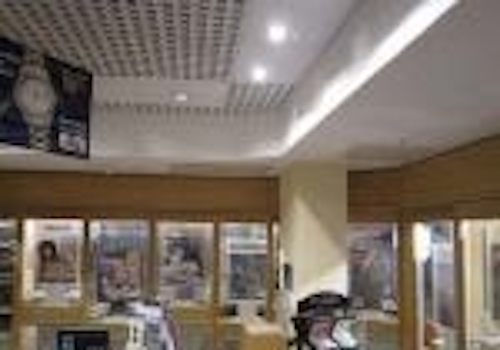 +++ Cover +++
The designers of the Dior façade facing 57th Street in New York, NY, used over 450 LED LitePads from Rosco to create a glowing pattern with a color temperature of 5300K and 3500 lux. (Photo courtesy of Dior).
+++ Features +++
RETAIL LIGHTING
LED lighting adds sparkle and saves energy in F.Hinds jewelry stores
A jeweler with 110 retail stores throughout the UK is at the forefront of converting its lighting to LEDs, writes TIM WHITAKER.
STREET LIGHTS
Seattle conducts LED street light testing and hosts symposium
Outdoor lighting experts gathered in Seattle, WA for a full-day symposium on LED street light technology followed by a three-night demonstration and test session focused on determining safe roadway lighting levels reports MAURY WRIGHT.


LIGHTING
Model Lighting Ordinance: Is the BUG rating method effective at limiting light trespass?
The MLO offers two different options for evaluating the off-site impact of different outdoor lighting design schemes, but unfortunately they do not give the same results, according to WENDY NORMAN and MICHAEL SMOLYANSKY.

COLOR SCIENCE
Understand color science to maximize success with LEDs
George Kelly explains that color science is especially important in LED-based lighting, and participants across the SSL industry need a basic understanding to succeed in realizing light systems with optimal color rendering and quality.
RELIABILITY
Reliability prediction for electronic power supplies in LED outdoor luminaires
Existing and mature electronic-reliability prediction models can be applied to the power supplies in LED luminaires, and this can provide failure rate and end-of-life analysis for use in calculating lifecycle costs, writes JACK JOSEFOWICZ.
LUMINAIRE DESIGN
Polycarbonate components simplify LED lamp design
Polycarbonates bring particular optical, thermal and mechanical properties to LED diffusers, lenses, reflectors and housing components, a Bayer MaterialScience team explains.


STANDARDS
JEDEC test standards and LED package reliability
LED packages that pass JEDEC tests are more reliable in real-life applications, but as yet there is no way to use the results of severe stress-testing of LED packages to project their rated life, as JIANZHONG JIAO explains.
THERMAL
Two-phase heat exchangers provide cooling for LED light engines
Passive cooling using a finned heat-exchange system provides a lightweight, adaptable and noise-free method to maintain a lower LED operating temperature, writes ABOUDÉ HADDAD.
FABRICATION
High-purity gases have key role in LED manufacturing
The availability of a reliable, stable supply of high-purity gases, including ammonia, nitrogen and hydrogen, is a key requirement for a high-volume LED manufacturing facility, according to ANISH TOLIA and IAN TRAVIS.


DISTRIBUTION
Lighting distributors make big move toward LEDs
While two years ago just 61% of lighting distributors stocked SSL, Ted Konnerth reports that the number has climbed to 91% even as lighting manufacturers and distributors struggle with the complexity of LEDs and electronic driver circuits.
CONFERENCES
LEDucation brings out experiences of lighting designers
At the recent LEDucation conference, lighting designers explained why LED lighting suits luxury retailers, experts provided updates on Energy Star and Caliper programs, and a panel discussed driver and control compatibility issues. LAURA PETERS reports.

DESIGN FORUM
Match LED driver topology and implementation to application
LED driver capabilities vary by application explain Tony Armstrong and Jeff Gruetter. Applications such as automotive headlights or projectors can require large strings of LEDs and/or very high drive current.

LAST WORD
LED wafer bonding is enabling when used properly
LED manufacturers must choose the appropriate materials and processes to fight low yields, writes THOMAS UHRMANN of EV GROUP.

+++ Columns/departments +++

COMMENTARY
Many lessons remain in mastering LED lighting
NEWS + VIEWS
Cree Lighting announces striking street-light luminaire
Philips appoints Eric Rondolat as CEO of Lighting business
Strategies Unlimited projects $3.7 billion LED retrofit lamp market
FUNDING+PROGRAMS
DOE refreshes PAR38 L Prize, Philips ships A-lamp
IES publishes LM-82 for testing LED lighting products at temperature
NEMA publishes standard for retrofit lamps