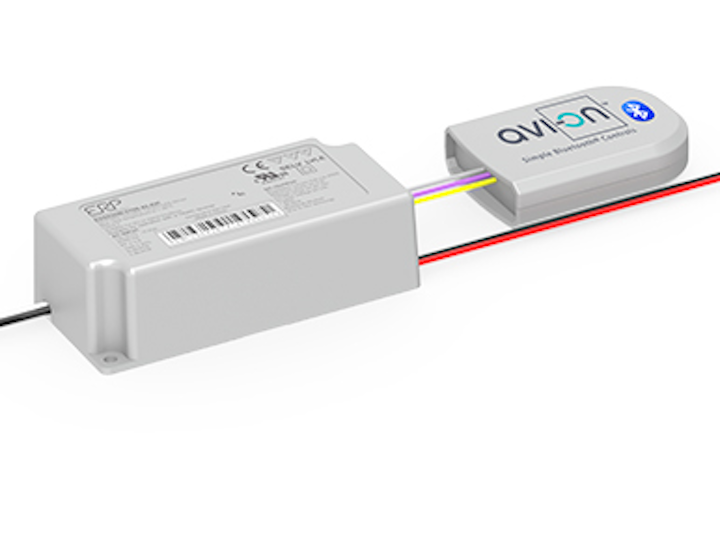 ERP LED Drivers Integrated with Avi-on Platform Modules Based on Bluetooth Smart® and CSRmesh® Connectivity Deliver Secure and Reliable End-to-End Solution that Saves Time and Money.
ERP Power LLC, a leading provider of LED drivers enabling the lighting industry evolution from analog to digital, and Avi-on Labs Inc., the leading platform of Bluetooth Smart® and CSRmesh® wireless controls to the lighting industry, are demonstrating an easy-to-use, plug-n-play connected lighting control solution for LED luminaires. Leveraging mesh Bluetooth communications technology with utility-grade security, proprietary firmware, mobile software apps, and IoT cloud infrastructure – LED lighting manufacturers can deliver to their customers a high-quality, affordable lighting controls capability that is designed to last for the lifetime of the installation.
Interested in more articles & announcements on smart LED lighting & controls?

"ERP and Avi-on are showing the lighting industry how easy it is to offer a secure, plug-and-play, wireless controls architecture leveraging a turnkey solution of app, cloud, and firmware pre-integrated with proven LED drivers," said Michael Archer, CEO of ERP Power. "Powered by Avi-on, the EXS and ERP drivers from ERP join a large and interoperable ecosystem of connected lighting products."
"Together, ERP and Avi-on are helping our customers accelerate their intelligent lighting control engineering efforts by 12-18 months while saving certification fees and millions of dollars in R&D resources," said Eric Miller, CEO of Avi-on Labs, Inc. "In just a few months, LED luminaire manufacturers looking to comply with regulations like Energy Star 2.0 and California Title 24 can use our integrated platforms to bring entire lines of connected products to market this year."
The EXS and EXP Series of LED drivers from ERP plus the Avi-on Platform Modules Solution enables LED lighting manufacturers to gain market advantage and fill the compliance gap by rapidly integrating simple, low-cost, easy-to-use and energy-efficient controls into their existing commercial, industrial and architectural lighting products. The Avi-on Software Controls Platform replaces wires to provide a turnkey combination of Apple® IOS® and Google Android ™ mobile apps, a secure cloud, customized firmware and software support. Avi-on Modules are pre-integrated and tuned with the ERP LED driver dimming control for popular protocols, including: 0-10V, PWM, UART, I2C, SPI, ADC, TRIAC, and DALI. The Avi-on Module is pre-certified to comply with FCC, CE, IC and BQB requirements.
Availability
The Avi-on Platform Modules integrated with the EXS and EXP Series of LED Drivers from ERP will be generally available worldwide in the next 90 days.
About Avi-on
Avi-on Labs, Inc. is changing the way the world lights and controls spaces by replacing wires with software. As the world's fastest growing Bluetooth Smart® + CSRmesh® ecosystem with over 25 completed product integrations, the Avi-on Platform enables commercial, residential and industrial lighting and control manufacturers to rapidly deliver beautiful, secure, energy-efficient, and easy-to-use products at a great price. Avi-on products are currently available in major retail outlets throughout North America. For more information, visit www.avi-on.com/lightfair or contact Dana Kunz at +1 415 987 9798 or dana@Avi-on.com.
About ERP
Established in 2004, ERP designs and manufactures energy-efficient LED driver power electronics for commercial and industrial applications. Small, yet powerful, ERP products deliver an industry-leading combination of compact size, extensive dimmer compatibility, and high efficiency at competitive cost. Headquartered in Moorpark, CA, ERP owns and operates its own ISO 9001 certified manufacturing facility to ensure quality of design, sourcing, production and testing.
Contact:
Laurent Jenck - ERP Power LLC
+1 602 451 4518
E-mail:
Web site:
Locate more LED lighting controls vendors in the LEDs Magazine Suppliers Directory

Submit new products, case studies/projects, and other press releases at http://www.ledsmagazine.com/content/leds/en/addcontent.html.

More from ERP:
LED driver developer ERP Power is now an Angeles Equity Partners Portfolio Company