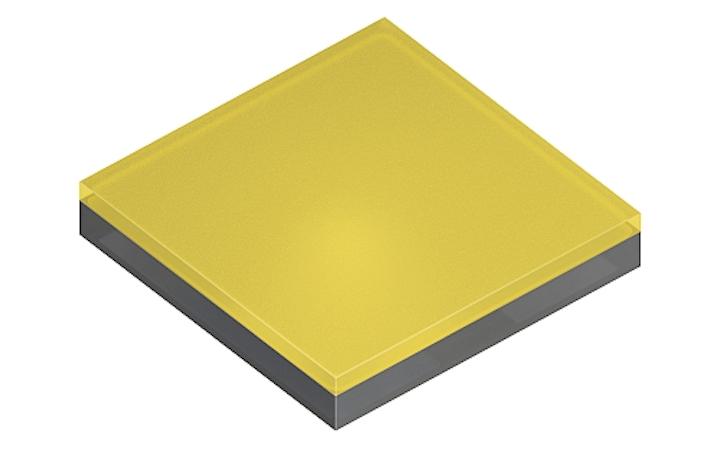 Chip-scale package (CSP) LEDs continue to evolve with Osram Opto Semiconductors and Samsung launching new products just prior to Light+Building.
Leading in to the massive Light+Building (L+B) exhibition in Frankfurt, both Osram Opto Semiconductors and Samsung have announced new chip-scale package (CSP) LED products and Osram and Nichia will discuss a business alliance at the conference. Osram's new Oslon Pure 1010 LED targets retail lighting applications. Samsung, meanwhile, has broadened its range of CSP products called fillet-enhanced CSP (FEC) with new models delivering higher efficacy.
Interested in articles & announcements on packaged LED design and technology?
As we have written previously, CSP technology promises to provide a path toward LED architectures that can scale from low- to high-power applications. Moreover, many in the industry believe that the technology can both decrease component cost via elimination of packaging steps while also boosting performance. But the LEDs have not yet realized widespread deployment in general lighting applications.
Osram Pure
Osram has previously announced CSP LEDs for applications such as a mobile phone camera flash, but has not aggressively pushed the technology for general illumination. The Pure 1010 changes that with the company specifically naming retail spotlights as the target application. Indeed, Osram said it would demonstrate the new LEDs in such products at L+B.
The 1×1-mm LEDs deliver 100 lm at 350 mA of drive current and a 3000K CCT. But the company said product developers can reliably drive the LEDs to 1A. Moreover, Osram boasts that lumen density of 237 lm/mm2 at that elevated drive level is tops in the CSP LED sector.
Packaged LED news: Osram, Samsung, and Nichia pre-L+B
Just before Light+Building, Osram Opto Semiconductors debuted the Pure 1010 CSP LEDs as a fit for general illumination applications, especially retail lighting.
Osram, among others, touts the ability to closely array the CSP LEDs with a single secondary optic delivering the required beam pattern. And the company said it expects developers to mix warm and cool components in tunable products. Commercial availability of 80-CRI LEDs is projected for May with 90-CRI LEDs due later in the year.
Samsung FEC
Moving to Samsung's recent packaged LED announcement, the company said it increased performance across the LH101B, LH181B, and LH231B families. At the low-power end of the range, the LH101B delivers efficacy of 205 lm/W at 65 mA, 80 CRI, and 5000K CCT. The performance levels are slightly lower with the other LEDs but still the 5W-class LH231B delivers 170 lm/W, essentially following through on the CSP scalability promise.
"Since introducing CSP technology to the industry in 2014, we have put extensive effort into advancing the performance levels and design flexibility of every one of our CSP LEDs," said Yoonjoon Choi, vice president of the LED business team at Samsung Electronics. "Samsung will continue to bolster its competitive edge in CSP technology, enabling the widest variety of luminaire designs with exceptional performance, reliability, and cost benefits for lighting manufacturers worldwide."
The Samsung FEC LEDs are meant for directional applications much like the Osram Pure family. The first FEC components were announced in the fall of 2017. Samsung has not fully detailed the technology behind the FEC concept, but a key element is reflective coatings on the inner sidewalls of the minimalistic packaging that maximize light extraction from the top emitting surface.
L+B expectations
We expect all of these packaged LED technology advancements to be on display at L+B. Moreover, we saw the Nichia Optisolis LEDs on public display last week at LEDucation. Nichia recently announced those products, claiming top color rendering performance. Indeed, the color rendering in a side-by-side lightbox demonstration at LEDucation was very impressive.
There is also news brewing that Nichia and Osram Opto Semiconductors will announce some new partnership agreement this week at L+B. We don't have the details now, but the companies will jointly address the press Tuesday. Stay tuned.