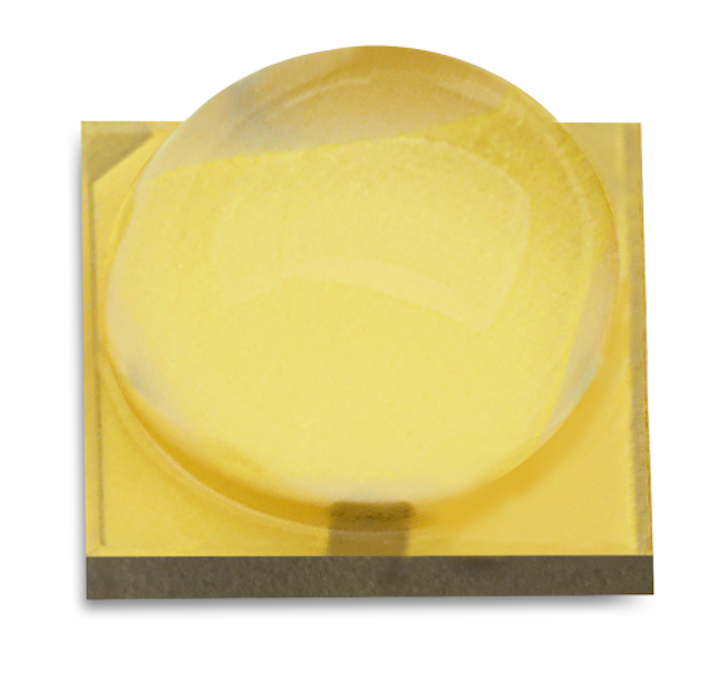 The Luxeon V packaged LED can be driven at just under 5A and targets high-lumen applications including high- and low-bay luminaires, sports field lighting, and outdoor area lighting.
Lumileds has announced the new Luxeon V high-power packaged LED that can be driven to the 15W level and that targets a variety of high-lumen-output applications including sports field lighting, high- and low-bay luminaires, and outdoor area lighting. Indeed, the company said the discretely-packaged, single-die LED can deliver over 1700 lm at 5700K CCT and 70 CRI when driven at 4.8A — that equates to efficacy in the 110-lm/W range.
Interested in articles & announcements on packaged LED technology?
Lumileds boldly claimed that the Luxeon V delivers 50% higher lumen output than similar competitive products. The 4×4-mm footprint packaged LED was also said to offer 60% better thermal resistance than competitive products. "Luxeon V enables fixture designs that were previously unattainable for stadium and area lighting, torch and other portables because of the unique combination of high efficacy at high drive current with extremely low thermal resistance and optimized radiation pattern," said Kathleen Hartnett, senior director of product marketing at Lumileds.
The performance claims made by LED manufacturers relative to competitors are always difficult to verify because often physical properties such as emitter and package size vary, and different manufacturers report performance under differing conditions in terms of drive current and CCT/CRI combination. Moreover, the Cree XHP (Extreme High Power) LEDs that might be most competitive with the Luxeon V products are multi-emitter designs.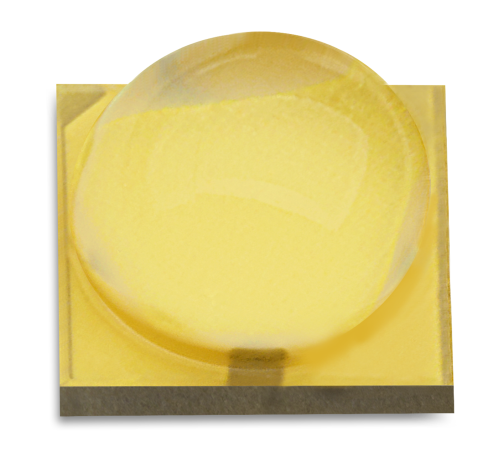 Lumileds announces high-power, single-die discrete packaged LED that delivers 1700 lm
The Luxeon V marks the first major discrete high-power packaged LED from Lumileds in a few years.

Product developers will most likely compare the Luxeon V family with LEDs in a 3.5×3.5-mm or slightly smaller package. For example, Cree offers the XLamp XP-L family and the newest XP-L2 LED in a 3.45×3.45-mm footprint. The XP-L2 can deliver 1175 lm at 3A. It does appear that Lumileds can drive its newest die at higher power density levels and that would be enabled by improved thermal resistance.
Still, many product developments will focus on trading off maximum drive current for higher efficacy. Lumileds is binning and characterizing the LEDs at 1.4A. A 5700K, 70-CRI model delivers 580 lm, or 148 lm/W. And a warmer 3000K-CCT version drops to 545 lm and 140 lm/W.
For Lumileds, the Luxeon V marks the first major discrete high-power LED launch in some time. In recent years, the company has been far more focused on mid-power and chip-on-board LEDs along with chip-scale package (CSP) technology. The last major discrete high-power launch we remember was the Luxeon T around four years back. Lumileds did announce the multi-emitter Luxeon MX high-power packaged LED earlier this year.
There is a CSP angle to the Luxeon V announcement. Lumileds said the LED uses its latest CSP technology including a "next-generation patterned sapphire substrate." But CSP technology is generally more about manufacturing steps that occur after epitaxial growth rather than before, so it seems more likely that the Lumileds Luxeon V and CSP LEDs simply share a substrate and perhaps an epitaxial process. The Luxeon V LEDs do, as you can see in the nearby photo, integrate a primary optic unlike most CSP LEDs and appear to have a traditional ceramic substrate as the basis of the package. Lumileds, meanwhile, remains among the early movers in CSP LED technology.