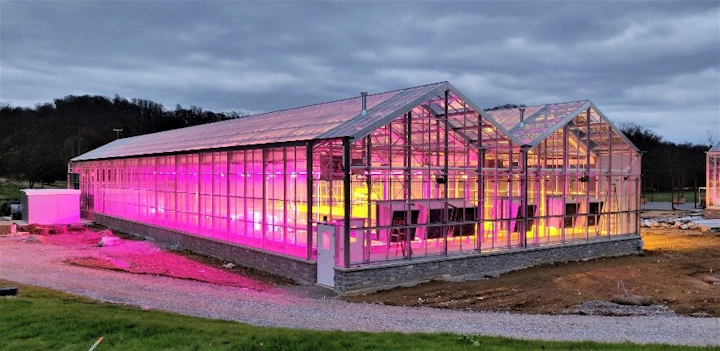 Three months after launch, the DesignLights Consortium (DLC) qualified products list (QPL) for horticultural lighting now includes 27 LED-based fixtures from eight different manufacturers. Current, powered by GE has yet to crack that DLC list, but has a new Arize Element TopLight luminaire that can deliver in excess of 1800 PPF (photosynthetic photon flux). Fluence Bioengineering (an Osram company) has announced preliminary results of a case study at Wageningen University and Research (WUR) comparing solid-state lighting (SSL) with high-pressure sodium (HPS) fixtures in a tomato greenhouse.
DLC QPL
Near the end of March, the DLC announced that it had finalized its horticultural lighting specification and that MaxLite had qualified the first products to be listed. That news came just after the DLC made some minor tweaks to its specification, temporarily allowing products to be qualified even if PPF data was not included on LM-80 reports of the LEDs used in a product. The market-transformation program will reinstate the LM-80 requirement later this year as LED makers work to add that test data to their documentation.
The SSL industry took little time to react to the completion of the DLC specification. MaxLite, California LightWorks, Illumitex, SpecGrade (Lighting Solutions Group), LumiGrow, Fluence Bioengineering, Ningbo Smart Electronics, and Signify now have products listed. MaxLite and Fluence Bioengineering have the most qualified products. But the range of companies participating indicates broad acceptance of the DLC effort.
The DLC and Fluence Bioengineering will also participate in a panel discussion at our upcoming Horticultural Lighting Conference 2019. Other participants will include Efficiency Vermont and Lighting Design Lab. The panel will address topics ranging from technology transfer to energy-efficiency programs to funding SSL for growing operations.
Current TopLight
Meanwhile in the product space, Current says the Arize Element TopLight is the first one-for-one SSL replacement for 1000W HPS fixtures. Now other manufacturers have made similar claims, but clearly the new Current product delivers a high level of spectral energy in a rectilinear form factor. The company states horticultural efficacy of 3.5 µmol/J (micromoles per joule). You can get more details on horticultural metrics in a prior article that we published on the topic.
"With Current's lighting tech expertise combined with feedback from leading plant scientists, systems integrators, and growers, we've successfully created a system that will give new meaning to the growth that the farms of the future can achieve," said Malcolm Yare, horticulture business development manager at Current. "The Arize Element TopLight is the first true one-for-one replacement available for the horticulture market, meeting a critical industry need. This product delivers cutting-edge innovation to the rapidly evolving horticulture lighting industry that's set to reach more than $7 billion by 2022."
That projected market size may be on the aggressive side, although horticulture is clearly a growing market for SSL. You can get market projections from our colleagues at Strategies Unlimited in their "Horticultural Lighting: Market Analysis and Forecast." In addition, we have a recent blog post that summarizes some of the projections the Strategies Unlimited team has made relative to the legal and medicinal cannabis markets in a new report on that niche.
Fluence tomato project
Moving to the Fluence case study, the WUR team is studying the effectiveness of HPS and SSL in a supplemental lighting role inside a greenhouse. Specifically, the study is investigating the Fluence PhysioSpec Greenhouse SSL products. Initial results show an 11% increase in yield for some of the cultivars being studied. But detailed results will come later this year.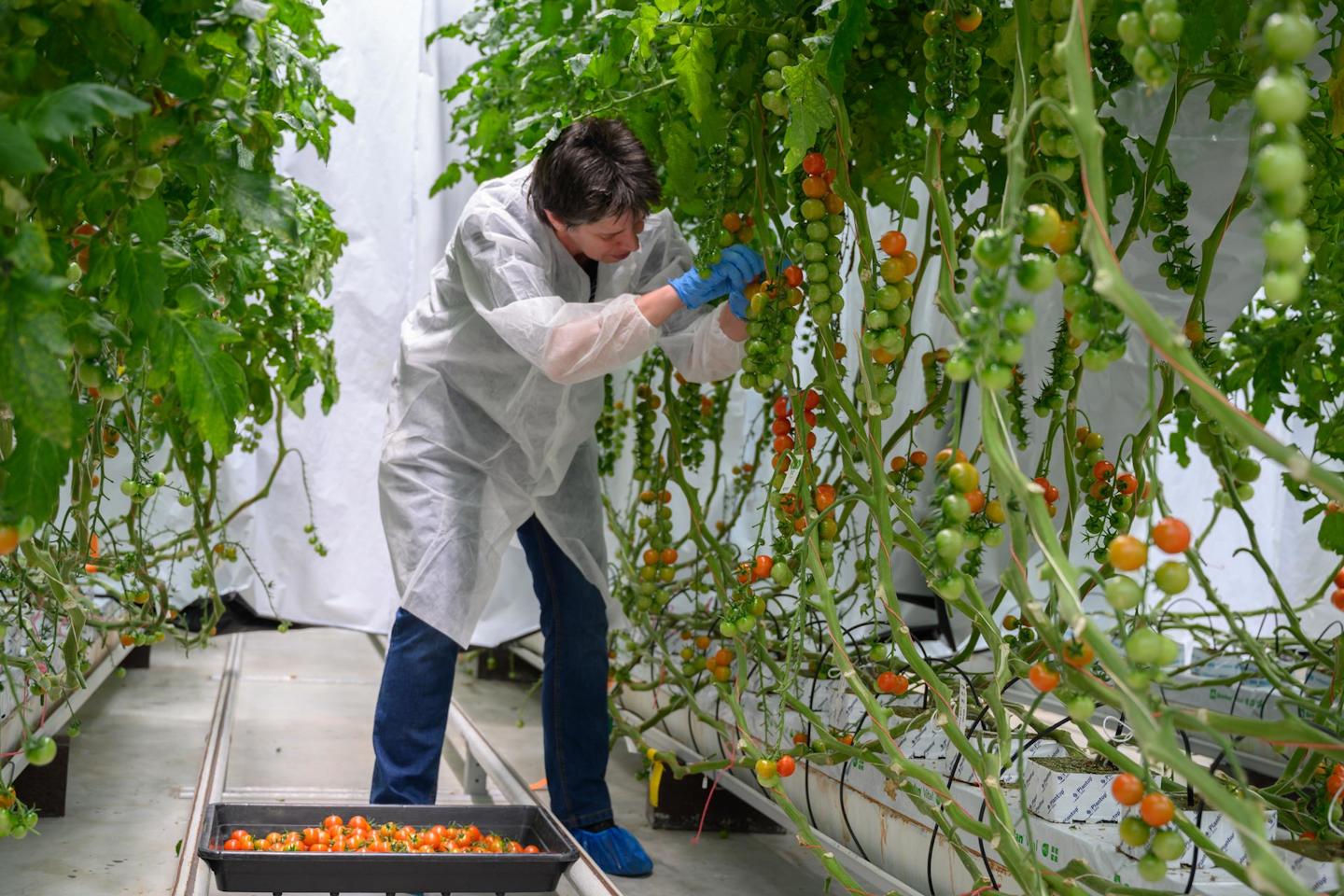 Researchers from Wageningen University and Research in the Netherlands have implemented Fluence Bioengineering PhysioSpec Greenhouse luminaires in a horticultural lighting study comparing tomato cultivar responses LED and HPS supplemental lighting. (Photo credit: Fluence Bioengineering.)
"The initial results of this trial show growers can cultivate tomatoes as effectively with PhysioSpec Greenhouse as they can under HPS, possibly with a better yield, and with shorter stems," said Dr. Ep Heuvelink, associate professor, WUR. "Both varieties in the trial, Tomagino and Merlice, developed well under PhysioSpec Greenhouse and the fruits had similar dry matter content to those under HPS. Fruit yield for Tomagino is a bit higher in the LED sections of the trial, which is a welcome benefit on top of the energy saving LEDs exhibit over HPS technology."