During the Emerging Applications track at Strategies in Light (SIL), co-located with The LED Show and Lightspace California in Long Beach, CA, Venntis Technologies biologist Jeff Mastin will explore the landscape of modern farming on the smaller scale, with a presentation on the economics of equipping a small indoor/vertical farm and how such operations can leverage the qualities of LED-based horticultural lighting. Mastin explains the appeal of close-to-consumer growing operations, but notes that a smaller operation will naturally need a different approach than a mass commercial grower. In the presentation "Small-scale vertical farming success recipes: Horticultural lighting reports from the field," he will address a Michigan-based grower as a case study for analyzing the horticultural lighting needs of localized vertical farms with specific crop and usage objectives. Here Mastin looks at the prospects and exciting opportunities for both the grower community and the solid-state lighting (SSL) industry in expanding this horticultural niche. — Carrie Meadows

Where does our food come from? Three generations ago, this question had much simpler and well-known answers. Most food was derived from family gardens and family farms. Organic, local, sustainable, hydroponic, aeroponic, vertical-farming, container farming, etc. — these terms were not in our vocabulary with the absence of a dozen ways to buy lettuce at the local grocery store. After recent decades of urbanization, population growth, climate care (or lack thereof), and both geographic and relational disconnect from our food sources, vertical farms are an exciting new approach to shorten these distances in fascinating new ways with the help of recent technological advancements. Most foundational to the ability to move some types of farming indoors into dense, highly productive spaces is the advancement of LED-based horticultural lighting technology to make it possible to grow without the Sun and have a chance at economic viability.
Related: 10 Things to Love about Strategies in Light 2018
LEDs Magazine will continue its countdown to Strategies in Light with more industry insights here at ledsmagazine.com. You can find details on the conference program, speakers, exhibitors, and more at strategiesinlight.com.
Within the realm of vertical farming, besides both strong proponents and objectors, there is also a wide spectrum of approaches. Vertical farmers can grow in soil, hydroponically, or aeroponically; use pallet rack shelving or vertical towers with plants growing horizontally; invest in various levels of control of humidity, CO2, isolation from potential pests; establish operations in abandoned warehouses or new facilities; and focus on "simpler" crops like leafy greens and herbs or break metaphorical ground on potentially higher value crops. For the Feb. 14 Strategies in Light session, we will of course focus on the various options and opportunities related to the critical lighting component of vertical farms, with an emphasis on how the scale of the vertical farm may impact horticultural lighting choices.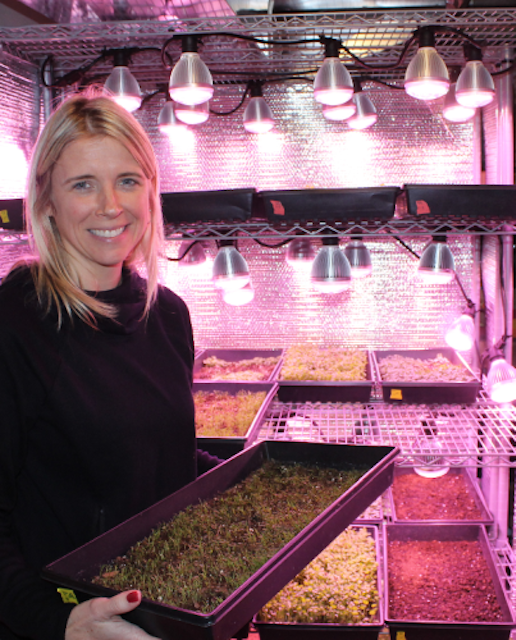 Garden manager Christy Kaledas has established indoor vertical farming operations that utilize LED horticultural lighting for the Black Pearl restaurant in Ann Arbor, MI.
Understandably, the most press is given to the largest vertical farming entities such as Plenty, which has raised at least $260 million to date with visions of large vertical farms on the outskirts of every major city. However, your local news might also have shared a story recently about a garage, basement, classroom, or industrial space that is now growing microgreens, leafy greens, or herbs for local restaurants, groceries, and farmers' markets. In many cases, these are self-funded and driven by conversations with local chefs regarding exactly what they'd like to be adding to their menu next. The specifics of how these grow operations are set up are dictated by budget, physical space constraints, and information sources. Many of these growers are coming out of non-horticultural career paths and are learning from blogs, books, university extension offices, equipment suppliers, and other sources.
Related: Strategies in Light tracks send strong signals about lighting prospects
For the largest-scale vertical farmers, lighting technology is often developed in-house to lower costs. Facilities are large enough to justify multiple lighting approaches where experience, curiosity, or a physical constraint makes it worthwhile. These can include lights of various intensities and spectra. However, for smaller-scale vertical farmers, developing their own horticultural lighting is not an option. Furthermore, changes in their operation as they grow, changing customers, and the completely unforeseen places a premium on versatility within their lighting source. At any scale, upfront costs and operating costs are extremely important as lighting can represent a very large proportion of both costs. Furthermore, lighting performance will have a drastic impact on growth quality and quantity.
An example to be discussed in detail at Strategies in Light will be Black Pearl Gardens. The Black Pearl restaurant recruited its garden manager, Christy Kaledas, to begin growing microgreens and other crops for the restaurant in 2014. The small vertical farm began in Christy's basement until the restaurant basement was ready, and has since expanded to include a warehouse facility for increased production space. The aforementioned need for versatility resulted in early setups using soil-filled trays, simple and adjustable wire shelving, and TotalGrow Broad Grow Spectrum LED lamps on flexible socketed cords, which could be configured to match the various setups that fit in the basements. The modular, individual lights with an all-purpose growing spectrum also allow the ability to adjust lighting concentrations as needed for different crops and production schedules. Most of this equipment is still used in the new spaces, though not necessarily in the same configuration. Besides multiplying shelving quantities, Black Pearl Gardens has experimented with varying degrees of success with hydroponic systems, higher-powered lighting over more spacious grow ponds, and other variations on its base system.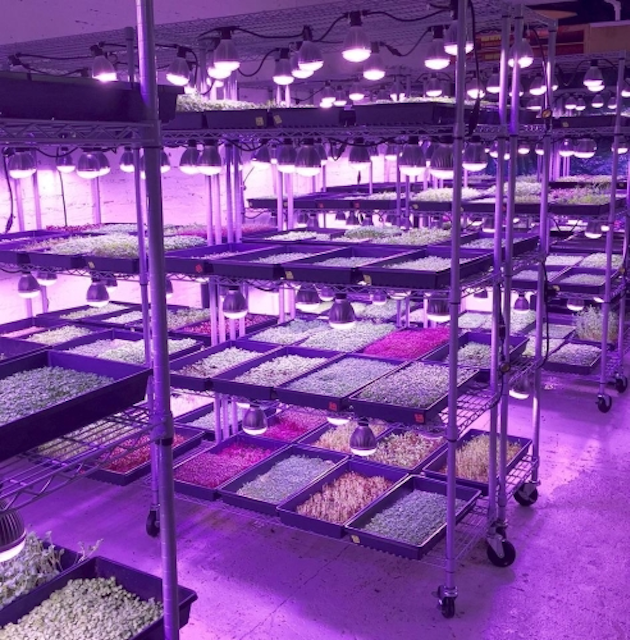 Black Pearl Gardens' operations have since expanded into the restaurant basement (shown) and an additional warehouse facility equipped with TotalGrow Broad Grow Spectrum LED lamps with flexible configurations for various crops and growing schedules.
The combination of entrepreneurial aptitude, a great culture for selling high-quality and high-value crops in Ann Arbor, MI, successful horticultural lighting, and other growing techniques are consistent with the stories of other successful small-scale vertical farmers who seek to bring the farm closer to the consumer.
JEFF MASTIN is chief biologist for Venntis Technologies, a specialist in custom spectra, volumetric LED lighting, and custom output pattern lighting, and a finalist in the 2017 LEDs Magazine Sapphire Awards.
More resources and references

We agree that large commercial operations are not the only growers who can reap the benefits of horticultural lighting, as noted in a June 2017 blog.
Maury Wright has reported on a Texas grocer that established a vertical container farm onsite with horticultural lighting and associated systems for growing herbs, lettuce, and other greens.
Read a great overview on how the science of SSL applies to horticultural operations.