A.C. Lighting supplies Chroma-Q Color Blocks to event lighting company
A.C. Lighting have supplied a leading event lighting design company with 80 Chroma-Q Color Block LED fixtures and a Jands Vista lighting console for use on in-house production rentals.
Dec 13th, 2004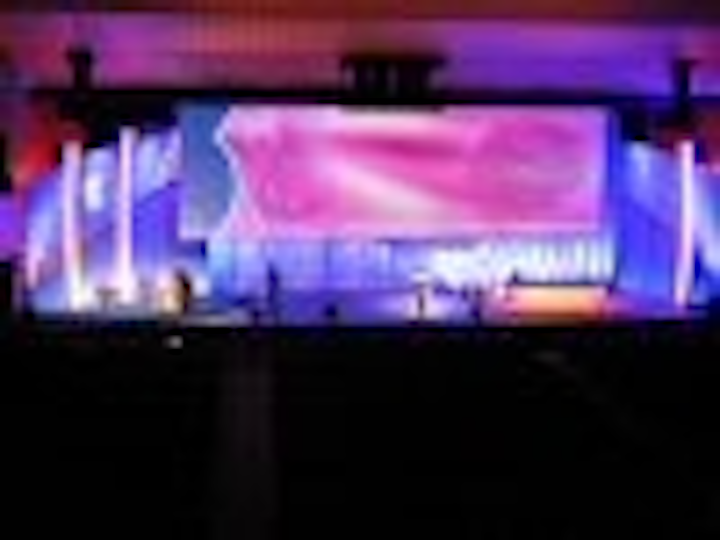 The products were purchased by DBN Lighting, one of the Northwest UK's leading event lighting specialists, which provides lighting design and rental to a mainly corporate client base.
The products were used in a show for DBN client and production company Reflex Communications, who were providing the set for a standalone meeting in Barcelona for 1200 psychiatrists hosted by AstraZeneca - one of the world's largest pharmaceutical companies.
DBN Director and Lighting Designer for the event, Pete Robinson was impressed by the superior colour mixing options offered by the Chroma-Q Color Blocks and also the brightness of the fixtures.
The set was lit by a combination of moving head and colour-mixing LED fixtures, including 3 curved spines backlit with Color Blocks shining onto rear projection material.
Robinson found that because he could split the Color Blocks into single block battens, he could follow the curves of the spines really smoothly for an even dispersion - something which wouldn't have been possible with fixed length battens.
Equally, Robinson found that by using the Vista lighting console to control the Color Blocks he was able to programme complex colour sequences very quickly which would have taken far longer to programme on other desks in DBN's rental stock.