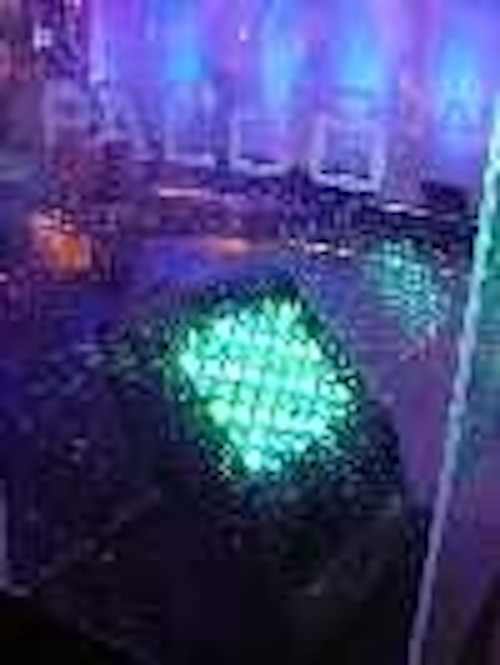 PALCO from SGM is a colour-changing projector for indoor and outdoor applications, which uses as its light source 49 high-power Luxeon LEDs. PALCO creates an evenly diffused light beam, ideal for illuminating large areas and able to be controlled precisely in all its main characteristics: luminous intensity, RGB colour mixing, colour temperature.
SGM says that the extremely compact lines and IP65 rating make the PALCO ideal for installation in a wide range of applications, including urban sites, monuments, buildings, museums, art galleries, libraries and shopping malls. PALCO is also the ideal means for dynamically colouring backdrops in contexts such as theatre, television and photography studios.
PALCO comes in two versions: the PALCO 5 contains 5 W LEDs (5 blue, 20 green, 24 red) and has a total luminous flux of 2800 lumens while the PALCO 3 utilizes 3 W LEDs (7 blue, 18 green, 24 red) and provides 2200 lumens.
PALCO has five interchangeable lenses (8°, 25°, 40°, elliptical 10° x 22° vertical and horizontal), offering various projection angles and allowing PALCO fixtures to be used at different distances from the objects to be illuminated.
Mechanical features
PALCO has unusual, particularly stylish lines that enable it to discreetly fit into the surroundings and harmonically adapt to the architectural elements and settings to be lit.
PALCO is preset for various types of installation:
* Floor or wall-mounted by means of four holes on its base, using M6 screws.
* Flown from trussing - even upside down - (by fitting a clamp to the two Fast-Lock holes on its base).
* Floor-standing (on flat surfaces), maintaining utmost stability with any head angle.
PALCO has extremely compact dimensions (height 425 mm, width 375 mm, depth 229 mm) and weighs just 13.5 kg. The head can be inclined vertically or horizontally, in order to best adapt to the areas and architectural elements to be illuminated (pan: +/- 45°; tilt: +15°/-70°).
PALCO is totally silent, because it does not use any type of forced ventilation. The fixture is convection-cooled by means of its rear finning, and an electronic self-regulating internal temperature system ensures continuous operation even in extreme conditions.
Control All PALCO functions can be controlled via USITT Standard DMX 512 serial digital signal or RS 232 serial signal.
PALCO transmits and receives on eight DMX channels:
1) Strobe/Shutter: various shutter effects (strobe, random-strobe, pulse, at various speeds).
2) Dimmer: linear 0-100% regulation of luminous intensity.
3) Red: linear 0-100% regulation of red saturation.
4) Green: linear 0-100% regulation of green saturation.
5) Blue: linear 0-100% regulation of blue saturation.
6) CTC: linear 0-100% regulation of colour temperature.
7) Macro: Various scenes with preset colour effects.
8) Colour Mode: customizable white balance.
PALCO can be completely programmed and operated without the use of any external controller. In "stand-alone" mode, i.e. using just PALCO's on-board microcomputer, it's possible to form systems consisting in a maximum of 30 fixtures (1 "MASTER" and 29 "SLAVES"), which can be programmed independently. PALCO can also be controlled via computer, or using a DMX control system (such as SGM's REGIA 2048 console). In this case, it's possible to connect dozens of fixtures and control them simultaneously via DMX.
PALCO has a menu with a large number of functions, which enable users to:
* configure fixtures according to requirements
* program them
* test their components
* receive information on their operation.
The menu is accessed by means of a user-friendly interface with a 10-digit display. The on-board software can be upgraded via DMX.
The on-board menu offers an extremely interesting function for architectural/decorative illumination applications: the possibility to run the completely automatic playback of a series of 48 "events", previously programmed on the PALCO and organized to be run over a period of a week. Each event can include different settings of luminous intensity and colour mixing, shutter effects (strobe, pulse, random strobe), macro (rainbow, random colour), etc. The order, the precise instant in which they begin and duration of each event can be precisely programmed for 7 days directly on the PALCO. The result is truly flexible illumination, able to create different atmospheres that change through time - extremely gradually or instantly - according to programmers' creativity.