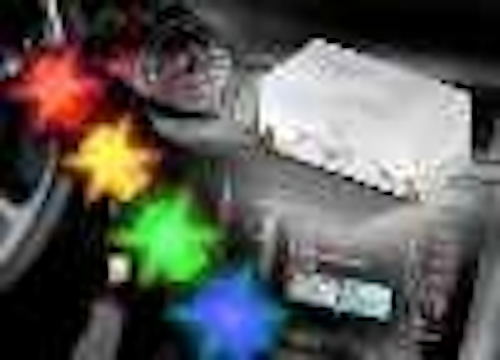 Devices in the new Vishay Semiconductors SMD 0603-LED series feature ultra-miniature dimensions of 1.6 x 0.8 mm and a low height profile of 0.6 mm, enabling design of small-scale, high-power products that operate reliably even in demanding environments.
Typical applications for the new series include backlight keypads, navigation systems, consumer appliances, office equipment, medical instruments, displays for mobile phones, industrial control systems, automotive systems, and systems requiring miniaturized color effects.
In addition to very low power consumption and ESD-withstand voltage up to 1 kV, all six LEDs ensure even lighting with a luminous intensity ratio of 1.6 or less per packing unit.
SMD 0603-LED series ultra-bright LEDs
TLMS1100: super red (633 nm) - 63 mcd
TLMO1100: orange (606 nm) - 80 mcd
TLMY1100: yellow (587 nm) - 80 mcd
TLMG1100: green (570 nm) - 35 mcd
TLMP1100: pure green (558 nm) - 15 mcd
TLMB1100: blue (466 nm) - 13 mcd
Luminous intensity values are measured at a typical forward current of 20 mA.
The new LEDs are built on AllnGaP and GaN technology, packaged in a highly reliable lead frame base, and embedded in a clear epoxy. The devices' angle of half intensity is 80°, providing an extremely wide 160° viewing angle.
Available in 8-mm tape-and-reel packaging, the LEDs announced today are compatible with automatic placement equipment and may be processed either through reflow soldering or a lead-free solder process. The devices' operating temperature range is -40°C to +100°C.
Samples and production quantities of the new SMD 0603-LED series ultra-bright LEDs are available now with lead times of five weeks for larger orders. Pricing for U.S. delivery in 100,000-piece quantities starts at $5.00 per 100 pieces for the TLMS1100, TLMO1100, TLMY1100, and TLMG110; $6.50 per 100 pieces for the TLMP1100; and $17.50 per 100 pieces for the TLMB1100.