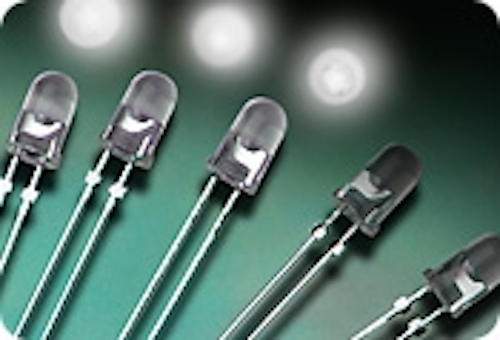 Agilent Technologies has introduced a series of extra-bright white InGaN LEDs targeted for the electronic sign and signals market. These are the company's brightest white InGaN LEDs and enable Agilent to address a wider range of indoor and outdoor applications that require the brightest LEDs possible.
The combination of high brightness and weather-resistant packaging makes these LEDs ideal for applications such as gaming machines, traffic signals and signs, stadium scoreboards, advertising and other variable message signs.
The HLMP-CWxx circular-pattern and HLMP-FWxx flat-top extra-bright white LED lamps, from Agilent's Semiconductor Products Group, are available in 15-, 23-, 30-, 50-, 70- and 85-degree circular viewing angles. The spatial radiation pattern and high luminosity make these devices excellent for wide field-of-view outdoor applications, where a wide viewing angle and readability in sunlight are essential.
"Our new series of white LED lamps complements our recent introduction of blue, green and cyan LEDs and completes our product portfolio of extra-bright InGaN lamps," said Soo-Ghee Lee, vice president and general manager of Agilent's Optoelectronic Products Division. "As an LED leader, we're committed to supporting our customers' electronic sign and signals applications with the highest-quality products in the high volumes required."
Agilent's white LEDs are based on the industry's most efficient and cost-effective flip-chip InGaN material technology. These extra-bright white InGaN lamps are supplied in 5 mm (T-1 3/4) through-hole packages and combine Agilent's most advanced through-hole packaging technology to ensure maximum light extraction from the die.
The die is attached within the reflector cavity, and the cavity is encapsulated by Agilent's proprietary epoxy blend. This means the lamps perform with high reliability over the -40 to +85 deg.C temperature range and are protected from UV radiation and humid environments.
US pricing of the Agilent HLMP-CWxx circular-pattern and HLMP-FWxx flat-top extra-bright LED lamps is $0.42 each in 1,000,000-piece quantities.