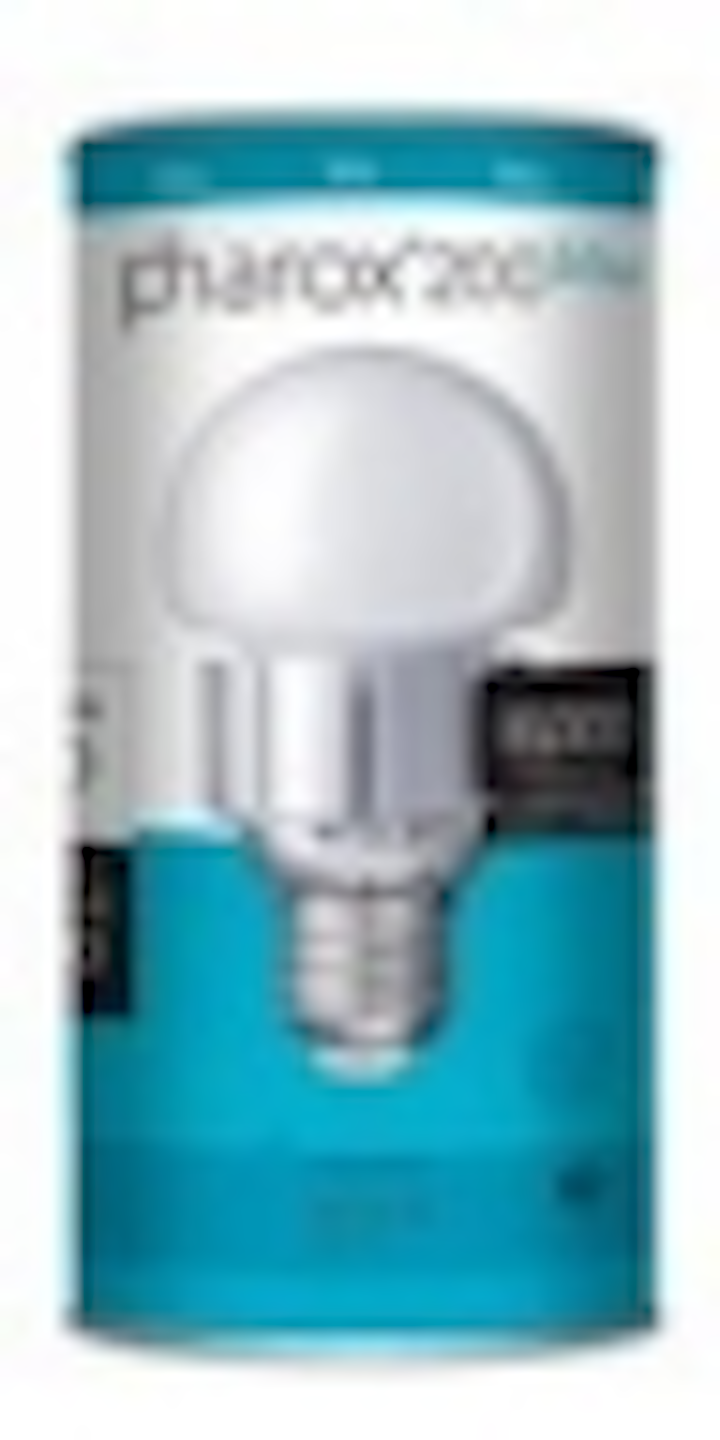 Cost has stood as the obstacle to broader deployment of LED retrofit lamps – especially in residential application – and consumers are precisely the target of Lemnis Lighting with its newest solid-state lighting (SSL) Pharox BLU lamps. The 240-lm, 5W Pharox BLU 200 and 360-lm, 6W Pharox BLU 300 are available immediately on the Lemnis website priced at $4.95 and $6.95 respectively.
The new low-lumen lamps are the first products in what will become three separate product families for Lemnis. Pharox BLU lamps will be consumer targeted with a one-year warranty and will not support dimming. The dimmable Pharox XL and Pro product lines will carry a three-year 35,000-hour warranty and the latter will also include Energy Star qualification.
The low-lumen output of the initial Pharox BLU offerings will limit the sockets in which they can be serviceably deployed. Still Lemnis co-founder Warner Philips said the typical home will have eight to a dozen sockets in which the light levels would be serviceable. Philips said he is using the new lamps in some recessed cans in the kitchen and dining areas of his own home as well as in closet lighting and in bed-side table lamps.
Residential LED uptake
About the low prices relative to broadly available lamps, Philips said, "Consumers really want to get into the same, but they don't want to pay the price for LEDs." Philips expects the $5.00 level to help trigger residential SSL uptake.
As mentioned above, the Pharox BLU line is not dimmable. Philips doesn't see that as at concern saying that "Only about 13% of the lights in consumer homes are on a dimmer." That does ignore the convenience factor of buying products and the fact that with incandescent lamps consumers never had to buy separate dimmable and non-dimmable lamps.
Philips described another trend that he said bodes well for low-lumen products like Pharox BLU. He said that over the last decade the square footage in new US homes has been on a constant decline yet the number of light sockets has increased by 20%. He noted the trend is more directional lights with less lumen output.
Lemnis calls the Pharox family omnidirectional with a 320° beam pattern. But Philips readily admitted that the flux distribution is not even and that the lamps can be better in applications with some amount of directional requirements.
A speaker from the US Department of Energy (DOE) Pacific Northwest National Laboratory (PNNL) presented a paper on retrofit lamps last week at Strategies in Light that appears to back some of Philips' points. Lighting engineer Michael Royer basically concluded that the low-lumen LED lamp segment is underserved with many companies focused primarily on high-lumen 60-100W-equivalent lamps.
Higher lumen offerings
Lemnis does expect to serve the broad retrofit lamp segment. Philips said that the company would have Pharox BLU products in the 400-lm segment soon with 600- and 800-lm products following in the second quarter. He also said that Pharox XL and Pro products would emerge in the second quarter.
Philips would reveal little about the internal design of the Pharox BLU lamps. He said the LEDs point predominantly upwards from the base as opposed to including some emitters that radiate outward as we have seen in lamps from Philips Lighting and others. Lemnis' Philips said that the Pharox BLU 200 and 300 lamps use four and six LEDs respectively.
Lemnis is a relatively small organization depending on partnerships for manufacturing and much of the design work. Philips wouldn't disclose details of the lamp-design process, but said the company has relationships with contract manufacturers in Delhi, India and Shenzhen, China.