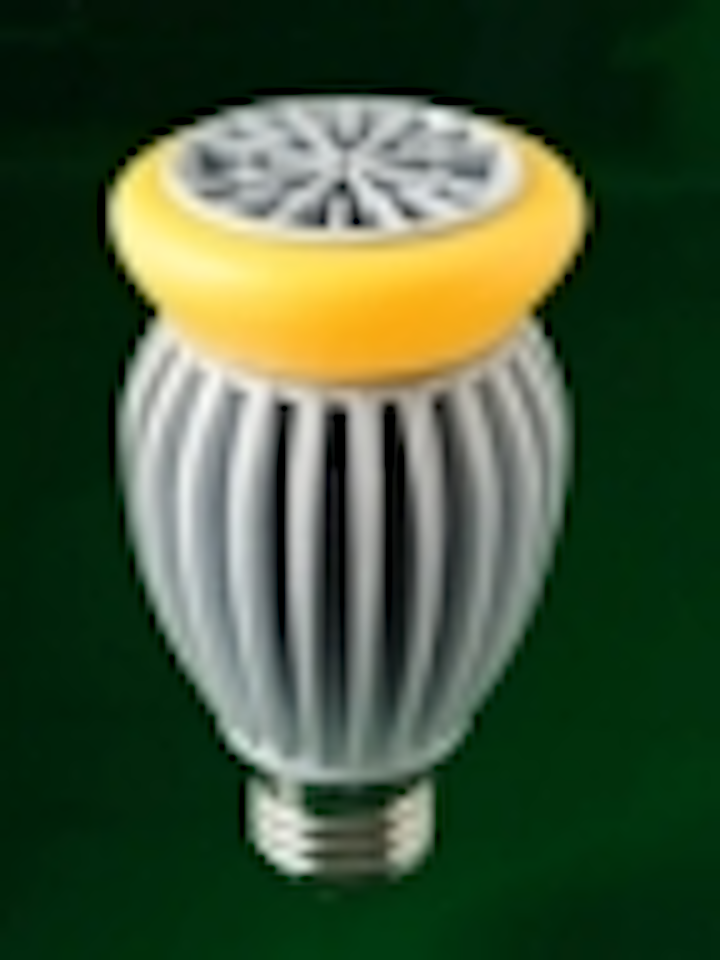 Again at Lightfair International, a visitor to the exhibit floor could only assume the event is an LED lighting show as solid-state lighting (SSL) vendors dominated the exhibit floor showing their latest wares in applications ranging from retrofit lamps to street lights. Indeed, retrofit lamps were arguably most prevalent, although LED-based planar lighting and SSL linear fixtures may ultimately play larger in high-end lighting applications.
Leading in to LFI, we covered early announcements of 100W-equivalent lamps from GE Lighting and Philips Lighting. Those products were prominently displayed and joined by a host of other retrofit lamps.
Intematix announced the Contour addition to its Chromalit remote-phosphor optics line that is designed to enable manufacturers to quickly bring retrofit lamps to market. The company showed a reference design of a 100W-equivalent lamp. Moreover, Feit Electric showed the reference design in its exhibit, presumably indicating intent to make such a product.
Switch Lighting showed its 100W equivalent, which launched several months ago. The Switch liquid-filled design has changed a bit since inception, and perhaps we will dig into that in a later article. The changes make the lamp more manufacturable and improve thermal performance. The company has not shipped the 100W product. At LFI, Switch introduced a 3-way lamp that can operate in 25W-, 50W-, and 75W-equivalent modes.
Osram Sylvania also showed a 100W equivalent lamp. The prototype looked quite different from prior designs with LEDs spread around the globe and light coming through holes in what appeared to be a metal element that is likely a thermal component of the design.
100W availability
Of course, no one is shipping 100W-equivalent lamps. Switch says it will this summer, but the company has yet to demonstrate it can move its design into volume manufacturing. Philips appears set to ship this fall.
The enormous commodity potential of the retrofit lamp market, however, continues to entice newcomers. There were numerous exhibits at LFI from companies around the globe with broad retrofit lamp displays.
Startup SunSun Lighting perhaps made the biggest splash with major venture-funding news. On the eve of the LFI exhibits, the Jiangsu, China-based company announced $30 million in financing from GSR Ventures, Oak Investment Partners, and its unnamed original angel investors.
Planar lighting
In planar lighting, Cooper Lighting has joined GE Lighting as a licensee of the planar technology from Rambus. Cooper didn't formally announce new products at LFI, but had an impressive collection on display inside of a controlled environment within its booth. Attendees had to register to view the product line that included typical fixtures such as planar pendants to exotic designs such as cylindrical fixtures.
Global Lighting Technologies (GLT), from whom Rambus acquired its planar technology, continues to ply the planar space with end products and partnerships. The company shows a 2×2-ft planar recessed downlight. Moreover, GLT demonstrated a high-bay planar light that delivers 17,000 lm from 300W input and requires a heat-pipe-based cooling scheme. The company also showed square and circular recessed planar luminaires that Toshiba will sell, and that have an opening in the planar surface designed to house a task light that would be paired with the ambient light from the planar source.
Linear SSL
In the linear area, SSL vendors continue to develop purpose-built LED-based fixtures that scarcely resemble traditional linear lights – continuing a trend we identified at LFI last year. Philips Lighting showed what was arguably the most elegant fixture in the LED Linear DC Pendant fixture from its Lightolier brand.
The initial version of the linear pendant is designed to radiate light upwards against the ceiling. It will be offered with 2300- or 3000-lm output in a 4-ft fixture. The fixture itself is a tiny 1×1-in square. The design relies on a driver that must be mounted in the ceiling, requiring a DC low-voltage connection to the fixture.
Philips also plans a version of the pendant that will radiate light downward. Details are to come in terms of light output and what the fixture will offer in beam distribution. In fact, the upward-facing version on display didn't make the Philips Lighting LFI press kit, and alas we have no photo for now.
Cooper Lighting, meanwhile, turned a new linear fixture on its side - literally. We've covered the Neo-Ray family of linear fixtures previously, including on the cover of the July/August 2011 issue of LEDs Magazine. The new LED-based Neo-Ray Straight and Narrow fixture is designed for recessed mounting in a wall (see photo).
What we are finally starting to see with LEDs is fixture design that really requires an LED source. For example, you would be hard pressed to get a fluorescent tube in the new Philips pendant. There were abundant other examples on the LFI floor, and we will offer more coverage both on our website and in the magazine going forward.