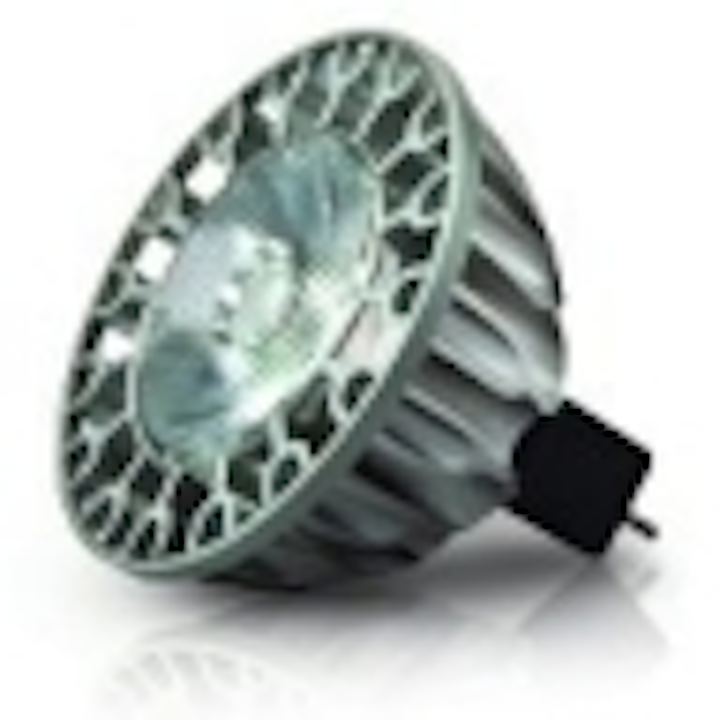 Soraa intends to eliminate what it sees as compatibility issues between energy-efficient LED-based retrofit lamps and light fixtures with a new "Works with Soraa" fixture validation program. The program will validate fixtures for mechanical, electrical, and thermal compatibility and fixture manufacturers Dreamscape Lighting, Hevi Lite, Focal Point, and Tech Lighting are the first participants.
Without question, there have been some compatibility issues with LED retrofit lamps, especially in the MR16 space where Soraa is solely focused at this time. The constrained form factor, and issues with electronic transformers have resulted in many LED-based MR16 lamps that don't perform as well as the halogen incumbents. See " Are MR16 LED lamps ready for the 50W-halogen switch?" on our sister website at LEDs Magazine for more details on the MR16 issues.
One industry expert that has regularly spoken out about problems with LED-based solid-state lighting (SSL) is Chip Israel, president of lighting design firm Lighting Design Alliance. "For LED lighting to gain greater acceptance in the lighting design community, it is critical that we solve the LED lamp and fixture compatibility issue," said Israel. "I commend Soraa and its fixture manufacturer partners for tackling this important issue and encourage other fixture manufacturers to join this program, as we are desperate for this information."
The notable problem with the program, of course, is that Soraa is a relatively small player focused only on MR16 lamps, although that is a relatively large market segment. Soraa is at its base a manufacturer of LEDs using a unique approach of growing the gallium-nitride epitaxial layers of an LED on a gallium-nitride substrate, rather than on a sapphire substrate that is most common in the LED industry. We covered the public launch of Soraa early this year. The startup company chose to also manufacture MR16 lamps since that application shows the presumed advantages of its LEDs in greater center beam candle power.
Ideally, an industry standards body will ultimately define some interoperability guidelines. Such a move would be especially important in areas such as dimming performance. Still, the Soraa program could have a significant impact in the MR16 space.
Fixture manufacturers
The fixture manufacturers that have signed on to the program clearly believe it has value. "For too long, many in our industry have used the word LED replacement lamp far too loosely," said Joshua Weiss, president of Tech Lighting. Michael Thornton, vice president of marketing at Focal Point added, "Working together ensures that the thermal requirements of the Soraa lamp perform within specification when used in select Focal Point luminaires."
The partners are also obviously believers in Soraa's stated value propositions enabled by both their LEDs and the MR16 lamp design. "The lamp is true to the color and output of a standard halogen MR16 lamp," said John Baldasti, CEO of Hevi Lite. "Its unique thermal heat sink, with an exact MR16 bulb shape, make it a perfect retrofit LED replacement lamp.
Soraa believes that the program will speed time to market. "This program will enable fixture manufacturers to quickly offer a world-class LED solution, while focusing on what they do best – building beautiful fixtures," said CEO Eric Kim. "It's all about enabling flexibility and choice without compromising performance and quality."
The intended result is a simpler process for the lighting buyer, designer or specifier. Victor Kelmelis, vice president of Dreamscape Lighting, said, "The Works with Soraa program allows us to validate the compatibility of our products with the Soraa lamp – simplifying the end-users' lamp and fixture choice."
Soraa also was the company behind the recent Lighting PlugFest for testing compatibility between lamps, fixtures, transformers, dimmers and other components. The event took place in November in New York, NY in conjunction with the Control This! conference hosted by the Illuminating Engineering Society (IES).