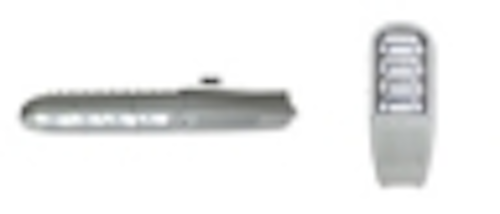 GE Lighting has long been one of the leaders in LED-based street lights with its Evolve family, and now the company has announced the GE Evolve LED Scalable Cobrahead, which comes in four sizes to meet a wide variety of lumen-output requirements. GE will offer versions of the product that range from 3000 to 21,900 lm and says that products across that range will meet the specification codes of most any municipality, allowing the use of one product family across all street and roadway lighting in a town or city.
The Evolve family cuts energy consumption by about 50% relative to legacy HID sources, according to GE. "Some cities spend up to 60% of electricity consumption on street lighting," said Tim Miller, senior product manager for GE Lighting. "Others are already saving hundreds of thousands of dollars a year with GE Evolve LED roadway fixtures."
The Evolve family uses a reflective optical design to form the required roadway beam patterns whereas the bulk of the LED-lighting industry uses TIR (total internal reflection) lenses mounted on individual LEDs or small LED arrays (see Learn more about beam patterns).
The new design can pack from one to four solid-state lighting (SSL) modules into cobrahead housings of various sizes. The scalable design supports both a wider range of light output and allows the fixture to deliver more pavement distribution patterns.
GE says that the new fixtures will deliver a 50,000 hour life equating to 11 years based on 12 hours of operation each day. The company offers 4000K and 5700K CCTs. GE also offers the optional GE Monitor Stand-Alone Controller that can dim the lights late at night for additional savings.