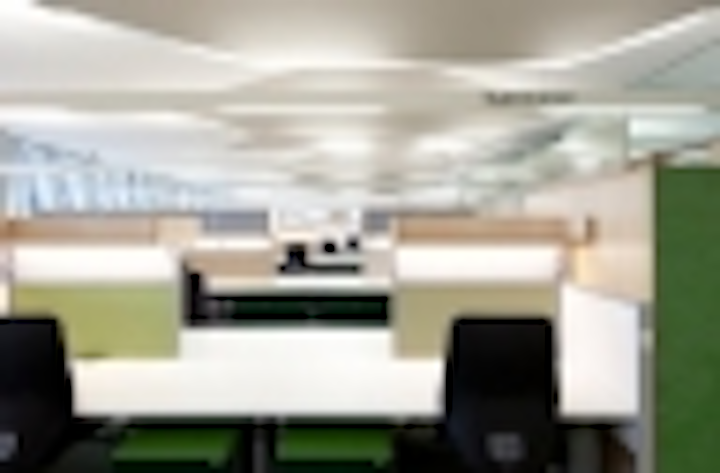 Klik Systems, a supplier of buyer specified linear lights, has supplied the light fixtures for the new interiors of Level 5 of the Mechanical Engineering Faculty, University of Queensland (UQ), in Queensland, Australia. Floors 1-4 of the building contain engineering labs, staff offices and a lecture theater. Level 5 is home to research divisions and conference rooms, making the lighting of the space crucial to the work that goes on there.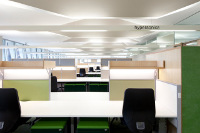 The new research environment features a ceiling that functions as a sculptured reflector and diffuser of ambient light, and won a 2012 Australian Institute of Architects QLD State Award for Interior Architecture in June as well as an Award of Commendation at the Queensland Chapter of the IES Illuminations Awards on 26th October. The coffered ceiling was painted with minute reflective particles to help increase the soft ambient glow. The sculptured ceiling also creates smaller spaces within an open plan that suits smaller work groups, and draws the eye through the full height windows to the natural light beyond.
Mirrors were placed on blank walls to visually continue the run of suspended Klik lighting and the patterns made by the ceiling, thus further increasing the levels of light. The existing orange brickwork was covered with white paint to allow for better reflectivity within the space. The articulated ceiling allows maximum opportunity to soften the reflected light from the Klik 110 Beam and 85 Beam.
The lighting design, created by Multitch Solutions, was based on the Klik Systems Beam family. Klik's 110 Beam D/I for direct and indirect light and the recessed version of the 110 for direct light. These two lights were combined with Klik's 85 Beam to provide both task and ambient light for the university building.
"The project concept relied on a resolved, neat and well-made suspended beam system, to allow the space to be defined by a focus on the quality of light. Klik Systems were a natural choice," said Michael Lavery, a director at m3architecture, a design firm which created the interior of the building.