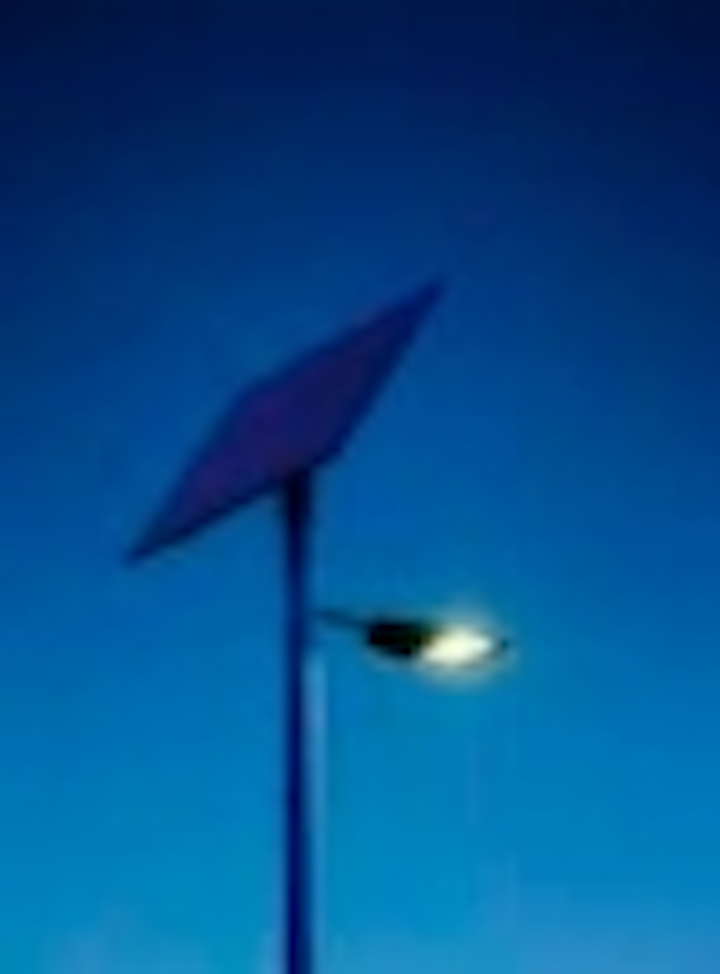 At the recent CES show in Las Vegas, Philips Lighting and NXP Semiconductors NV (Nasdaq:NXPI) based in Eindhoven, the Netherlands, demonstrated the recently introduced Solar Gen2 solar-powered street light. The street light is designed to supplement the capacity of conventional electric grids in urban areas by charging during daylight hours, or to provide off-grid street lighting.
The street light combines very high brightness and energy efficiency with patented optics to provide a lamp that can be spaced up to 50 meters pole-to-pole. Wider spacing allows a reduction in the total cost of road lighting.
NXP's MPT61x intelligent charge controller family uses buck-boost charger topology to enable 98% power-conversion efficiency from the solar photovoltaic cells to battery storage. The MPT61x configurable ICs also control the charging and discharging of the battery to allow the user to maximize battery life. Users can also dim light levels as needed using self-learning intelligence and history logs.
Like several of Philips Lighting's street lights, the Solar Gen2 is based on the company's LEDgine modular light engine, an approach that allows upgrade of the module or driver over time. A recent installation along Regents Street in Blyth, UK, highlights the benefits of brighter lighting and low maintenance when LEDgine Greenline modules were incorporated in the company's SpeedStar street-light fixtures.
Kees van der Klauw, senior vice president of technology & development at Philips Lighting, says, "Solar Gen2 is a fantastic example of how several companies have worked together to create an innovative best-in-class solution. It addresses a real need felt by 1.6 billion people in countries where the electricity grid cannot be relied upon to power street lighting at night. Solar Gen2 provides a cost-effective, reliable, off-grid outdoor lighting solution that can compete with existing on-grid lighting in performance, integral cost and energy consumption, improving the quality of people's lives around the world."
René Penning de Vries, CTO at NXP Semiconductors, says, "By making Solar Gen2 as power efficient as possible, we've produced something which is genuinely groundbreaking while remaining affordable in those countries that can benefit the most from it."
Watch the video of the solar street light at CES2012.