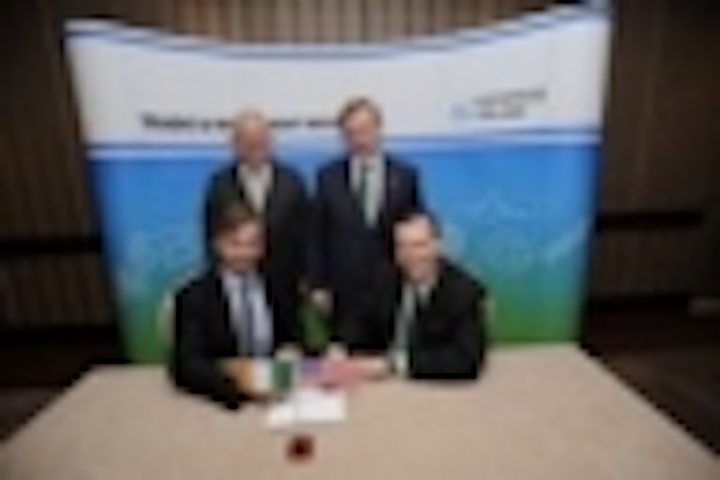 Nualight, an Enterprise Ireland-supported company, has announced a $100 million co-development agreement with Hussmann Corporation, a manufacturer of refrigeration systems and display cases based in Bridgeton, MO. The announcement was made in Washington DC during the St. Patrick's Day visit of Enda Kenny, the Taoisearch (Irish Prime Minister).
Kenny welcomed Nualight's announcement with Hussmann. "Nualight is a prime example of the type of innovative, high-tech Irish company that continues to win new business in important markets such as the US."
Liam Kelly, CEO of Nualight, said the deal had huge potential for both firms and would allow them to combine sales and marketing resources to develop new business opportunities in North America, Central America and South America, while reducing costs. "Nualight has become a global company with in excess of 200 employees in just five years. Digital lighting is not a commodity and its introduction into refrigerated display environments is not simply a matter of bulb replacement. Each display case presents a unique set of characteristics. The collaboration of our two companies and the convergence of case innovation with digital lighting are now setting the standard for food merchandising excellence."
"Our alliance with Nualight fits well, strategically, with our corporate mission to help food retailers sell more products to their customers," said Mike Higgins, senior vice president marketing, Strategic Planning and Business Development at Hussmann.
LED-optimized configurations
Nualight's Kelly explained in an interview with LEDs Magazine that many of the refrigerated case designs of the past were retrofits: typically replacing fluorescent tubes with linear LED lamps. "When you do that, you're often getting a very good result, but not an optimal result." On this project, Nualight and Hussmann have co-designed the LED lighting and the refrigerated cases, allowing an optimized solution for the specific application, whether that is beverage dispensing, fruit and vegetable displays, cheese displays, or meat, poultry and fish displays.
The two companies are offering a newly expanded EcoShine II family of LED lamps, which offers the versatility to deliver retailer-specific lighting solutions. Flexibility within the product portfolio provides lighting alternatives that can enhance the retailer's food merchandising strategy. "Retailers are using lighting as a method to attract customers," said Kelly.
The bright, more vibrant and uniform lighting distribution provided by EcoShine II lamps increases the visual appeal of food products. The full product line offers more flexibility, more configurability and unique merchandising technologies to attract, guide and influence a shopper's experience.
Energy savings
Nualight recently announced a partnership with Sainsbury's in the UK for LED lighting in its refrigerated cases across all of the retailer's new and refurbished stores. The company's latest products enable an energy savings relative to fluorescent lighting in low-temperature cases of 70 percent and 40 percent in medium-temperature cases. Maintenance is reduced to negligible levels.
Nualight also has retail installations at The Co-operative Group, Tesco, Morrisons, M&S, Migros, Tengelmann and Coop Switzerland. Nualight is funded by Climate Change Capital, ESB Novus Modus, 4th Level Ventures and the Quinn retail family.