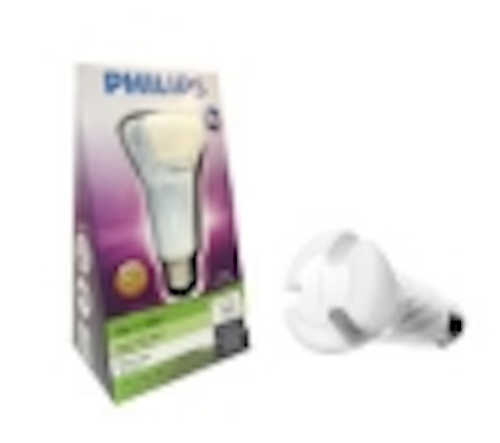 Philips Lighting has announced second-generation LED A21 lamps that are equivalent to 75W and 100W incandescent bulbs. The new versions come with lower pricing and Energy Star qualification that could drive prices with rebates even lower in many US locales.
In lower-output lamps such as 60W-equivalent products, Philips has strayed from what a company executive had once called an iconic shape that first appeared as the L Prize candidate. Of course, the company has subsequently minimized its use of yellow/orange remote phosphor optics but has also gone to many other lamp shapes such as the latest flat form factor in the 60W-equivalent SlimStyle.
Apparently, the higher-output A21 lamps still need the old geometry and the air channels that you can see dividing the lamp optics to cool the LEDs that are mounted on the inside of each channel. The new designs deliver 1220 lm in a 15W design, and 1680 in a 19W design.
"We continually innovate our retrofit lines, increasing the efficiency of our products and ensuring they offer the light quality that consumers expect, while finding ways to make them more cost-effective," said Bruno Biasiotta, president and CEO of Philips Lighting Americas. The new lamps are dimmable with legacy triac and other phase-cut dimmers. The products have a warm 2700K CCT and CRI of 80. The efficacy is near 80 lm/W, offering more than 80% energy savings relative to incandescent lamps.
Still, the main story line for the new products is price. Home Depot already has new pricing of $19.97 and $24.97 on the lamps. That represents around a 25% decrease.
Philips has clearly decided that the time is right to capitalize on the market for the higher-output bulbs. Even though usage trails the 60W-lamp class, Philips said more than 90 million 75W lamps are sold annually and that 100W bulbs are found in 25% of the sockets in the US.
Philips in particular stressed the value offered by the new lamps relative to rebates. Biasiotta added, "Over the last few years, we have worked closely with national utilities to develop one of the most robust rebate programs in the industry, helping to demonstrate to consumers that they are getting a quality product, while working to make the LED bulbs that will be in your home for decades increasingly affordable."
Indeed, Philips said that the lamps could sell at $9.97 and $14.97 in some areas with rebates. Alas, the rebate issue remains problematic in some areas such as California where actions taken by the California Energy Commission last year essentially limit rebates to 90-CRI lamps in 2014. Still, much of the country will be eligible for rebates on the new products.