Reggiani solid-state lighting brings brilliance, flexibility to BMW and Vauxhall auto showrooms
LED fixtures featuring interchangeable optics accommodate future lighting changes on automotive showroom floors at Vauxhall in London and Fairfield BMW in Essex, UK.
May 6th, 2014
Today's automobile showrooms call for LED fixtures with high CRI and lumen output as well as interchangeable optics to accommodate changes on a busy sales floor. Reggiani Lighting provided fixtures for the renovation of the Vauxhall showroom in London and the Fairfield BMW in Essex, UK. In both cases, interchangeable optics allow simple modification of beam angle to accommodate future needs of the showrooms.
Related article: Iconic Petty Garage installs 90-CRI LED lighting


Vauxhall showroom
Reggiani LED luminaires were used to upgrade the main car showroom, mezzanine, underlying show areas, and main offices of the Vauxhall showroom. The installation had to meet strict guidelines for high color rendering (CRI) as well as an illuminance of 1000 lux (1000 lm/m2) on each car. Energy efficiency of the fixtures met the Enhanced Capital Allowance (ECA) criteria in the UK, which provides tax incentives that reduce the return on investment period.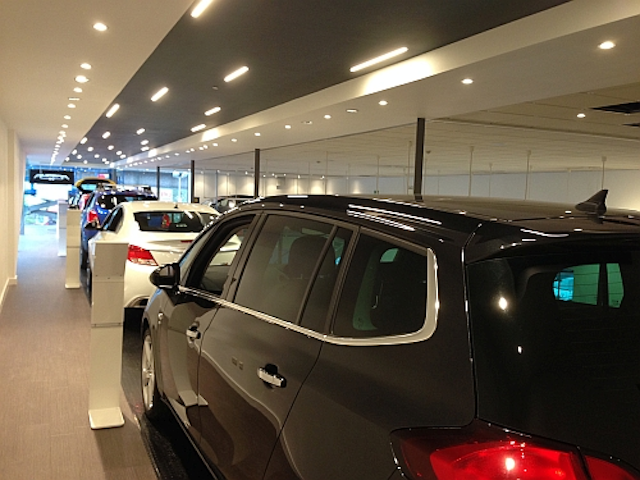 Reggiani solid-state lighting brings brilliance, flexibility to BMW and Vauxhall auto showrooms
Inside the Vauxhall North London location, the "runway" area above the cars is illuminated by Reggiani's Linea Luce fixtures of various wattages and sizes to provide a sense of motion.

In the main showroom, four lengths of a 3-circuit track system were suspended from the ceiling. Each track used a series of high-output, wide-beam 39W Envios spotlights (68°), producing 2970 lm at a CRI of 97 and CCT of 3000K. These spotlights were interspersed with narrow-beam Envios spotlights (12° or 16°).
The mezzanine floor and the area beneath have a lower ceiling with a dark central "runway" area above the cars. In the runway, Linea Luce recessed fixtures of varying sizes and wattages create contrasting lines of light that play off the vehicles.
At both edges of the mezzanine, 10W recessed LowLeds provide ambient lighting of 735 lm at 3000K and CRI of 90.To highlight the cars, Reggiani added several recessed 26W Unimosa luminaires to achieve the average of 1000 lx per car.
In the main office area, 25W fixed recessed MiLed downlights (2350 lm at 3000K and 85 CRI) with wide-beam optics provide general lighting with an average 500 lx on the working plane, while a Vauxhall-customized rectangular track system with individually-angled 26W Envios LED luminaires focused attention directly on the featured cars.
The interchangeable optical system in the Envios luminaire (22°, 30°, 36°, 40°, and 68° for 39W) makes it easy to reconfigure beam angles in response to later changes to the space.
Related article: Michael Jordan Nissan installs LED lighting inside and out


BMW showroom
Lighting architect Taylor Design oversaw the lighting upgrade of the Fairfield BMW showroom, the company's facility in Leigh-on-Sea, Essex. Among other vehicles, the lighting is designed to optimally illuminate the new electric BMW i-series.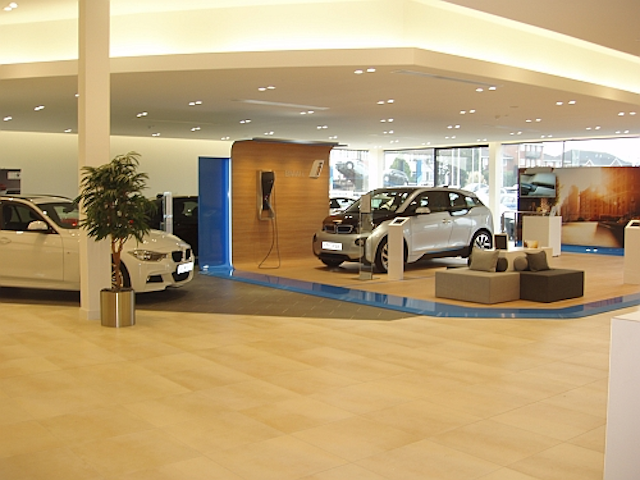 The Fairfield BMW used Reggiani Bisio 26W downlights with high CRI (90) and color temperatures of 3000K in the circulation areas and 4000K in the showroom to best display the vehicles.

"BMW has very specific requirements for lux levels and color rendering, while Fairfield was very keen that LED light sources should be used to reduce energy consumption and carbon emissions," recalled Jonathan Ravenscroft of Taylor Design. "To meet these criteria, we worked closely with Reggiani on the design to achieve the optimum positioning and configuration of the Bisio fittings."
Throughout the showroom, 26W Bisio downlights were used. The Bisio design features adjustability in the horizontal axis of 358°, combined with the ability to quickly convert from an inspot (-35°) to a downspot (90°). Bisio fixtures with a CRI of 90 and color temperature of 3000K were used in the common areas whereas 4000K fixtures were used in the showroom. The Bisio fixtures also feature interchangeability of optics and a 50,000-hour lifetime, and they also qualify for the ECA tax incentives.