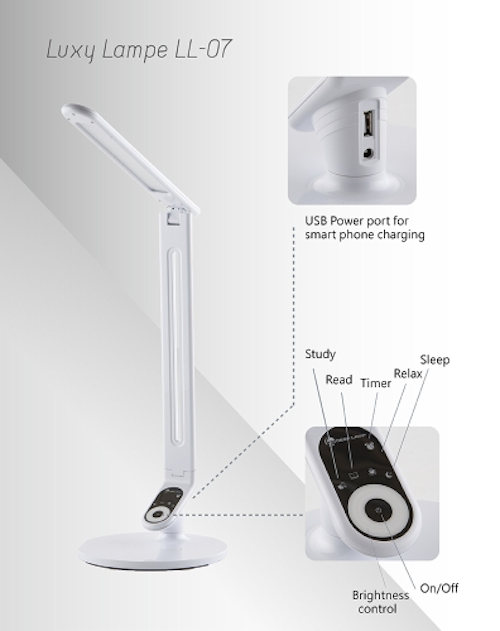 Luxy Star has introduced the LL-07 model in its Smart LED Desk Lamp family that combines tunable white output options along with smartphone and tablet-centric features such as charging stations. The newest model uses a new mechanical design that allows superior left-to-right adjustments along with a standard USB power outlet that supports charging of virtually all portable computing devices.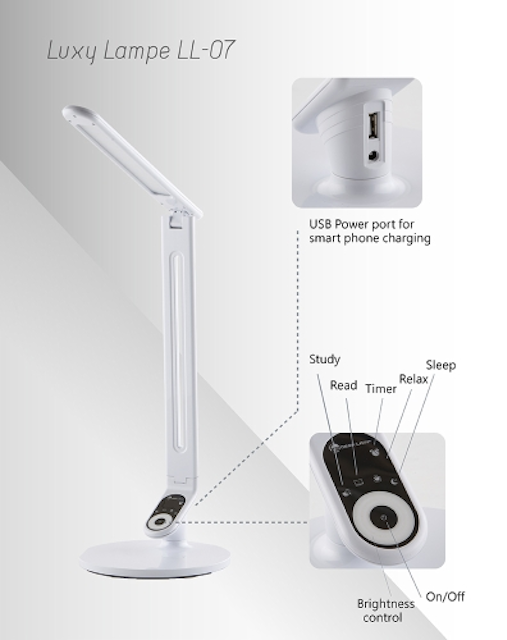 Luxy Star adds flexibility to LED desk lamp, and USB-based charging for smart devices
We first covered the Luxy Star product offering back in late 2013 when the company was making models that included charging ports for specific mobile devices. That strategy work relatively well for Apple iPhones but not for larger tablets or any Android devices that tend to have different connectors and mechanical form factors. The new version with a simple USB power port should provide more flexibility supporting a broader set of devices. The port delivers 1A of charging current.
Still, the lamp would not be notable were it not for the tunable design that includes a mix of 2700K- and 6700K-CCT LEDs. The desk lamp can deliver light at those extremes as well as at CCTs in between by controlling the drive current to the two LED arrays.
Luxy Star offers four options in terms of CCT. Light at just the 6770K CCT is called study mode given that some studies have indicated better productivity and more alertness for people working under such cool CCTs. The desk lamp also includes a 4500K-CCT read mode, a 3000K-CCT relax mode, and a 2700K-CCT sleep mode.
The new lamp design also includes a new-look control panel with a round touch-sensitive control for intensity. The look is reminiscent of some popular smart devices. The lamp consumes 11W and delivers 530 lm.
At the Light+Building trade fair this past spring, Luxy Star had also announced a desk lamp that supported wireless charging of compatible smart devices. The Model LL-05 lamp is based on the Qi standard for using an electromagnetic transfer of energy between the base and an adjacent mobile device with no wired connection.