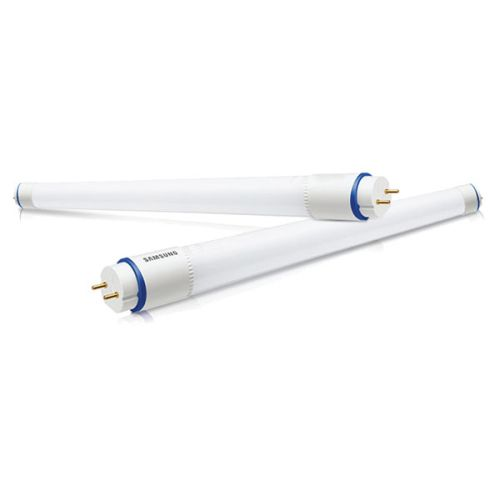 Samsung Electronics America has announced the LED Tube (L-Tube) solid-state lighting (SSL) product family designed to replace fluorescent T8 and T12 lamps. The LED replacement tubes feature some interesting design elements including AC-LED or direct-AC driver technology and the ability to work with fluorescent-centric, step-dimming controls.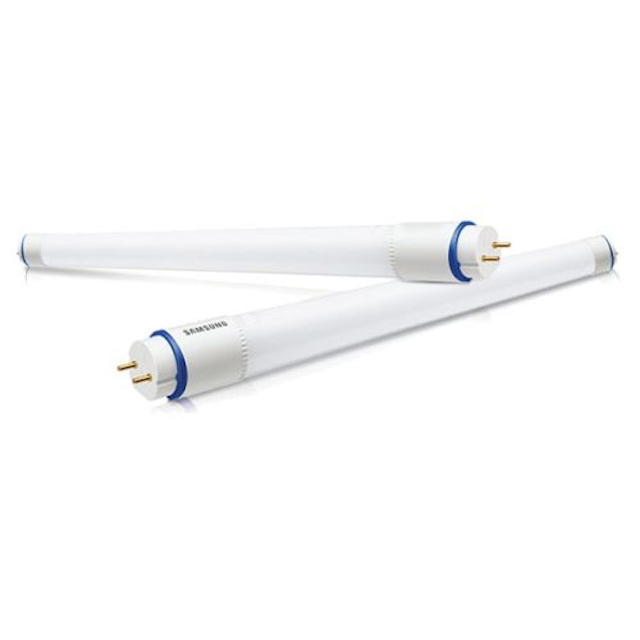 Samsung delivers LED-based tubes with step dimming capability
Step dimming is a technique in which the output of fluorescent fixtures can be reduced to one or two specific levels below the maximum output. In some cases, the technology is enabled by placing multiple ballasts in a fixture or in other cases through the use of electronic ballasts that can programmatically control the light level through current regulation.
Generally LED-based products offer far more gradual dimming capability than step-dimming lighting. But there is a need for LED products that can be retrofitted into buildings where step dimming controls are widely installed.
We've seen a variety of products to enable step compatibility in SSL scenarios. For example, Thomas Research Products offers a step dimming module that accepts legacy control input and enables step dimming with any LED driver that supports 0–10V dimming.

The Samsung announcement addresses the largest application area in which step dimming is used. And in the case of retrofits, installation of the Samsung tubes requires that the installer bypass the existing ballast in the fixture. Such rewiring is relatively common in LED retrofit tubes, although of late we have seen an increasing number of LED tubes that can work with existing ballasts. But those tubes would not be applicable in a step-dimming environment.
The Samsung tubes also use AC-direct driver technology that is increasingly popular because it eliminates the bulk of the circuitry required in an AC/DC LED driver. Indeed, some people refer to the technology as driver-less designs. We have an excellent webcast that covers the basics of the technology.

The Samsung tubes work with existing step controls or switches to deliver a choice of 100%, 40%, or 15% output. The tubes offer efficacy of 140 lm/W — matching the efficacy of products with AC/DC drivers. The tubes offer a wide beam angle of 220° and are projected for 50,000 hours of life.
"The new Samsung LED Tube Series provides an uncompromised upgrade from fluorescent technology, featuring a combination of maximum efficiency and minimal power consumption that is well suited for lighting commercial spaces, from hospitals to parking garages," said Pooja Vig, director of marketing at Samsung's Consumer Business Division. "We're proud to be the first company to introduce step dimming to an AC Direct product, providing businesses with a seamless retrofit solution for energy and cost savings."
The tubes indeed offer the color-temperature options and quality needed in a broad set of applications. Samsung will offer the products in 3500K-, 4000K-, and 5000K-CCT versions with CRI ranging from 83 to 85.
Already Samsung has some customers using the product family. "By making the transition from fluorescent to LED with the Samsung L-Tube, we were able to reduce our total system wattage from 185W to 36W and our annual energy expenses by nearly $20,000," said Richard Vicens, property manager at the Metropolitan Tower. "In addition, utility rebates from ComED helped reduce the payback to less than two years. This product has not only resulted in significant cost savings across our current facilities and maintenance budgets, but will continue to bring us a return on investment for many years to come."